Mike Singletary doesn't mind if you call him a "conservative" coach. And if you want to go to the other extreme, he wouldn't even blink if you were to call him an "exotic" coach.
He really only has one request when describing him.
"I have no problems with any other adjective you use. But, if you say that I am not a winning coach then I have a problem," the 49ers head coach said on Wednesday.
Singletary will have a chance to add to his preferred reputation this Sunday when the 49ers (2-1) host the winless St. Louis Rams (0-3) at Candlestick Park. Not worried about how his team is perceived, Singletary is only concerned with his team's results on the scoreboard.
"I think the most important thing we want to stress each and every week, myself and my staff, is we want to focus on us," Singletary said. "It has to be about us. The mark of a good football team is that they are consistently getting better."
Taking a cue from his coach, Shaun Hill did some self-examining as well on Wednesday. But the 49ers starting quarterback didn't refer to himself as conservative or exotic; he simply explained how the 49ers offense is focused on making improvements and not dwelling on mistakes made in Minnesota.
"Everybody on offense, on every single play, has the potential to be a playmaker, no matter what the play call is," Hill said of what's needed from the offense this week. "We're going to come out here, work our tails-off all week, improve, and get ready for the next opponent. That's the way the NFL is, you can't savor wins and you can't dwell on losses too long. You have to move on to the next week as soon as possible and we've done that."
Hill will have more of a responsibility to move the offense with Frank Gore out of action for three weeks with foot and ankle injuries. But rookie running back Glen Coffee might have something to say about that.
Coffee stepped in last week after the first offensive play of the game and gained valuable experience that should come in handy come Sunday. If Coffee has his way, the 49ers will look exactly the same without Gore and maintain their standing as one of the better rushing attacks in the league.
"I've had almost a full game under my belt, so I know what to expect and how to feel," Coffee said. "There isn't supposed to be any drop-off. The coaches expect that and I expect that of myself."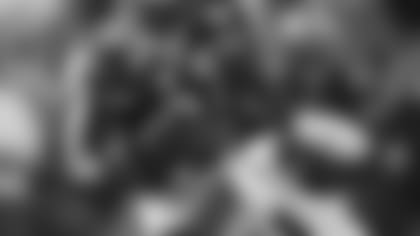 Behind Coffee will be veteran running back Michael Robinson and fullback Moran Norris in case of an emergency. Robinson will step into the team's primary backup role Coffee had prior to Gore's injury. To Robinson, there's no doubt he'd be ready to carry the load if needed. But he's rather confident that Coffee will do just fine.
"He's a great running back and has great feet," Robinson said of Coffee. "He's a football player. He's one of those guys who really understands the game of football and he's very capable."
One major area Coffee will need to excel in immediately is picking up blitzing St. Louis defenders. With Rams head coach Steve Spagnuolo being a former succesful defensive coordinator, his defense will almost certainly send pressure Coffee's way at all times.
If that's the case, the 49ers are quite confident in their third-round draft pick's ability to stifle the opposition if they choose to blitz.
"Glen is pretty solid," Singletary said of his rookie's blitz pickup prowess. "Obviously, we have to keep him out of harm's way in some situations. But we trust him in that area with the responsibility we are giving him. He will do a fine job."
To better prepare himself for Spagnuolo's aggressive style of defense, Hill said he's watched film of last year's New York Giants defensive game tape to get a better feel for the pressure Spagnuolo liked to bring back then.
"There's lot footage of stuff that they've done in the preseason and the stuff they've done in their first three games as well," Hill explained. "We'll take a look at everything. You [have to] expect the unexpected every week. You know that you're going to get something new that they haven't necessarily shown on film. You kind of dig around and see what those things might be just to be prepared."
The 49ers are ready for an active Rams front seven, but just like the theme is for the entire offense, the emphasis for the 49ers is on what they need to accomplish.
"Their front seven is very active and they like to get after it," Robinson said. "They like to change up their looks. But again, we try to focus on what we do. It's about us. We feel like if we go in with the mindset that we can dominate, we feel like our best is good enough."
If the 49ers best is good enough, the team will start 3-0 in divisional games for the first time since 2002, coincidentally the year of the 49ers last playoff appearance.
"You have to win division games in order to win the division and this is a division opponent," Hill said. "Every division opponent is tough because you play them twice a year. They know you. You know them. No matter what division you're in, or who you play, every division opponent is a very tough game. So this is a big one for us."