After two more practice sessions on Saturday as part of the 49ers three-day mandatory minicamp, it's clear the offense is coming together under the leadership of new offensive coordinator Jimmy Raye.
Raye's philosophy which relies on a physical running game also has a wide variety of passing plays that utilizes all of the 49ers offensive weapons. From running backs to tight ends to wide receivers, each position group has been targeted in the passing game.
Following the team's morning practice, Raye spoke about the development of his offense over the course of the offseason.
"I'm pleased with the progress we've made," he said. "I think the players are doing a good job learning and applying the principles that are being taught and they are playing faster. Each day we can see the fact that they are playing faster, so that is an indication that the understanding level has improved."
With five more days of practice upcoming (one day of minicamp and four days of OTAs) the offense will get plenty of opportunities to build on what they have learned from one day to the next.
"The longer that we stay with it, the better chance they have to interpret what we're doing and have better recall, it gets better as we go," he explained.
It could be assumed that Raye wants his unit to have a similar but improved offensive output like the 49ers had in the 2006 season, when Frank Gore rushed for a career-high 1,695 yards and scored eight touchdowns. Gore earned his first Pro Bowl selection that year, playing in a Norv Turner-coached offense which was a comparable offensive attack to Raye's. Gore's success also happened while rushing behind his close friend, fullback Moran Norris.
Raye spoke highly of Norris, comparing him to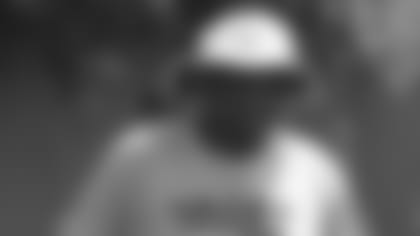 successful fullbacks he's coached in the past like Tony Richardson and Lorenzo Neal.
"I think Moran is up a level of the guys that I've had," Raye said. "I think being able to do that aids Frank in the running game because we do have the blockade guy or the power fullback that can create some space and separation."
With Norris re-signed in the offseason, Gore too, was pleased to have his lead blocker back.
"When I came in the league he was here and we started something great together and when he came back [this offseason] I was really happy," Gore said. "On the field, I know what he's going to bring to the team and I have a really good feeling when he's blocking for me."
Besides being pleased with the return of his fullback, Gore has taken a liking to the coaching style and philosophies of Raye.
"He's a very good coach," Gore said of his new OC. "When you talk to him, you really find out how much he knows about the game. I know he's coached great backs like Eric Dickerson and Thomas Jones, so I try to pick his brain to see what helped their success."
But Raye's experience has also been with working with some talented passing offenses. Under his leadership, the 49ers have moved around some of the wide receivers this offseason to give the team more flexibility at a depth position. In particular, second-year wide receiver Josh Morgan has switched from the "X" wide receiver to the "Z" position.
"It's important that we do because the way I have to look at Sunday and the 53-man roster and who can go to the game and when you are playing receiver, fullback and tight end, that is all involved," Raye said. "So if you are available to play multiple position and multiple spots along with the special teams competition, it enhances your chances of going to the game on Sunday."
"I'm happy that I'm able to play both spots, because the more positions you know, the more I can play on the field," Morgan said.
So far this offseason, Morgan looks like he's poised for a breakout year. Under the tutelage of Raye, Morgan has not only learned his position but what each player on the offensive side of the ball is responsible for.
"He teaches the whole offense, because he wants you to learn the whole picture," Morgan said. "He wants me as a receiver to know what the job of the tackle is or the what the running back's job is. So I know how I affect the whole play."
Now that Morgan is playing the "Z" position, he's able to learn even more from veteran Isaac Bruce, who plays the same spot.
"It's the best thing," Morgan said. "Last year, it was more so about watching him. I couldn't completely relate because we played different positions. But now that I'm playing his position it's that much better for me now. It's a blessing to have him back on this team and when I watch him now, I understand what he was talking about last year."
Bruce like Morgan is also a fan of the 49ers new offense. The 16-year veteran said he has been impressed with Raye's offense. Adding, "I see areas where we can grow and become a really good offense."
With the entire offense on-board, the 49ers offense will continue to grow as the team prepares for training camp and the preseason.
Jennings Signed to Extension
It looks he 49ers 10-Year Club will soon have another member. After the announcement of Brian Jennings' five-year contract extension, the long snapper will be practically assured a spot amongst some of the greatest players in franchise history.
Jennings, who is entering his tenth season with the club, couldn't help but thank the people who have aided in his success.
"The biggest thing I feel right now is grateful, to the Yorks, the York family, the 49ers for drafting me originally, giving me a chance to play in the NFL," he said. "And the current coaching staff, Al Everest, Joe Nedney, my guys, the kicker and punter, Joe and Buddy (Andy) Lee. It's just great working with them. I'm just grateful to be working with those guys to be a part of this organization and having a future in that organization is a really good thing."
After stretches and individual drills, the receivers and defensive backs went one-on-one for the second straight day to get the competitive juices going in the morning practice.
Bruce was matched up against undrafted rookie Carlos Thomas. With one quick move off the line of scrimmage from Bruce, Thomas fell down immediately and could only try to grab the future Hall of Fame wideout as he was burned badly from Bruce's release off the ball. The rookie managed to get tangled up with veteran, preventing him from catching the pass headed their way. But, the wide receiver known as, "The Reverend," showed he still has plenty of moves left.
Moments later Dominique Zeigler beat Tarell Brown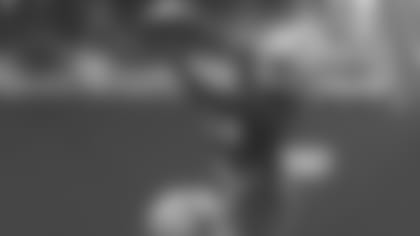 on a post-corner route and made a spectacular leaping catch over Brown. If only the catch hadn't happen in one-on-one drills it would've been play of the day – hands down.
During skelly (7-on-7), Dré Bly read Maurice Price's in-route, cut in front of it and broke up Shaun Hill's pass. The veteran cornerback showed his knowledge of routes by reading Price's body movements while running.
A few plays later, Bly broke on an out-route intended for Price and nearly came up with his first interception. The ball was in his hands, but came out as he laid out for the ball and fell to the ground.
The play of the day during the morning practice went to Delanie Walker and his one-handed catch over Marques Harris. During the team portion of practice, Walker beat Harris on a flag route and was able to snag the Hill's pass out of the air with only his right arm.
Not to be outdone, the punt team made an impressive play towards the end of practice. Typically the last portion of practice is dedicated to the various units of special teams. While working on punts, cornerback Marcus Hudson caught Andy Lee's punt inside the 5-yard line. Right after, Jeff Ulbrich jogged back to the huddle and said sarcastically, "How do you like us now defense?" As If to let his linebacker teammates know how valuable the special teams units are.
The afternoon practice was led off with a trick play in the red zone, as Morgan caught a pass from Hill in the left flat and proceeded to find a wide-open Dominique Zeigler in the end zone. Rookie free safety Curtis Taylor fell for the double-pass and drew the criticism of defensive coordinator Greg Manusky right away. It also was Morgan's second touchdown pass of the offseason.
On the very next play, Hill found an open Delanie Walker over the middle for a touchdown.
In the skelly red zone portion of practice, Alex Smith hit Brandon Jones for a touchdown. Jones ran a crossing route from the right side of the field and was able to beat the man-to-man coverage from Ulbrich.
Walker caught another touchdown pass from Hill moments later, beating the coverage of inside linebacker Mark Washington and rookie cornerback Terrail Lambert.
On the very next play, Hill found the other 49ers athletic tight end – Vernon Davis for a touchdown. Davis ran a skinny post up the middle past Willis and cut in front of Taylor before making the grab.
Davis caught another touchdown on the next play of skelly, but this time it came from the right arm of Smith. Davis ran a flag route on the right side of the field and beat rookie linebacker Scott McKillop and safety Lewis Baker.
Reggie Smith did not participate in either of Saturday's practices because of a groin injury. Both safety Mark Roman and defensive tackle Khaliff Mitchell were held out because of illness. Lastly, wide receiver Jason Hill sat out because of hamstring soreness.
For up to the minute updates, be sure to follow us on our brand new Twitter account.