It's not just a marketing slogan. It's Mike Singletary's singular, most important point of emphasis to his locker room this season.
For this year's San Francisco 49ers team, it's time to finish plays, finish drives, finish quarters and most importantly, finish games. Finish everything you do with the intent of being successful.
The point rings even more true to Singletary after his team finished 8-8 in 2009.
"This year, our focus is to make sure we go out and take care of business," Singletary said Wednesday, prior to his team's first practice of the week. "Whether it's in the division, whether its outside of the division, just do the best that we can and make sure that we're prepared for each and every game that we play."
The 49ers especially failed to finish on the road last year, dropping six of eight contests away from Candlestick Park, including a devastating 20-17 loss to the Seattle Seahawks in early December. It was the 49ers only divisional loss last season.
The players have not forgotten the game in which two crucial fumbles put their NFC West rivals in position to win with a late field goal. But they're too far removed from the defeat to let it fester into this week's preparation.
All the players know is that this week is about one thing and one thing only, finishing.
"It's going to be very important we finish this game strong," tight end Delanie Walker said. "We need to be relentless and physical. If we want to win against this team, we have to finish."
Walker's opinion was backed by starting left tackle Joe Staley, who missed last year's loss in Seattle because of sprained knee ligaments.
"I think it's the mentality that we have for this year," Staley said. "Finishing and bringing that physicality to what we do, that's what's going to help us win games."
Aiding the 49ers quest to close out games the right way will be the team's six captains.
Five of which remain the same from last year (Linebackers Joe Staley and Takeo Spikes, defensive tackle Justin Smith, center Eric Heitmann and tight end Vernon Davis). The newest captain was named on Wednesday, and that was starting quarterback Alex Smith.
Even without the formal recognition, Smith had been filling in for the injured Heitmann as one of the team captains in each preseason contest. Smith's teammates looked at him as one of the 49ers key leaders even without the captaincy distinction.
"I feel like he was already a captain," Staley said. "With him being named as a captain, it wasn't really a surprise to anyone."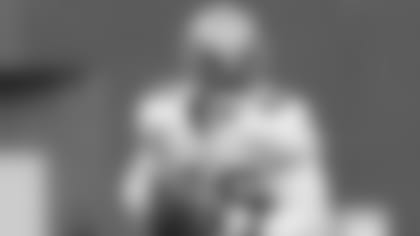 "I've been looking Alex as a captain since the first day I got here," said the tight end entering his fifth season in San Francisco. "They put the 'C' on his chest, but I knew he always had it in him, even when he didn't have the 'C' on his chest. I'm happy for him; I know he's going to be good as a captain. He'll point this team in the right direction."
For Smith personally, the honor was appreciated, but not one that will change his mindset.
"Getting acknowledged for it is nice. I guess either way, it felt like I had a leadership role on this team, especially on offense," Smith said. "Other than that, it's an acknowledgement. You still have to go out there and play."
The decision to name Smith as the 49ers sixth and final team captain had nothing to do with the position he plays, rather the position he took in helping the perimeter players further develop their understanding of the offensive scheme.
"I didn't name him a captain because he is a quarterback. I named him a captain because he exemplified this offseason the things that I wanted our captains to do," Singletary said.
"Some leaders are more vocal than others, and some leaders are very exact in terms of this is who I am and I'm going to show by my actions. And everything he's done this offseason, to me, exemplifies leadership and the character that we want on this football team."
No question, Smith's leadership will be tested early. Playing in Seattle on opening day is a serious test, one that includes a rabid fan-base known for making false-start penalties almost as common for opponents as first downs.
"It's a challenge," Pro Bowl running back Frank Gore said. " It's very loud but I feel as long as we go out there and do what we have to do, play 49ers ball, the stadium should quiet down."
The 49ers piped in crowd noise during walk-through and practice periods on Wednesday in the name of having the players utilize proper communication, both in verbal and non-verbal forms.
"It will be a good challenge to go up there in that atmosphere," Smith said. "Arguably the loudest outdoor stadium in the NFL, opening game, a lot of unknowns as far as defensively what they are going to do. So it will be a good test for us."
**Quarterback Depth Takes Shape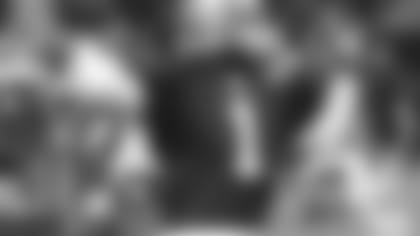 **On Monday, the 49ers announced the signing of Troy Smith to the 53-man roster to replace quarterback Nate Davis as the team's No. 3 quarterback. Two days later, Davis was signed to the team's practice squad, taking the place of quarterback Jarrett Brown who was released.
Singletary said bringing in Smith "was a risk worth taking to get the player we did."
Smith said his priority is to learn the offense, and then learn the offense some more.
"As a quarterback, you're learning curve is always constant, it's constantly moving. You're reading, writing, and not only that, you're staying in tune with the playbook constantly."
Smith said he was happy to be reunited with high school teammate Ted Ginn Jr. and college teammate Alex Boone, but was mainly pleased to be a part of the 49ers organization.
"It's more than just Ted Ginn and Alex Boone with me, we have a great group of guys I know that."