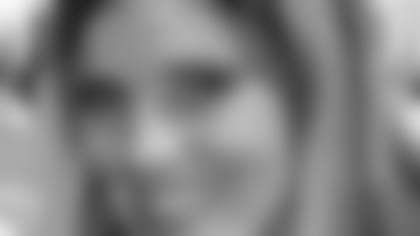 Over on our social networking site, 49ersfaithful.net, we have a few official team bloggers including some staff members and two of our players in Manny Lawson and Marcus Hudson. Here's a blog from 49ers.com writer Chrissy Mauck with some news and observations.**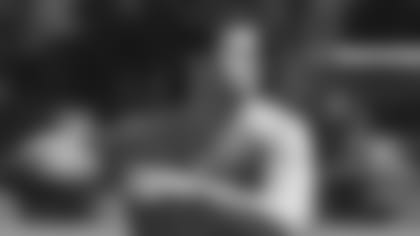 Tuesday marked the first day of "teaching school" for the offense. I'd normally say passing school, but the unit actually didn't come together today as a group and instead worked separately with their position coaches.
Early in the morning, the offensive line worked with position coaches George Warhop and Chris Foerster, with the rest of the skill positions getting together at 11 for a 45-minute session.
"It was good to get together as a unit and see everyone out there even though we didn't work as a group," said quarterback Shaun Hill. "Instead, we did more individual stuff and personally, you see just how much you need to improve on before we get to mini camp."
Hill has been in a few meetings already with Martz, and said the 49ers new coordinator applied the same detailed approach during today's field work with the quarterbacks.
"He's very detailed on the field and in the classroom and we are going to know exactly what we are supposed to do, and if we don't do it, we'll be held accountable and that's the way it should be," said Hill. "I think everyone is excited about this opportunity to work and learn from Coach Martz."
Tight end Vernon Davis made his first appearance in the off-season program by joining the 11AM group for the work with the coaches, and then the noon group for head strength coach Duane Carlisle's workout.
In other news, the NFL released the top 25 earners in their "Performance Based Pay" system that awards lower-salaried players for playing time.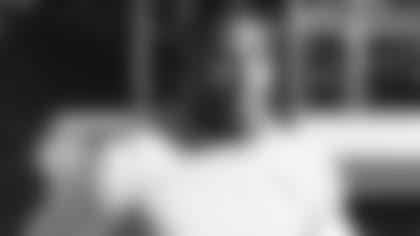 LB Parys Haralson** made it on the list at 25, earning an additional $226,221 for the 2007 season. It was a perfect time to receive a bonus for the 49ers third-year linebacker, who is currently browsing for a home back in Mississippi.
"They actually told us right when we got back from the OTAs and I was very, very excited," said Haralson. "It really wasn't even on my mind, so it was a nice surprise. I'll take a bonus any day they want to give me one."
Performance-Based Pay was created as part of the NFL's 2002 Collective Bargaining Agreement extension with the NFL Players Association. The system creates a fund used as a supplemental form of player compensation based on a comparison of playing time to salary. This program will stay in place through the remaining years of the CBA in which a Salary Cap exists. The fund increases by a fixed amount of five percent each year.
This just in from the ongoing owner's meetings...
League owners have approved a communication device for defenses on Tuesday at the NFL Annual Meeting.
One defensive player will wear a helmet similar to what the quarterback is allowed on offense. Should that player leave the game, another player can be designated to also have the device, but only one defender with the device can be on the field at a time.
This is something I know head coach Mike Nolan, a former defensive coordinator, was strongly in favor of having passed.
A few other random observations…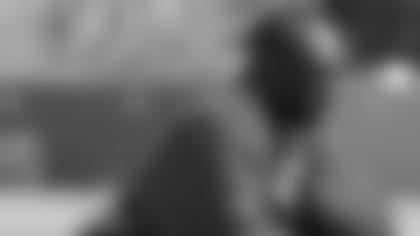 I was out last week, but I know that RB Frank Gore just arrived for the off-season program, and I believe the same is true for RB DeShaun Foster. Both players took part in the 7AM workout session and then worked with new running back coach Tony Nathan during the coaching school.
I remember last year CB Nate Clements telling me at one point he wanted to drop some weight and get down closer to what he was in college. He felt it would make him a little faster. I noticed today in the workouts that Clements definitely looks leaner. He still looks to have his same upper body strength, but definitely appears to have shed a few pounds. Strength coach Duane Carlisle concurred with my assessment, and Clements grinned when I made the comment to him.
LB Roderick Green arrived this week for the workouts and he too seems lighter and leaner in his upper body. LB Jay Moore may have trimmed down some as well this off-season to fit the 49ers 3-4 defense after coming in last year as a rookie making the transition from DE to LB. I had no idea Moore was so fast, but he showed it in the morning drills.
CB/RS Allen Rossum is meanwhile living up to his reputation for being fast. Carlisle said on Monday he hasn't seen speed like that since he joined the 49ers three years ago. Rossum once won the NFL's Fastest Man Competition, held at the Pro Bowl.
Outside linebackers coach Jason Tarver was coming off the field after working with the linebackers and stopped to watch one of Carlisle's workouts with me. Tarver told me I had just missed his guys and then said, "Wow, Manny Lawson looks really good." He said they wouldn't let Lawson do all of his drills, but that the linebacker was "very explosive."
Defensive line coach Jim Tomsula is a new man these days after having hip surgery this off-season. It used to be painful even to watch Tomsula limp around the field, and it's wonderful now to see him moving around with such an improved gait.