Mike Singletary dropped one of his most memorable quotes months back when describing his hopes for the 49ers offensive line.
Standing in front of a room of season-ticket holders at the 49ers second annual State of the Franchise event, the often quoted head coach said he wanted linemen "with teeth that can bite."
After Monday night's strong offensive performance against the New Orleans Saints, Singletary's linemen proved the statement is coming to life.
But even after allowing Alex Smith to attempt 32 passes without being sacked and creating wide running lanes for Frank Gore to pick up his franchise-best 21st 100-yard game with the 49ers, the linemen weren't satisfied by any means.
"We came away with a loss, so it's all good to say we played good, but we lost the game. It wasn't good enough," starting left tackle Joe Staley on Wednesday, the first day of on-field preparations for the Kansas City Chiefs.
The line knows there are things to like about their Monday night performance, but there's room for improvement.
"It's a good stepping stone in the right direction," Staley added. "At the end of the day, we have to do more than what we did."
And in a matter of days, the line will get a chance to bite into something more than Kansas City barbecue; they'll face a stout Chiefs 3-4 run defense that allows 91.5 rushing yards per game.
"We're going to have to do a good job of taking care of their front seven and building on what we did last week," Staley said.
As difficult as it was to discuss the tough loss Monday night, Smith was happy to point out the play of his line.
On Wednesday, the starting quarterback did it once more.
"Those guys definitely got the workload put on them all week. I think they knew going into that game, we talked about it all week, that it was going to start with them, and I think they took that upon themselves," Smith said.
"They accepted that challenge… and they played really well."
Both Smith and Singletary highlighted the performances of rookie linemen Anthony Davis and Mike Iupati as positive developments from the Saints game.
"Iupati as well as Davis took a big step in this last game and I think both are continuing to make strides," Singletary said. "He's (Iupati) really coming on. It was great to see Davis as well do the same thing."
With strong play from the rookies and the veterans on the line, the offense put together three, 80-plus-yard scoring drives.
Even more impressive, they did it with big gains on first and second downs. The unit only faced third downs twice on the three drives, both in the red zone, and both resulted in 49ers touchdowns.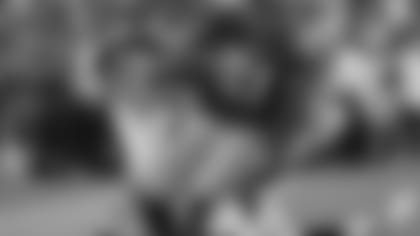 Frank Gore caught a 12-yard pass on a third-and-seven for the first touchdown in the second quarter, and Anthony Dixon added a two-yard touchdown run on a third-and-goal in the third quarter.
The improvements made on first and second downs were not lost on the players.
"It was real big, especially with how we did in Seattle," wide receiver Josh Morgan said. "It was real big for us to make plays on the early downs and keep the chains moving. That's what type of drives you need, they were all at least six-play drives. We'll take that all the time."
Several players on offense noted the increased tempo as another contributing factor to the improved offensive play from Week 1 in Seattle.
"We were confident that we could move the ball every time once we got in that rhythm, that mode," fullback Moran Norris said. "Once we got into our groove, it was hard to stop us."
Smith agreed, but took it a step further.
"So much about this league is momentum and its week to week-to-week and we got to get a win, and we got to get our first one, and then after that we can build off that. But that all starts this week with Kansas City, and that's what we're building on. You take the good things we did from this last week and you learn from the other stuff and you move on."
Notes and QuotesA win in the turnover battle is a key to Singletary this week. He refused to call it a "must-win" game; instead he said the 49ers must take care of the football. "I think that is the focus. And then I think all the other 'musts' will take care of themselves."
With Takeo Spikes day-to-day with a knee contusion suffered against New Orleans, rookie NaVorro Bowman is likely to start in Spikes' place this Sunday. After all, he's the only other inside linebacker on the roster. The next option would be outside linebacker Ahmad Brooks, who has experience playing inside.
Singletary said wide receivers Ted Ginn Jr. and Kyle Williams are day-to-day with their respective knee and toe injuries, but added that he hopes Williams would be able to go this Sunday. The 49ers third, sixth-round pick is the only rookie not to see action for the 49ers this season.
Much was made about Smith's fourth-quarter scrambles against the Saints, two of which went for 12-yard gains on first downs in the team's final scoring drive. Singletary said he was all for Smith using his legs, but that the quarterback has to make great decisions when doing so.