!Following Wednesday's afternoon practice head coach Mike Nolan announced that quarterback J.T. O'Sullivan will work with the first unit against the Oakland Raiders on Friday night.
"I'm excited about our quarterbacks. I am excited about all three of them. They've done a very good job," said Nolan. "I'm not in a position to name a starter for the season. That's not where we are at right now. We are taking it one day at a time. We are just talking about the first preseason game, and J.T. will work with the first group."
Nolan said he expects O'Sullivan to play at least a quarter, maybe a quarter and a half on Friday night. Alex Smith will play the remainder of the first half and at the start of the third quarter with Shaun Hill finishing out the game.
"We've got experience with both Shaun and Alex in game situations," said Nolan. "I don't have that experience thus far with J.T. O'Sullivan. He's done a very good job, as the other guys have, but more than anything else I want to see him in a game situation."
O'Sullivan started off training camp as the dark horse in the competition. Although he has the most experience in the Mike Martz offense, having played for Martz in Detroit last season, camp began with Shaun Hill and Alex Smith splitting all of the reps in skelley and team periods.
O'Sullivan didn't get an opportunity to take team reps until last Wednesday, which marked the sixth day of training camp. In the last week, he's become more involved in the practice routine, including taking all of the reps with the first-team unit this afternoon.
Linebacker Jeff Ulbrich and Nate Clements teamed up for one of the primo highlights in the afternoon practice. Ulbrich picked off an O'Sullivan pass and then pitched it back to Nate Clements, who dashed on down to the end zone.
Having the ball in his hands had the veteran cornerback vying for his first '08 training camp interception of his own, one he notched in the next team period. Working in man coverage, Clements spotted the ball coming out quickly from O'Sullivan's hands and stepped in front of the receiver.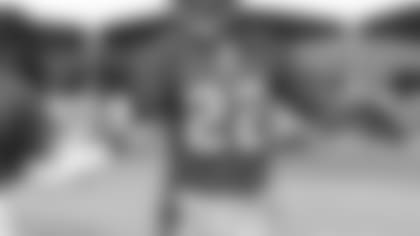 "It felt like it had been so long since I got one," said Clements who after the pick high fived every player, coach, staff member, and finally general manager Scot McCloughan on the sidelines. "I was pretty excited about it. Guys were getting their hands on the ball before and I wanted a piece of the action. I've had opportunities throughout camp on plays but I dropped a couple of them. I didn't take advantage of them so I was glad to hold onto this one."
A few of Clements' secondary co-stars also made plays in the afternoon. Rookie cornerback Reggie Smith dove to intercept a Shaun Hill pass during skelley. On the following play, Tarell Brown had his hands on Hill's pass, but the second-year cornerback couldn't bring it home.
Hill meanwhile regrouped and aired out a 20-yard pass to Cameron Colvin on the next play.
Other highlights included a long ball from Alex Smith to Colvin on a deep in route during the first team period, a sweet O'Sullivan pass over the middle deep to Delanie Walker, and a pass defense by linebacker Dennis Haley who smothered Dominque Zeigler to get the ball out.
S Dashon Goldson hurt his arch in the practice against Oakland. He was able to participate in the morning practice, but did not go in the afternoon for precautionary reasons.
WR Arnaz Battle and T Jonas Jennings sat out the afternoon after working in the morning, per their schedule set by the 49ers coaching staff. RB DeShaun Foster was also given a rest in the afternoon.
S Lewis Baker (thigh), LB Parys Haralson (shoulder), WR Bryant Johnson (hamstring), and WR Ashley Lelie (calf) missed both practices.
S Mark Roman was limited in both practices to individual work only.
RB Michael Robinson remains out after having his knee scoped, while G David Baas remains on PUP following his surgery in April.
Questions for Coach Nolan? Send them in! In the 49ers.com X's and O's with Mike Nolan feature, the 49ers head coach answers questions from his fans every week! Please submit your questions via email to**xandowithnolan@niners.nfl.com**and then check back Friday to see if your question was selected!