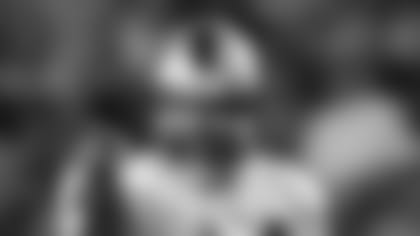 CLICK HERE FOR VIDEO of J.T. O'Sullivan and other offensive players talking about him as the starter.
Tight end Vernon Davis said after Thursday night's game that he was looking forward to the quarterback competition being resolved.
Following a day off on Friday, Davis and the 49ers returned to work early Saturday morning, finally knowing that J.T. O'Sullivan will be the man under center for the 2008 season.
"It's nice to know who our starter is because going back and forth, you don't necessarily get that timing you want," said Davis. "O'Sullivan might throw a certain route one way, Alex might come in and throw it another, and Shaun a third way, so it goes back and forth. I think it's good to know who our starting quarterback is so we can get that timing and chemistry going."
After two weeks of numerous reps with O'Sullivan wide receiver Jason Hill is feeling pretty confident in his timing with the newly named starter, but the second-year player believes it was the right time to settle the matter.
"I think it's very good for the team to know who the starter is now," said Hill. "We get to rally behind JT now and giving him the confidence that we believe in him and hopefully he believes in us and we can go out and win together."
O'Sullivan spent the first five days of camp without seeing a single rep in team, but has been in the driver's seat ever since with three consecutive preseason starts. Throughout the process, his focus never changed – and it won't now either.
"There's not a sense of relief by any means," said O'Sullivan of knowing it's now his job. "I'm very excited about the season and the opportunity to go into the season. We're getting ready for San Diego this week and Arizona at the start of the season."
Still it must be rewarding, because having the top decision makers believe in his ability to play and start hasn't quite ever been the case for the journeyman quarterback who has spent time with seven NFL teams in the last six years.
"I flat out don't agree with their decisions (to cut me) and that's why I'm (still) playing," said O'Sullivan. "I've just always thought I could play so it didn't waver when one personnel guy or one GM or one coach told me I wasn't good enough for that team. I think you have to say, 'Alright, that's your opinion.'"
O'Sullivan's long fought NFL journey and Bay Area roots are drawing comparisons to another former 49ers quarterback in Jeff Garcia, who grew up in Gilroy and got his NFL start in the CFL. But O'Sullivan said he's been around lots of quarterbacks whose paths to the NFL were anything but smooth.
"My first year was with Jake Delhomme, being in Green Bay with guys who didn't have straight stories. Brad Johnson, Shaun Hill, also guys in Chicago. There's a long list of guys I personally know, and guys who I know through Europe. There just flat out aren't clean stories. Jon Kitna, another guy who made his way in Europe, got an opportunity in Seattle and made the most of it, had to battle for a spot in Cincinnati and now is playing well in Detroit."
And through his unclean experiences, O'Sullivan said he concluded that he needed to put aside what he couldn't control and give himself completely over to his own preparation and performances.
"I really think when you realize that and you put it on yourself and control how you play and if you are a good enough, there will be a spot for you," said O'Sullivan.
That perspective served him well throughout the 49ers three-man quarterback race.
"I think it's a testament to his hard work and with the competition at the position, I think he emerged in the coaches' eyes and got the job done," said receiver Ashley Lelie who is looking forward to working back into the mix with O'Sullivan this week after missing time with a calf injury.
Veteran receiver Isaac Bruce has seen first-hand what it takes to be successful in this Mike Martz offense, and believes the decision speaks for itself.
"He does have really good accuracy and he fits well into the scheme of things," said Bruce. "You have to be doing things really good to be the leader of a Mike Martz offense."
And the enormity of the responsibility that comes along with being the leader of the 49ers offense isn't lost on O'Sullivan, who grew up in the Bay Area watching the 49ers and their elite quarterbacks.
"If I stepped back and looked at it, that might sink in more," said O'Sullivan. "Right now I'm trying to do everything I can to focus on my preparation and my performance. But yeah, growing up a Niners fan I understand what this position is to the area so I'm excited."
When the 49ers took Alex Smith as the overall number one pick in 2005, the organization expected the Utah quarterback to be their next star quarterback. Smith owns a 7-5 overall record when healthy, but he's been the leader of an offense that has struggled under the direction of three different coordinators in three years.
Smith believes Martz' disciplined offense suits him well, and was obviously disappointed to learn that he won't get the chance this year to prove his ability to play and win games. He said he still plans to perform his best in his new role as the backup.
"Obviously a different role for me," said Smith. "I'll adjust with it and continue with my development, continue getting better, continue coming to work every day motivated. I can't let that stop me, I can't let that get to me in my progress and where I want to go. I'm going to continue to work and get better with this."
O'Sullivan's jersey is now availalbe at shop49ers.com