If the 49ers coaching staff was looking for a decisive performance before selecting their permanent starting quarterback, J.T O'Sullivan may have given it to them in Thursday night's 37-30 road defeat of the Chicago Bears.
O'Sullivan finished only one dropped shovel pass away from a perfect night, completing 7 of 8 passes for 126 yards and a touchdown.
O'Sullivan marched his unit down the field on consecutive field goal drives to start the game, but the off-season free agent acquisition saved his best for last, using two plays to take a 13-10 lead over the Bears early in the second quarter. O'Sullivan first advanced into Chicago territory with a 40-yard completion along the sidelines to tight end Vernon Davis, a play that was challenged by the Bears and upheld.
"Great job by Vernon," said O'Sullivan. "We felt like that was a great match-up that we were going to try and take advantage of. Not very many people in this league can run with Vernon. So, if he goes up and makes a great play on the ball, we get a big play."
O'Sullivan got another great play of his own on the next snap, scrambling out to his right and firing a 37-yard touchdown pass to Jason Hill for the go-ahead score.
"JT is playing well," said Hill of his quarterback. "He comes into the huddle and he really commands your attention. He's a smart guy in the huddle. He tells me my route and what they are going to do before they do it. I can't ask for more than that. Even on the touchdown I had, most guys would try to get out of the pocket and run. He got out of the pocket and waited for me to get open. "
O'Sullivan downplayed his own personal 153.8 QB Rating performance, finding fault because the offense missed out on their first two trips to the red zone.
"I wish we would have scored touchdowns on every drive," said O'Sullivan. "You never like getting into the red zone and not scoring touchdowns. But, from that stand point, when you do leave points on the field, I'm just thankful that we won."
Despite O'Sullivan's shining performance, head coach Mike Nolan wasn't ready to reach an immediate decision.
"We'll talk about it more tomorrow," said Nolan. "Naturally, I like to watch the film and talk with the players before an announcement like that is made, but I liked what I saw out of all three of them. Naturally, J.T. started out seven out of eight - did a nice job. Outside of that, like I said, I'd like to do everything the right way."
Nolan pulled O'Sullivan after the touchdown, allowing Alex Smith a chance to work with the first-team offensive line.
"They were great, especially with a kind of front like Chicago's that produces so much pressure, especially with just their front four," said Smith. "They did a great job tonight giving us some time back there, time to make some plays and let the receivers get downfield. That's where it all starts so hats off to them, they did a great job."
Even without two of its starters in Jonas Jennings and Adam Snyder, the line gave up only one sack on the night – one that O'Sullivan said he could have avoided.
"You can't say enough about the pass protection this preseason," said O'Sullivan. "The one sack today was more of a coverage sack than anything else. If I had to do it all over again, I probably could've thrown the ball away, but they've done a great job so far, and we're just going from there."
The starting line – which included veteran Barry Sims at right tackle for Jennings and undrafted rookie free agent Brian de la Puente at left guard – also paved the way for big gains by Frank Gore on his first three carries which netted 43 yards. Fullback Zak Keasey got into the mix too on the opening series with a 16-yard carry.
"Two of our linemen were gone and our backups came in and we didn't miss a beat," said Gore. "It shows we have depth, and how hard those guys work up front."
The 49ers special teams unit struggled early in kickoff coverage, allowing Chicago to enjoy starting field position on their first two drives of the game at the 49ers 33 and 14-yardlines. But they also had their plus plays, like Keith Lewis' fumble recovery on a kickoff return that followed the Hill touchdown.
"I don't know who caused it, but we were tired of getting scorched on special teams," said Lewis. "Someone knocked it out – thanks."
The recovery set Smith up with some excellent field position – at the Bears 16 - for his first series of the night. He picked up a holding call on a 3rd and 2 end zone try for Davis to set Moran Norris up for a 1-yard touchdown run and a 20-10 second quarter edge.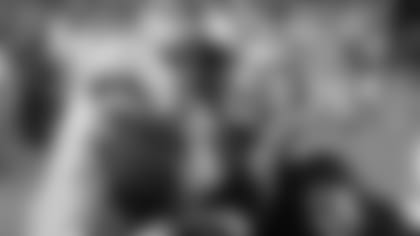 Chicago tied it up near the end of the first half, but Smith went on to engineer two additional scoring opportunities before his night was done. His 41-yard strike to J. Hill gave Ricky Schmitt a chance to re-take a field goal lead as time expired in the first half, but the kick was blocked by Chicago.
But Smith's opening scoring drive of the third quarter, finished by a 12-yard touchdown pass to Dominique Zeigler, cushioned the 49ers with a 27-20 third quarter advantage.
"It was clear in my head pre-snap what I was seeing," said Smith of the touchdown throw. "I saw it well, the receiver executed it well. It was a nice play."
Shaun Hill engineered the final two 49ers scoring drives of the night - a 6-play, 46 yard fourth quarter march that resulted in a 15-yard touchdown run by Thomas Clayton, followed by a 12-play, 56-yard drive that Schmitt finished with a 31-yard field goal to put the 49ers up 37-23 with 4:38 remaining in the game.
"I think this offense is going to be fun," said Gore. "You saw how we moved the ball up and down the field and put points on the board. We haven't seen that in a long time, so I'm just excited."
Seeing the offense put up nearly 40 points on the board was also good news for a 49ers defense that allowed Bears starter Kyle Orton to pass for 147 yards.
"They did some max protection up front and we knew they'd do that coming in," said linebacker Joe Staley. "Tonight they got the better of us in the passing game but that's something that can be corrected, and we'll have to come back next week and get it corrected. But, it was awesome to see our offense put those points up there. I was walking by tonight saying 'Thank you, thank you,' to them because it's going to take all three phases working together this year.
The Bears insulted the 49ers defense with another explosive pass play to end the game – a 51-yard Caleb Haine touchdown throw to Brandon Rideau as time expired, but it still left the Bears a touchdown shy of the 49ers scoring total.
"It felt great to put up that many points, and if our defense keeps playing the way they have been and we keep doing what we are doing, we will win a lot of games this year."