The 49ers opened up the game against the Jets with a surprise on-side kick. Unfortunately, it didn't catch the Jets by surprise as they recovered the ball at the 49ers 46-yardline.
Head coach Mike Singletary made the decision with his staff on Saturday, one that determined in order to serve as a tone setter.
"We knew we wanted to set the tone from the very beginning of the game and just let them know; let our players know, because they didn't know we were going to do an onside kick," explained Singletary. "It just let the Jets know and let our guys feel it. 'Hey, you know what? We're going all out. This is our game. We're approaching it that way, and you'll see it from the very beginning.' Because there were a few defensive guys looking around saying, 'Who did that?' I say, 'Let's go get it.'"
Although the 49ers didn't get it, the defense held up with a three and out series to force a Jets punt, thus setting the tone for the remainder of the game that when adversity struck, the 49ers could manage it.
Manage it they did as the 49ers put the ball on the ground several times throughout the course of the game.
Running back Michael Robinson had the ball popped out by nose tackle Kris Jenkins on the 49ers opening drive of the game. The defense held the Jets to a three and out, but the turnover prevented the 49ers from scoring as Robinson coughed up the ball on a 2nd and 1 at the Jets 26-yardline.
Wide receiver Arnaz Battle, filling in for Allen Rossum and Nate Clements, muffed his first punt return in the first quarter as the Jets gunners got in a solid lick as soon as he caught the ball.
Rookie cornerback Reggie Smith bailed Battle out by recovering the loose ball, claiming that the almost turnover was partially his fault.
"Tarell Brown and I both let them (Jets gunners) come under us, we were supposed to get them a lot earlier than we did and got too close to the returner, kind of messed things up," said Smith. "It was kind of my fault, so I made sure got the fumble recovery, so it wouldn't be too bad."
Wide receiver Jason Hill fumbled the ball as he fought his way into the end zone, but Joe Staley managed to get the ball in his grasp at the bottom of a pile up for a 49ers score and a 7-0 edge.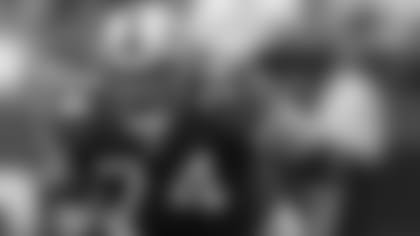 "Eric Heitmann was trying to steal it from me. I landed on it and I had it. And there were a bunch of fingers that were crawling in and I was like 'I got it! I got it!' I knew it was one of our guys trying to steal the ball, but I was the first one there. I deserved the touchdown," joked Staley. "I'm very excited to have it."
Tight end Delanie Walker fumbled the ball out of bounds after the Jets kickoff return, allowing the 49ers to retain possession on a drive that would end in Shaun Hill's 4-yard touchdown pass to Frank Gore.
Then in the third quarter, guard David Baas came to the aid of backup running back DeShaun Foster who fumbled the ball at the end of a 4-yard run. Unfortunately, a few plays later Jets linebacker David Bowens picked off Hill and returned it 52 yards.
"I tried pulling the ball back and it was just kind of too late," said Hill. "It was just sitting there in the air for the guy. It was a gift. Eric Barton (Jets linebacker) told me he wanted a gift, but I told him I wasn't giving out any more."
Four plays later, the Jets scored their first, and only, points off Hill's turnover.
"There were a few things out there when the ball bounced our way which was very fortunate," said Hill. "At the same time, whenever situations did present themselves, whether it was a first and long or coming back after my interception, we bounced back and were able to convert first downs. When we got the ball back after my interception, we were able to go down and score. So, those were big steps for us and very exciting to see."
Cornerback Walt Harris came up with the only defensive turnover by swiping a deep ball pass by Brett Favre late in the game.
The Score, The Spike

Quarterback Shaun Hill has started a tradition of allowing his linemen to spike the ball when he scores a touchdown. In Sunday's 24-14 win over the Jets, the line didn't need any charity spikes. Following his fumble recovery in the end zone, Staley loaded up his arm and put all of his muscle into spiking the ball.
"While they were trying to decide who had it, I was deciding what I was going to do for my celebration," said Staley. "And so, I decided on a really big power spike. I thought I delivered, I was doing my job. So I was really excited about that."
**The 49ers offense twice went for it on 4th and 1 plays in the game.
The first came in the second quarter on the 49ers final drive before the half when wide receiver Isaac Bruce was stopped about half a yard shy of the first down marker. On 4th and 1 from the 49ers own 46-yardline, San Francisco went for it. Frank Gore followed a block from tight end Sean Ryan over left tackle and picked up four yards to convert the 4th down. The drive ended in Gore's touchdown reception.
On the 49ers second drive of the third quarter, the offense again faced a 4th and 1 from their own 43. Hill went with the hard count, pulling Kris Jenkins off-sides for an easy conversion.
"I think Coach Martz suggested it to Coach Singletary," said Hill. "Maybe I'm wrong, but that's what I believed happened while they were spotting the ball. We went in and we executed it."
On the second defensive series of the game, linebacker Parys Haralson and cornerback Walt Harris immediately converged on running back Thomas Jones on a 3rd and 1 play from the Jets 26-yardline to stop him for no gain and force a punt.
Both players came up with other key plays throughout the game as Haralson recorded 1.5 sacks late in the game, while Harris picked off a Favre pass.
"One of them was a great call by the coaches. We really hadn't hit them up in the middle," said Haralson. "They made a call that we could get some pressure up the middle. I was able to come open. I think me and Rod [Green] both got there. It was a great call. We knew we had to get a stop. It could have been anybody, he just stepped right to me."
Haralson also tracked down an elusive Leon Washington on a screen pass that could have turned into a big play. Washington had three 49ers defenders on him as soon as he caught Favre's 3rd and 21 pass in the fourth quarter, but he made a move and cut it back Haralson's way. The 49ers outside linebacker took him down after only a 9-yard gain.
Wide receiver Isaac Bruce led the 49ers receiving efforts with six catches for 70 yards.
Big Plays

Early on in the game, Brett Favre took a shot deep for Jerricho Cotchery, but he was well covered by second-year cornerback Tarell Brown.
Wide receiver Dominique Zeigler caught a slant pass from Shaun Hill and then broke free up the middle of the field for a 31-yard pickup that set the offense up at the Jets 12-yardline. The drive ended in Staley's fumble recovery.
Tight end Delanie Walker made a diving tackle to stop Leon Washington at the 25-yardline on Joe Nedney's kickoff after the Staley recovery in the end zone.
Tight end Vernon Davis caught a 20-yard ball in traffic to help the 49ers offense advance to the Jets 30-yardline in the second quarter.
Nose tackle Aubrayo Franklin again stepped up this week with a few key plays in the second quarter. He stopped Chansi Stuckey immediately after he caught a 3-yard screen pass, and then took down Thomas Jones for a 3-yard stop to set up a 3rd and 4 play for the Jets.
Unfortunately, the Jets converted the down, but Franklin showed some explosion coming off the ball on the two plays.
Linebacker Joe Staley couldn't stop Favre's 3rd and 7 pass to Washington in the third quarter, but he did immediately drag him down after the catch to stop him a yard shy of the first down marker.
Wide receiver Arnaz Battle enjoyed a long punt return of 19 yards to set the 49ers up for their final score of the game in the fourth quarter.
Wide receiver Jason Hill came up with two clutch third down catches to keep that final scoring drive alive.
**Linebacker Patrick Willis lit up receiver Brad Smith after he made a catch in the fourth quarter with safety Michael Lewis finishing him off. Smith was injured on the play.
Delanie Walker caught a 28-yard touchdown pass from Shaun Hill in the third quarter, but it was negated due to a holding penalty on Joe Staley.
Jets returner Leon Washington thought he had gotten his team back in the game with a 99-yard kickoff return for a touchdown, but a holding penalty erased his efforts.
**Tight end Billy Bajema had his first reception since his rookie season in 2005 with a 5-yard reception in the fourth quarter.
The Jets picked up only 10 first downs, and possessed the ball for only 20:11.
"I don't know how much time our offense had the ball in the game…about 40 minutes?" asked Aubrayo Franklin. "That's a great job of giving the defense time to rest ourselves so we could watch the game. Applause to the offense."
Cheers for Dean

Fred Dean was honored at halftime for his induction into the Hall of Fame this summer. After receiving his Hall of Fame ring, Dean briefly addressed the crowd.
"To all of the fans, I had a flash back. I looked at what was going on the field, and it was exciting. And for us to continue, would be that much more. I want to say thank you to all of my friends, and my loved ones, and God Bless you all."