Players often talk about the importance of getting good rest during training camp, but linebacker Manny Lawson just couldn't do it in his first night of camp. Excitement over his full recovery from his ACL injury and a return to work kept the third-year linebacker tossing and turning.
"I couldn't sleep," said Lawson, who struggled with the same issue two years ago before his first training camp practice ever. "I'm laying in bed and it's twelve o'clock and I thought I had plenty of time. I wake up and it's 2:30, I go back to sleep, wake up again and it's 2:45. Go back to sleep, and wake up and it's 3:45. So I was really excited. I suited up very early and spent about 20 minutes out here just walking around in the hot sun."
Lawson's exuberance showed up in the first team snap when tight end Delanie Walker headed the linebacker's way on a lead block for Frank Gore.
"We are in shells, and I was really a little too excited to get out there. I had gone up against Delanie and was ready to tackle him instead of Frank," said Lawson.
Lawson blew up Walker, quickly wrapped up Gore, and then stomped his feet, clapped his hands and shouted "Let's GO!"
Lawson later snagged an Alex Smith pass for an interception on a play that was actually a busted assignment on his part.
"I had messed up, a little over excited and I was supposed to rush and I ended up dropping," said Lawson. "So, I messed up, and that's bad. So, it was like "aw,' then got a pick, and then got a 'that's a boy.'"
The pick was definitely deserving of a few shout outs as Lawson leapt up, bobbled the ball, and then eventually came down with the steal of Smith's throw on a crossing pattern.
Overall, Lawson said his legs felt a bit fatigued, but mostly just "really good to be back."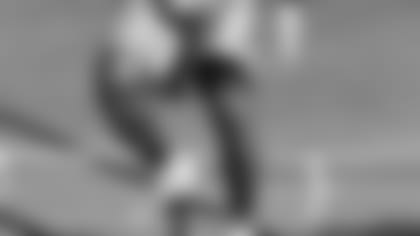 Running backs coach Tony Nathan brought a new drill with him from Baltimore in his first year coaching the 49ers backfield. Nathan had his group getting their knees up high with his rope contraption that is about a foot high.
"Those are high and I'm not that tall, and my legs are short so it's tough for me," said running back Frank Gore. "I can't play around with it. I have to really go. Some of the tall guys can go through easier but I have to really pump my legs. I think it will help me get ready for when I run through the hole to really lift my legs. When you see things on the ground, just lift your legs and go."
A few guys got tripped up in the ropes, prompting Nathan to shout, "Who's on my ropes? You know what that means."
The guilty parties would then have to redo the set.
"He feels that when you are in the NFL and you've been running the ball all of your life, you shouldn't be tripping up," said Gore. "It gets you ready for football and I like it."
Running backs DeShaun Foster and Frank Gore sported colorful visors during the first practice,  (see picture above) similar to what LaDainian Tomlinson wears in San Diego. (L.T. has a prescription to wear his visors in games.)
"We can wear them in practice only," said Gore. "I like how they look. You can also hide your eyes and check out the defense, and they can't see your eyes. It's just a little flavor."
Former 49ers defensive lineman Bryant Young attended the morning practice. Young has not officially filed his retirement paperwork, nor does he have an official role with the 49ers.
"The door has been opened for me to hang out and just really talk to the guys," said Young. "I don't have a role really, just talking to the guys. It's different to be watching only, but you do start to see it from a different perspective."
Young received many warm wishes, hugs, and pats on the back from his teammates, particularly Ron Fields and Isaac Sopoaga. The pair of linemen about near tackled Young on their way into the locker room.
"You went to work with those guys, sweated with those guys, sacrificed with those guys and so it's great to see them, but hard too because you do miss having the camaraderie every day that comes from those relationships," said Young. "That's what I have missed the most."
A few players debuted their new jerseys. Cody Wallace sported #59 since veteran Barry Sims wanted his familiar #65 jersey. Kentwan Balmer sported #96, his now official number. Quarterback Kyle Wright has been assigned #3.
AM Highlights

Safety Dashon Goldson proved once again to be in the right place at the right time, plucking a Shaun Hill pass off the helmet of tight end J.J. Finley.
Hill responded on the next play with a deep out pass to wide receiver Arnaz Battle along the far sidelines.
Safety Keith Lewis almost had an interception on an off-target throw by quarterback Alex Smith, but the defensive back let it slip thru his fingers.
Defensive end Justin Smith looks to be a great challenger for starting left guard Adam Snyder. On their first rep against one another in o-line/d-line pass rush, Smith got in the backfield in a hurry with a slap and rip move. Snyder held his own on the next play, managing to keep his balance despite another harsh slap and rip.
Barry Sims also got some props from the offensive line on his first two sets at right tackle as he staved off the pass rush from linebacker Parys Haralson.
Rookies Chilo Rachal and Kentwan Balmer took their first reps against one another in the same drill, in a battle that is likely the first of many. Balmer got some gripes from defensive line coach Jim Tomsula for giving up too early on the rush on his first rep. Balmer heeded his coach's advice and had a much better rush on the next rep.
RB Frank Gore caught several short passes in the afternoon practice, including two that earned large cheers from the fans because of his run after the catch skills. FB Zak Keasey also snatched a well-timed Shaun Hill throw on a seam route.
Injury Updates
All players reported on Thursday, but a few players not working this morning included David Baas, Aubrayo Franklin and Joe Staley.
Baas and Franklin begin camp on the Physically Unable to Perform list (PUP). Baas is still recovering from surgery to repair his torn pectoral. Franklin is resting a sore Achilles.
Staley is on Non-Football Injury due to a foot infection that was caused by a bug bite. Staley was not present at practice as he was off receiving antibiotics.
Players can come off the PUP and Non-Football Injury lists as soon as they pass their physicals.
Damane Duckett worked in Staley's place with the starting offensive line.
*Wide receiver Isaac Bruce is being worked sparingly during team drills. Nolan said he wants the quarterbacks to get familiar with Bruce's body language in the individual periods, but will rest him typically in team. Check out Nolan's Notebook for more on Bruce.
In addition to Baas, Franklin and Staley, and by coaching design, WR Arnaz Battle, CB Walt Harris and T Jonas Jennings sat out of the afternoon session.
Following the Quarterback Battle 
Pen hit paper quickly for all media observing Friday's practice when quarterback Alex Smith took the first snap with the starting line.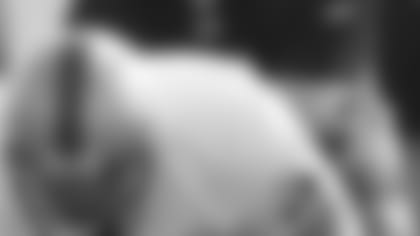 Fans shouldn't read too much into that though as head coach Mike Nolan said that Shaun Hill will take the first snaps in the afternoon practice. The two will continue an equal rotation in a quarterback battle that won't end any time soon.
"As I've said all along, it will be a good competition, it will be fair, they'll alternate in practices," said Nolan. "They will be evaluated by not only factors, but pre-season games and anything else we can figure into that they do well."
Despite the competition, Hill and Smith presented a united front during practice, encouraging each other on bad throws, and congratulating each other on good ones.
"The kind of relationship we have out there, when he makes a good play, I tell him: 'Good play.' And vice versa, when I made a good throw today, he said, 'Good throw,'" said Hill. "That's just the way we are. We're rooting for this team and we're both trying to improve for this team. And that's just the way we're taking it."
Smith said the pair basically figured out how to handle the situation back in March when the team's off-season conditioning program got underway.
"I think the great thing was that Shaun and I, when this first started, talked about it, joked about it and laughed about it," said Smith. "From there, that kind of broke the tension. It can be awkward and difficult at times. This is something we both put a lot into. When you invest that much and you're competing, emotions get high - guys get frustrated - guys want it. But up to this point, he and I have been great."
Both competing quarterbacks had their highs and lows in the first practice, but the best throw of the day in this writer's opinion came during an early on-air session with the receivers. The group started out throwing short routes, then intermediate, and finally deep routes on air, and that's when J.T. O'Sullivan displayed his canon. His first throw sailed way beyond the back of the end zone, but his next try turned out to be the best of the bunch with a beautiful pass right on the hash. Unfortunately, rookie Josh Morgan was unable to haul in the touchdown.
Hill struggled some in the afternoon, throwing three picks in the first team session and a fourth in 7-on-7. Safety Dashon Goldson, playing soft and deep, got the first one on an overthrown pass. Rookie CB Reggie Smith pilfered another long pass and then flashed some speed and return skills on about a 20-25 yard return before Frank Gore chased him out of bounds. Another rookie notched a pick towards the end of the team period in linebacker Larry Grant. CB Shawntae Spencer broke on the ball and snagged the fourth Hill interception.
Hill's best ball of the afternoon was a deep bomb that allowed receiver Dominique Zeigler to keep his stride on the grab and take it on in for a score.
Although Smith had a few passes that got away from him for incompletes, the former first-rounder finished the afternoon without throwing a pick. He also completed a couple of crisp passes in the 7-on-7 period to WR Josh Morgan and TE Delanie Walker.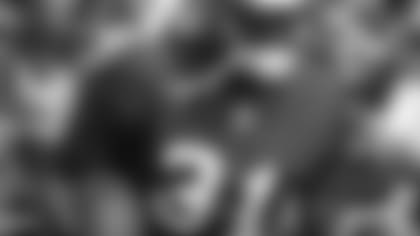 Throughout training camp, TV49 will be scouring the bleachers during the open practices for highlights and play by plays from the fans. We'll also feature a few in our practice reports in this From the Bleachers feature.
"Reggie Smith got an interception and he looked pretty fast out there," said Tony Rocho. "We needed some speed on the corners, especially in case anyone gets hurt out there during the season. It's a long season and I feel like we've got some depth."
"What I've seen out of Frank Gore today is that he's going for long passes, short passes, catching it, and busting out his abilities," said Alberto Rodriguez. "He's going hard, full-speed and he's broken through the line of scrimmage, and he always supports the fans going back to the huddle by coming along the sidelines.