Here are some questions and answers from a conference call with first-round draft pick Kentwan Balmer, shortly after the 49ers had selected the defensive tackle with the 29th overall pick.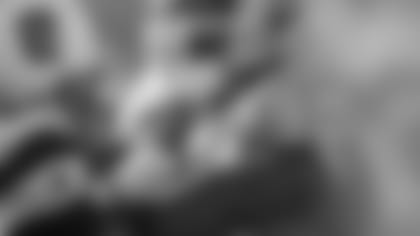 Q: What's your reaction on going in the first round and to the 49ers?**
A: Me, being a first-rounder just goes to show that it's all worth the hard work, but being a 49ers, it's actually been in my family for a long time. My father was a big 49ers fan back in the day when Steve Young was playing, so I've watched a lot of 49er games, but I never thought that this would happen.
Q: Have they told you where you're going to be playing?
A: It doesn't matter, whatever it takes for the team. I'll get back there and try to kick if they want me to. I'm just going to go in there and work hard and compete. I think that's the main thing, and everything else will work itself out. I'm willing and I'm hungry and I'm just going to come out there and go back to playing some ball.
Q: In the days leading up to the draft, did you talk to your dad about the possibility of becoming a 49ers?
A: We talked a little bit. He's just proud of me and the situation I am (in). I think he's crying now just because, and he has his 49ers hat actually. What a coincidence.
Q: How does your father get to be a 49ers fan in that part of the country (North Carolina)?
A: There's a lot of tradition that the 49ers have and there's a lot of great players. We were watching them seeing that red and that gold, and we just loved it. It's in me.
Q: Did you have any idea where you might go?
A: Not at all. I just came to this thing with an open mind and just tried to stay patient. This is where God wanted me to end up. I'm all yours.
Q: Is playing defensive end in the 49ers scheme like playing defensive tackle for the Tar Heels?
A: I would definitely say the position is similar. I played a little 4-technique and 5-technique here, and it's all about get-offs, knock back and make plays; doing what you are coached to do and getting the job done.
Q: Have you followed the team lately? They are a lot different than when your father was a big fan.
A: I followed them. I know they're not happy where they're at, but you just have to keep working hard, and hopefully I'm going to come in and try to help change that. I think we'll get it turned around.
Q: If you were to write a scouting report on yourself, what would you say?
A: He plays hard. He plays hard all the time. He's coachable. He plays with great passion for the game. He's a student of the game. He still has a lot of growing to do. His best football is ahead of him.
Q: How much of an impact did Butch Davis have on your career?
A: He had a lot of impact. Coming in, bringing that professional mentality of the game, making us take a professional approach to each game. I had a professional defensive line coach in John Blake. He came in bringing that NFL mentality, so every down, holding is not an option. No excuses. You have to play with tenacity and that nastiness every play. That was probably the biggest difference in my career.
Q: What were you thinking as the first round went through (watching on TV)?
A: I just came in with an open mind. I knew it was out of my control. I was just trying to stay patient. I knew whatever team I would go to, I wanted to be there, and I'm going to give my all to them. I'm a 49ers now and that's all I'm concerned with.
Q: Some people have called you a one year wonder. Do you think it took that NFL coaching to sort of bring out that potential in you at the college level?
A: Somewhat. I think more so the preparation was the biggest key. Football is a physical game, but the mental part is even more important. I didn't know that, and these guys really showed me how to do it.
Q: How much did the ankle sprain impact your junior year?
A: I'm not one to make excuses, but I came back a week early from it (when) my team needed me. I went out there and did all I could do. I know that wasn't my best ball, but when your team needs you, whether you're hurt or not, you gotta go.
Q: Why do you think it is that some analysts have said that your production hasn't been as good as your potential so far?
A: They don't know. They don't know how hard I work here and the effort (I put in). A lot of different things play into this, different schemes, different preparation. It was just a lot of different things and a lot of people didn't understand that. They'll definitely get to see a lot more now.
Q: What do you know about the 49ers defense as it is now?
A: I know you guys have Manny Lawson, he played at my rival school, N.C. State. You guys have Patrick Willis, who was a Pro Bowler. Bryant Young retired. You've got a few holes you need to fill. That's why I'm coming to town.
Q: Bryant Young did retire. You might end up playing the position he played. What do you think about that?A: That's a Hall of Fame player. I'm not expecting to come in and just replace him. It's going to take a lot of work. Hopefully, he'll be around. I'm going to be in his ear every chance I get. He's going to have to push me away from him because I'm going to try and get all the knowledge I can from him. I expect to come in and make an impact and try to shadow what he did and get better and progress, and hopefully do some of the things he did.
Q: Did the light kind of go on for you last year as far as understanding what it takes to make it and take your game to the next level?A: No doubt about it. I really didn't have a clue what it took and now that I know what it takes to be good, I'm going to do that and more to be the best on the field on Sundays.
Q: Was there one particular instance that stands out in your mind?A: I would just say film preparation, just watching a lot more film. That helps because you can play that much faster when you know your opponent better than he knows himself. That can give you the edge and I know now that's what it takes.
Q: Are you at your family home right now?A: Actually, I'm at North Carolina Stadium.
Q: Was football always big in your life growing up?A: Actually, I thought I was a better basketball player at first. Then as the years went on, a coach by the name of Ken Browning came and told me that my future would be in football. I believed him and here we are.