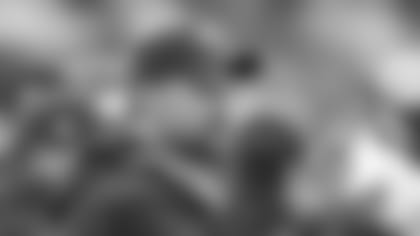 Three is a charm after all. Head coach Mike Nolan and his 49ers staff have coached the Senior Bowl for the last three straight years, but it took until year three before he got his first victory at the Mobile all-star game.**
Associated Press - For once, Andre Caldwell and Erik Ainge had a dramatic finish that both could cheer.
Florida's Caldwell scored on a 2-yard end around off a handoff from Tennessee's Ainge on the final play of the Senior Bowl to cap a 14-play, 86-yard final drive and lift the South to a 17-16 win over the North on Saturday.
After careers spent battling for the Southeastern Conference Eastern Division in a bitter rivalry, they made for an odd pairing on the winning play.
"It's fun to end your college career like that," said Ainge, whose 13-of-21 passing and 159 yards all came in the second half. "I'll remember handing the ball to a Gator to win for the rest of my life."
Caldwell plunged into the end zone, getting hit by Terrence Wheatley at the goal line, and promptly celebrated the fourth-down score with a Gator chomp. Georgia's Brandon Coutu then made the extra point.
"I knew I was going to get hit," Caldwell said. "I just lowered my head. To get in the end zone was a great feeling."
Ainge, who was invited to the all-star game after Louisville's Brian Brohm bowed out, took over at his own 14 with 2:48 left after the North was stopped on fourth down. He completed six passes and benefited from a pass interference call and some nice runs for extra yardage by his receivers.
He completed an 18-yarder to Caldwell on fourth-and-10 from the South's 14, then hooked up with Houston's Donnie Avery for a 22-yarder across the middle. The South got another first down on a pass interference call and Harry Douglas of Louisville caught the ball across the middle and managed to outrun everyone to the sideline to stop the clock after a 23-yard gain.
Tulane running back Matt Forte then gained 14 yards on a catch and run down to the 2. Ainge threw three incompletions in the end zone, leaving only 2 seconds on the clock for a final play. It was then that 49ers newly hired offensive coordinator Mike Martz dialed up the end around.
"On that last play, you have a chance to call anything because it's the last play," said South coach Mike Nolan of the San Francisco 49ers. "Whereas the ones prior, he just had to keep it alive and not use up all the clock. A play like that you call it the first or second play and we never get another play off. It was a great call and it worked."
Ainge earned South offensive MVP honors. Forte ran for a game-high 59 yards and had 38 receiving to land the overall MVP award.
Michigan's Chad Henne, the North offensive MVP, accounted for both his team's touchdowns with a 36-yard pass to Lavelle Hawkins of California in the first half and a 4-yarder to Missouri tight end Martin Rucker with 14:32 left in the game. He and Ainge were the only quarterbacks to avoid costly mistakes.
The defensive players accounted for many of the big plays before the South's final drive. Southern California defensive tackle Sedrick Ellis outshined his college quarterback, John David Booty, by sacking Andre' Woodson of Kentucky to record a safety for the North.
Those two points were the margin until the fourth quarter, and Ellis was the North's defensive MVP. LSU linebacker Ali Highsmith received South defensive honors.
Henne had staked the North to a 16-7 lead with considerable help from Chauncey Washington. The Southern California tailback ran for 30 yards on three carries during the drive that ended with Rucker's TD.
Henne completed five of nine passes for 64 yards but was reduced to spectator at the end.
"They just did a great job on the last drive," he said. "Erik made some great throws and the receivers made some great plays. Everybody played well. It's an all-star game, so everybody has something to be proud about."
Henne was the only one of the five quarterbacks who had significant time and no turnovers in the first half. Booty was intercepted by UTEP's Quintin Demps in the end zone to stop a promising drive. He finished with 72 yards passing, second only to Ainge.
Woodson lost a fumble in addition to getting tackled for the safety by Ellis, widely regarded as the game's top prospect. Woodson did have a 6-yard touchdown pass to Tennessee tight end Brad Cottam.
Hawaii's Colt Brennan was 2-of-6 for 29 yards with an interception. Delaware's Joe Flacco was 2-of-7 for 22 yards and a pick.