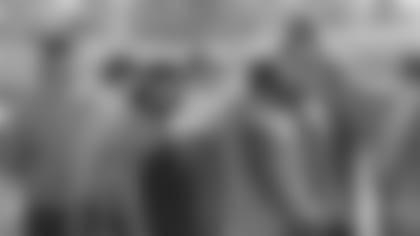 It's a common saying around 49ers headquarters, something strongly believed by players and coaches alike.
"There's no such thing as the offseason."
That is, not in today's NFL.
A large contingent of 49ers players proved that statement to be true on Monday by showing up for the start of the team's offseason conditioning program.
"It's great to be able to set the tone for the guys and lay out the plan in terms of how we're going to get better, both individually and collectively," said 49ers head strength and conditioning coach Duane Carlisle.
Carlisle and his staff have spent the past 11 weeks getting the program prepared for the players.


"We're making sure we give them everything they need in order to improve. This time of the season is exciting, you get the guys working collectively together and it's great to see everybody again. But more importantly it's an opportunity to get better."
The players had a busy day overall, with weight training, strength testing and Pilates serving as their main activities.
To help lead the core workouts, Carlisle brought in Christina Specos, the creator of Pilates for Athletes. With Specos leading the morning and afternoon sessions, the intent was to help the players improve their core muscles, and develop better core control.
For most, it was their first introduction to the workout.
"When you think about Pilates, you don't really think about the core stuff and how much you need it. But, it can really help us out," safety Michael Lewis said. "It really got to me today. I have a newfound respect for Pilates."
Even as he enters year-nine of his pro career, Lewis finds value in attending team workouts in early March.
"Coming off the year we had finishing 8-8, this is where you build your team. It's very important that we have the majority if not all the guys here so we can build that camaraderie and build as one unit."


Attending the workouts also allows the players to get in-person updates from their teammates.
"You see guys and you can tell they've been working out, staying in shape and looking forward to the upcoming year. It's fun for me to get back and mingle with the younger guys, being an older guy around here," Lewis said.
Although he hasn't played as long as Lewis, tight end Delanie Walker attends offseason workouts for similar reasons.
"I think it's a learning tool for everybody, just trying to work on the core and work on some of the muscles we really don't work on in the weight room," the fifth-year pro said. "We're trying to build the muscles you think you don't need, but we really do. I think it was good. For a light workout, I felt the burn, so I think it will be a key to our training."
The Pilates training was also a great ice-breaker for some of the new 49ers like tight end Tony Curtis.
"Christina was holding the perfect form, and at the same time, we're professional athletes struggling. It was fun though – I liked it," he said.
In addition to the Pilates and weight training, the players went through a functional movement test which involved seven stations. According to Carlisle the goal was to identify any type of movement deficiencies or compensation patterns. The early tests can help the 49ers strength staff in many ways.
"We can direct the guys to individual work that will help them improve their areas, improve performance and minimize injury," Carlisle explained.
Adding the Pilates was also an important decision made by Carlisle.
"At this level you have to give the guys variety so they're constantly stimulated."
For the remainder of the offseason, many of the 49ers will get more than enough stimulation as part of Carlisle's program.