It was a simple question from coach to player, "Can you play center in the NFL?"
David Baas didn't think twice.
He's a competitor, confident in his skills, and he's never questioned his ability. So back in training camp, when starting center Eric Heitmann went down with a broken fibula and 49ers head coach Mike Singletary asked Baas that simple question, Baas didn't hesitate.
"Yes, I can do it," he told his coach. "No problem."
And that was it. Baas, who in five seasons with the 49ers had started 38 games at guard, shifted his focus to center.
He knew it wouldn't be easy, "but this is the NFL," he thought, "nothing is."
It soon became a common sight after every training-camp practice, Baas and quarterback Alex Smith were the last ones on the practice field working on Baas' snaps. Admittedly, it didn't come easy at first.
Baas had only played center for nine games previously, during his senior season at the University of Michigan, but the improvement came quickly.
Smith and the coaching staff repeatedly praised Baas' dedication and development throughout the preseason, so when the regular season came Baas was as prepared as he could be.
Still though, he said he wasn't where he wanted to be when Week 1 rolled around. There's a lot that goes into playing center, and those things weren't yet coming naturally as he approached the line of scrimmage.
He was thinking too much about snapping the ball. He was still getting used to calling out the protections.
"You definitely have a lot more on your plate," Baas said. "You can put in all the time you want, you can study all the film there is, but nobody's perfect.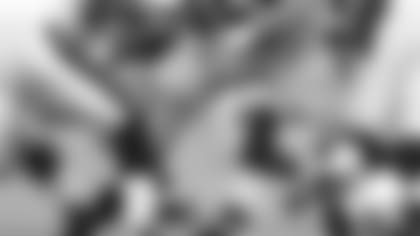 "I had my moments when I struggled, especially early on."
And one of those moments came in Week 2. It was Monday Night Football against the New Orleans Saints, and after receiving the opening kick the 49ers faced a third-and-five from their own 15-yard line.
The Saints were showing blitz all the way. As soon as Baas released the ball he wanted it back.
"That one sailed on me," Baas said afterwards.
At that point it, would have been easy for the 6-foot-4, 330 pounder to get down on himself. But he didn't. For Baas, that wasn't an option.
"My teammates all told me to forget about it and move on, but they didn't need to because I had already done that," he said. "I had made a mistake, but it was in the past. There was nothing I could have done to change it, and I knew I couldn't let it affect me the rest of the night."
Not only did Baas not let it affect him that night, he said that was the turning point for him this season. He knew his biggest mistake was behind him, and there was nowhere to go but up.
And that's exactly what he has done.
Now when Baas walks to the line, he isn't worried about snapping the ball. He's playing like a true center. He's diagnosing the defense, seeing where the rush is coming from, and making the proper adjustments along the line.
The nuances of the position have become second nature.
"My confidence is high and everything is coming naturally."
And as well as he is playing on the field, Baas' biggest joy of 2010 came away from it.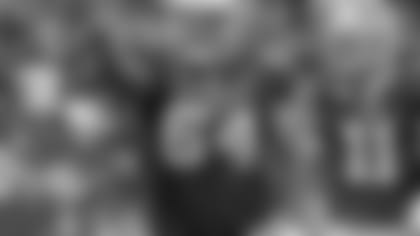 Days before the team left on its trip for Carolina and London, Baas and his wife Elizabeth had their second son, Tate.
"Having another kid," Baas said, "you can't put that feeling into words."
So it was tough when he was had to leave his newborn for 11 days, but that's part of his job, he said. As much as Baas wanted to be home with his wife and kids, he had a job to do, and he did it well.
In London, Baas led an offensive line that didn't allow a sack to the Denver Broncos and opened holes for Frank Gore to rush for 118 yards.
Baas has improved every week on the job, and on Tuesday, Singletary called the play of his new center "exceptional."
"I thought not only did he step up and do the job, but he's made great strides," the head coach said.
So now when people talk about David Baas, nobody is asking if he can play center in the NFL.