Check out some of these nuggets from the 49ers first preseason game against the Oakland Raiders.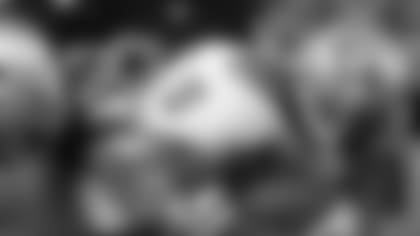 Frank Gore played the first series only and carried the ball twice. His first rush counted for six yards, but on 3rd and 1 he was stopped for no gain, ending his night.
Although Zak Keasey was listed this week as number two on the depth chart, the fullback started on Friday night.
Wide receiver Josh Morgan started in place of Bryant Johnson, who was out with a hamstring. Nolan said that Morgan started ahead of Jason Hill because he plays a different position, and that the rookie has also been "looking good."
Morgan indeed looked good on Friday night, leading the 49ers receiving group with 4 catches for 68 yards.  
Despite the production and being the bright spot of the evening, the sixth-round pick said he struggled in the game.
"I had trouble recognizing the coverages. The coverages were kind of messing me up," said Morgan. "I ran some wrong routes because I thought the coverages were one way when they weren't so I still have a ton of work to do. I can always get better. You never want to doubt yourself thinking you can't do it at this level. God does everything for a reason. He wants you here because you can do it. You just have to get better every day."
Ray McDonald started in the 49ers 4-3 defensive lineup. The starters on defense played in only about one and a half drives.
Safety Dashon Goldson got to start with the coaches sitting Mark Roman as a precautionary measure. Roman, the 49ers starting safety participated in individual work the last two days after missing time with a hamstring injury.
Kicker Ricky Schmitt saw action in the fourth quarter, sending the ball thru the uprights on a 38-yard field goal.
Scoring Summaries

1st Quarter, Oakland 0 – 49ers 0
None
2nd Quarter, Oakland 7- 49ers 3
3:26 Oakland - 53-yard punt return by Johnnie Lee Higgins
:15 49ers - 22-yard field goal by Joe Nedney (10-59,3:11)
3rd Quarter, Oakland 15 – 49ers 3
6:44 Oakland – 5-yard touchdown run by Michael Bush, two-point conversion (13-75, 8:16)
4th Quarter, Oakland 18 – 49ers 6
11:38 Oakland – 23-yard field goal by Aaron Elling (6-75, 3:22)
8:10 49ers – 38-yard field goal by Ricky Schmitt (10-37, 3:28)
Turnovers

The 49ers turned the ball over four times in comparison to zilch for the Raiders. Here's the breakdown
2nd Quarter: Interception, Fumble
On 1st and 10 with 14:17 to go in the quarter, J.T. O'Sullivan launched one up for grabs. Stanford Routt intercepted the ball at the 1 and crossed from the 49ers sidelines over to the Raiders sidelines with hopes of getting up field. Wide receiver Arnaz Battle delivered a blow and stripped the ball out, which was almost recovered by tackle Joe Staley.
"I needed to fall on that," said Staley. "That was all on me. The ball was on the ground and I wanted to get in [the end zone]. I know I needed to have jumped on that. The next time will be different."
Oakland instead recovered.
On the ensuing 49ers drive, O'Sullivan felt pressure and used his legs to escape. Towards the end of his run he lost the ball, which was recovered by Oakland at the 49ers 45-yardline with 10:20 left in the quarter.
3rd Quarter: Fumble, Interception
Quarterback Alex Smith connected with second-year receiver Dominique Zeigler on an 11-yard pass. Michael Waddell forces and recovers the fumble at the 49ers 44 with 5:41 to go in the quarter.
On the final play of the quarter, quarterback Shaun Hill underthrew a deep pass to Jason Hill that was picked by Hiram Eugene at the Oakland 9-yardline. Eugene returned the interception to the 19-yardline.
Total Points off of Turnovers: 3
Allen Rossum served as the sole punt returner and also fielded the first two kickoffs. Whether it was by design or because he suffered a knee strain, tight end Delanie Walker returned the kickoffs in the second quarter.
The 49ers showed some pass rush in tonight's game. Ray McDonald and Justin Smith both got in the backfield with McDonald getting the sack. Tully Banta-Cain should have had a sack, but the linebacker was held on an Oakland infraction. Louis Holmes didn't get credit via NFL stats, but the rookie did apply some pressure on Oakland quarterbacks on a few plays. Linebacker Jay Moore also recorded a sack, a quarterback hurry, and two tackles for a loss.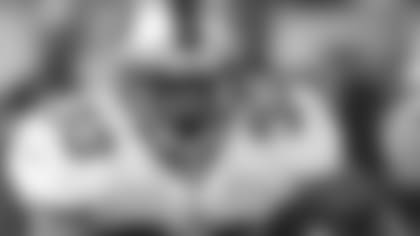 Kudos to cornerback Marcus Hudson for chasing down Louis Rankin to prevent the touchdown on Rankin's 72-yard run.
Cornerback Walt Harris prevented two long passes from being completed in the first quarter by JaMarcus Russell, while rookie corner Reggie Smith broke up two passes later in the game.
Wide receiver Arnaz Battle showed some aggression with a mean hit on Stanford Routt to force a fumble during his interception return.
Tight end Delanie Walker enjoyed his chance to return kickoffs, taking the second one back 40 yards.
"Coach Al Everest just came at me and asked me if I wanted to return some kicks and I said, 'yeah,'" said Walker. "I've been back there at practice but for the last two days I wasn't back there so I didn't think I was going to go back there in the game.  It surprised me, but when I got back there I was prepared. I knew what to do. I studied special teams, so when he threw me back there I was confident knowing that I could make the plays and get us past the 20."
Running back Thomas Clayton led the 49ers running backs with 5 carries for 27 yards for an impressive 5.4 average.
After trading field goals in the fourth quarter, the two teams traded fourth down tries. Oakland went for it on 4th and 7, followed by a 49ers try on 4th and 9, and then another attempt by the Raiders on a 4th and 12. The Raiders were 0-2 on their 4th down 4th quarter conversions, while the 49ers were 0-1.
The 49ers announced four game injuries, none that should be "very serious."
Allen Rossum, knee strain
Delanie Walker, elbow laceration
Eric Heitmann, hip
Damane Duckett, knee contusion
Heitmann, the team's starting center was injured early in the second quarter.
Ruled out of the game were the following players: G David Baas (pec), WR Isaac Bruce (coaching decision), S Lewis Baker (thigh), WR Ashley Lelie (calf), RB Michael Robinson (knee).
Safety Michael Lewis will wear the headset in his helmet for the first half with safety Keith Lewis taking over the headset in the second half. The headsets for defensive players is a new rule for 2008.