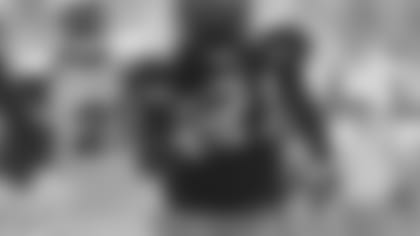 **Running back Frank Gore accounted for the majority of both rushing and passing yards. He had 14 carries for 96 yards, a 6.9 average, and a 41-yard touchdown.
Gore also had four catches for 55 yards, with a long of 22.
"We have a great offense, but the mistakes we did, they hurt us," said Gore. "We need to watch film and get better, the whole team."
Tight end Vernon Davis finished second on the team in receiving yards with 3 catches for 51 yards.
Safety Michael Lewis got some pressure on kicker Neil Rackers, forcing him to push his first quarter 35-yard field goal attempt wide right.
"I barely missed it," said Lewis. "I was trying to get a hand on it and I barely missed it. But it was enough pressure to cause a miss."
Lewis also came up big when Arizona put their rookie cornerback Dominique Rodgers-Cromartie on offense. DRC lined up wide against Manny Lawson. Lawson eventually released him to Lewis who was there to break up a deep ball.
Linebacker Parys Haralson led the 49ers defense in their pass rushing efforts with 2.5 out of the team's 3 sacks.
**Bryant Johnson did start the game, opposite receiver Isaac Bruce, and was the most active player among the 49ers receivers, catching three passes for 48 yards against his former team, including an explosive 31-yard pass play.
"It was different for me. I was there for five years and grew with those guys - good and bad," said Johnson. "It was weird being in a different uniform, but as they say, the show most go on. I prepared for this game and approached it the same way I would any other."
Johnson expected a big showing on offense, particularly after Gore's touchdown dash, but things took a quick and unexpected turn.
"We definitely felt like we could have a big day but we'd do something good, and then turn around and do something bad," said Johnson. "I do think all of our errors are correctable. That's the good thing, but it was still frustrating because we turned the ball over in the first half, and then we didn't really get a chance much to be out there in the second half. You can't score points when you don't get on the field."
Wide receiver Arnaz Battle caught a 3rd and 11 pass in traffic and went airborne when a Cardinals defender aimed for his legs. Battle managed to keep his balance as he was spun around and ended up with a 16-yard pickup and a first down.  The drive ended in a field goal, and was the sole catch for Battle on the day.
It was a quiet day for receiver Isaac Bruce, who never had a pass thrown his way. The veteran receiver's biggest action of the day came in the first half when he traded a few shoves with a Cardinals defender.
"There were a lot of times I would have liked to have thrown to him, but it seemed like they had guys on him," said J.T. O'Sullivan.
Rookie wide receiver Josh Morgan had a few passes thrown his way, but he and J.T. O'Sullivan never seemed quite able to hook up.
**The 49ers led in almost every single statistical category in the first half except for average drive start, a reflection of the three first-half offensive turnovers. Arizona's average drive start was their own 47, while the 49ers was their own 20.
The second half was a completely different story with the 49ers having only one possession until the final two minutes of the game, when they had two series that each lasted one play.
| | | | | |
| --- | --- | --- | --- | --- |
| Category | AZ 1st Half | SF 1st Half | AZ 2nd Half | SF 2nd Half |
| Net Yards Rushing | 63 | 84 | 46 | 24 |
| Net Yards Passing | 61 | 135 | 115 | 48 |
| First Downs | 6 | 8 | 12 | 5 |
| Total Net Yards | 124 | 219 | 161 | 72 |
| Time of Possession | 14:27 | 15:33 | 22:38 | 7:22 |
**By day's end the 49ers totaled five turnovers versus none for Arizona.
Frank Gore fumbled on the first play of the second series, but guard Adam Snyder fell on the ball for the 49ers. On the following snap, fullback Zak Keasey wasn't as lucky. Keasey was drilled by Darnell Dockett and coughed up the ball, which was recovered by Arizona at the 49ers 11-yardline.
That was the closest the Cardinals came to scoring after the 49ers' first-half mistakes, but Neil Rackers missed a 35-yard field goal.
Following Gore's touchdown run, the 49ers were driving again, but O'Sullivan was intercepted by safety Adrian Wilson. Wilson returned the pick to the 49ers 33-yardline where Josh Morgan got him down.
"I saw Arnaz coming over, when I threw it, I thought I had him," said O'Sullivan. "I have to see the film to know what exactly happened."
In the second quarter, defensive end Bertrand Berry forced an O'Sullivan fumble, that was recovered by Antonio Smith at their 37-yardline, stopping yet another 49ers offensive drive that had some momentum.
Following Arizona's opening field goal drive in the third quarter, kicker Neil Rackers pooched his kickoff to the right side of the 49ers return formation. Linebacker Takeo Spikes attempted to make the catch, but he muffed it and Arizona recovered.
The Cardinals got their first points on the board off a 49ers turnover eight plays later on a 2-yard touchdown run by Tim Hightower.
The Cardinals scored a field goal just after the two-minute mark to go up by ten. A comeback attempt was ended by defensive end Travis LaBoy who sacked and forced an O'Sullivan fumble.
Linebacker Joe Staley blew up tight end Leonard Pope in the end zone following the Zak Keasey fumble to force an incompletion on a 3rd and 7 play on Arizona's opening drive.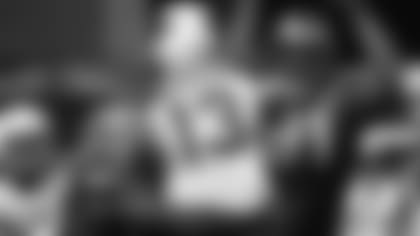 Following the Adrian Wilson interception, the 49ers defense came up with a big three and out stop. Cornerback Nate Clements bulldozed Anquan Boldin on the receiver's blocking attempt on a 1st and 10 run play. With Clements clearing the way, linebacker Jeff Ulbrich had a free shot on Edgerrin James. On the next play, Willis also drilled Boldin on a short pass over the middle to force an incompletion. Parys Haralson and Justin Smith finished the series off with a sack.
At the start of the third quarter on a 3rd and 7 at the 46, cornerback Walt Harris ran a corner blitz, while Patrick Willis came up the middle. Willis got tripped up and Harris had to veer around a blocker, getting to Warner a half second too late as the Cardinals quarterback delivered an 11-yard pass to Steve Breaston.
Following the muffed kickoff in the third quarter, the 49ers defense appeared to have stopped Arizona on a 3rd and 9 pass play. But Ray McDonald was flagged for roughing the passer, instead giving Arizona the ball at the 11-yardline with a fresh set of downs. The Cardinals scored a touchdown to go ahead by ten points.
"It was real big, because they would have had to kick a field goal, possibly get three points out of it, maybe not," said McDonald. "It kept them on the field and they ended up getting seven points. It was a big call against our defense."
Arizona enjoyed an 18-play drive in the fourth quarter, converting on two 3rd down conversions and on a 4th and 1 play to eat up more than ten minutes off the game clock.
The 49ers offense possessed the ball for seven minutes and 22 seconds in the entire second half.
**Each head coach challenged a play, and each lost. Mike Nolan questioned the Berry forced fumble, claiming that O'Sullivan's arm was in forward motion and that it should have been an incomplete pass. It was close enough to warrant the challenge, but officials upheld the ruling and the 49ers lost a timeout.
Arizona challenged the spot on a Steve Breaston catch down by the 2-yardline. The spot was changed, but it still wasn't enough for the first down, losing a timeout for Ken Whisenhunt and his Cardinals. The challenge allowed Arizona time enough to come up with a 4th and 1 play at the 2-yardline, and Tim Hightower punched it in for a 2-yard touchdown.
**Starting center Eric Heitmann left the game with a shoulder injury for a few plays. During his absence, Tony Wragge moved to center with David Baas taking Wragge's place at right guard.
**Head coach Mike Nolan indicated that he and general manager Scot McCloughan have discussed bringing in a third-string quarterback due to the shoulder injury to Alex Smith. Nolan said however that he still didn't know anything for certain regarding Smith's time table.