NEW ORLEANS – Joe Staley and the 49ers first-team defense didn't allow any points in a 24-3 defeat to the New Orleans Saints, but it didn't give the four-time Pro Bowler any pleasure.
According to Willis, whether the first-team defense gave up three scores or pitched three shutouts as they did to Drew Brees and the Saints first-team offense, the inside linebacker knows there's always more work to be done.
As Willis put it bluntly inside the Superdome's visiting locker room, "I'm the last person to be satisfied."
Although they had success in their first game running Vic Fangio's defensive scheme, Willis sees room for improvement."I know we can always play better," he added. "There's always room to get better. That's the focus I take."
In reality, Friday's loss in New Orleans will soon be irrelevant. What's important is the work to be done before the regular season begins.
Willis is clearly aware of that.
"That's what training camp and the preseason is all about, getting ready for that first game," he said. "September 11, that's when it counts."
On a night where the 49ers starting quarterback completed two passes while facing heavy pressure from the Saints starting defense, Smith put things into perspective following a disappointing outcome.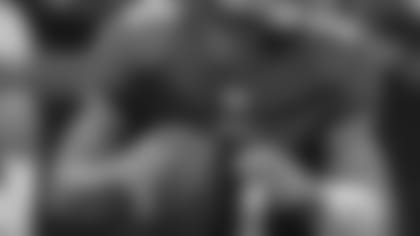 "No one is going to care what your record is in the preseason," Smith said. "But we need to take the strides necessary to do be where we need to be when the season starts."
Many of those strides will have to come in pass protection. New Orleans blitzed heavily in the preseason opener, and the 49ers could simply not throw a counter punch by making big plays of their own.
"It was good for us to see," Smith said. "They brought a lot of pressure early and we didn't handle it. It's kind of a feast or famine thing when they play that way. It's big plays either way is what it seems like usually.
"We left plays out there, especially those first three drives."
The pressure from New Orleans was consistent throughout the night. It wasn't strictly from their starters.
"Once their twos went in, I thought they'd go into more base stuff and calm the blitz down," said rookie quarterback Colin Kaepernick, "but they kept coming."
Kaepernick had a busy night to say the least. He played for three quarters and change, attempting 19 passes and leading the team with 47 rushing yards on six carries.
Young players and veterans alike spoke in the same fashion following the loss in New Orleans. With three preseason games remaining, the focus is on improving each day until the regular season begins.
"We'll go back in the next day and start critiquing ourselves, what we did good and what we did wrong so we can get better," said rookie cornerback Chris Culliver, who totaled three tackles on the night.
The 49ers next practice will be at a familiar home, none other than Candlestick Park, when the team holds a "49ers Fan Fest" event. The open practice at their home stadium should give the players incentive to get better in front of their home fans.
Notes and QuotesTeam captains have yet to be determined by the 49ers, but tight end Vernon Davis and defensive tackle Justin Smith represented the team at the pre-game coin toss.
Special teams coordinator Brad Seely was the lone 49ers coordinator on the sideline last night – offensive coordinator Greg Roman and defensive coordinator Vic Fangio sat in the coach's booth.
Frank Gore saw his first game action since fracturing his hip Week 11 of last season in Arizona. The 49ers running back carried four times for 20 yards and felt like his old self in the process. "I felt great," Gore said. "Early on, before the game, I was nervous because I hadn't played in a while, but its football." Gore played the first three series of game, before giving way to second-year running back Anthony Dixon.
Kicker David Akers connected on a career-long, 59-yard field goal to give the 49ers their only points on the evening. It just so happened to be a career long for the 13-year pro, who had never connected from 59 yards out in the regular season or preseason.
Akers' kick certainly impressed his new teammates. "I'm glad we got him," said tight end Delanie Walker, a big contributor on the 49ers special teams units in his own right. "Kickers win games and we got a kicker that can do that… If I had three thumbs, I'd give him three thumbs up."