Thursday's morning practice stood out from the other previous training camp sessions, as NFL referees officiated the team portion of practice. Although the 49ers always hire their own local referees to come in and help officiate practice, this was the first day that the NFL sent official referees to work the practice.
The players definitely noticed.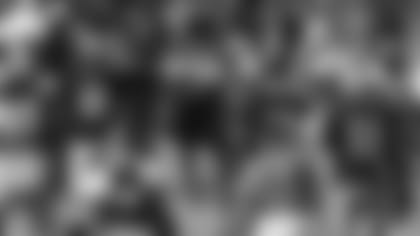 "There was a lot more of an emphasis on gameday calls," said center Eric Heitmann. "Usually we were seeing calls that dealt with the line of scrimmage, whether it be off-sides or formation misalignments."
The referees, like the players, were brushing up on their skills before the NFL season gets underway. They even made a few calls that had Heitmann and others impressed.
"I actually saw a defensive holding call today and that's something you don't see – that was nice," he said.
Heitmann said that most of the flags he saw at practice were after the snap penalties, such as holding calls or chop-blocks.
In addition to appreciating the attention to detail displayed by the referees, Heitmann enjoyed being able to get instant feedback from the officials on hand.
"It helps us going into the season," he said. "Every time you see a flag thrown at your foot, you want to know what you did. As a prideful offensive lineman, you don't think you're ever wrong, so it's nice to be able to correct yourself on the field at the time of the penalty."
Heitmann also said that it's nice to build a rapport with the refs because they have a tough job and endure a lot of criticism.
One instance where a player and referee didn't see eye-to-eye on a particular call happened during a goal line drill when linebacker Tully Banta-Cain was flagged by the linesman for lining up in the neutral zone.
"He hadn't thrown a flag all day – he wanted to get one out there," Banta-Cain joked.
The call perplexed Banta-Cain because he thought he had made sure his stance was out of the neutral zone.
"The crazy thing was before the play I said to the ref, 'Watch me on this.' I lined up and I looked at him and he said, 'You're good.' And then I got down and he throws the flag. I said, 'What happened?'" He responded back with, 'Ah, you were uhh.' I don't know what he said, he mumbled something."
Other than that minor misunderstanding, Banta-Cain was appreciative of having the referees keep a close eye on practice.
"They were out there doing their jobs and making sure to keep the linemen right. That's big because we're practicing, but we also have to play by the rules," he said.
Once practice concluded, the referees led by Bill Leavy, a 14-year NFL official, gave a briefing to the media on the upcoming rule changes for the 2008 season.
The biggest rule change to note is in regards to the highly disputed force-out rule. This year, the NFL will not call a force-out completion unless a player is carried out of bounds. The likelihood of that is rare, as the video shown to the media could only find one example of such a play, and that happened in an NFL Europe game.
The rule is supposed to benefit defensive backs, and allow them to knock a player out of bounds rather than make a play on the ball. If a player has one foot in bounds and any other body part in bounds as well, that would be ruled as a catch.
Another major rule change that will be enforced is the offensive face-mask penalty. An offensive player with the ball can still use a stiff-arm, but cannot grab on to the face-mask and jerk it excessively. If a ball carrier is flagged for that infraction, it will result in a 5-yard penalty against the offense.
Following the informational video, Leavy's entire crew fielded questions from the media. Most of the questions were based around the defensive player who will be wearing a helmet with a radio, allowing them to communicate directly to a coach. From the sound of things, there are still a bunch of different logistics to work out this season in regards to the helmet radio.
The referees finished their day with the 49ers with a similar presentation to the 49ers players and coaches.
The play of the day honor went to wide receiver Arnaz Battle, who made a sensational diving catch on a deep JT O'Sullivan pass during 7-on-7 drills.
With Donald Strickland draped all over him, Battle laid out for O'Sullivan's pass and hauled in the deep ball for a near 40-yard gain. The pass was put right on the spot, and Battle, showing no signs of hamstring soreness that limited his work in camp, made a terrific catch.
But Battle wasn't done making highlight-reel worthy catches.
A few plays later, on a deep in-route, Battle snatched an O'Sullivan pass before cornerback Walt Harris and safety Keith Lewis could close on it.
There were no turnovers on the day, but one close call.
Frank Gore fumbled the ball during the team running segment of practice, but the loose ball was recovered by guard Adam Snyder.
Each running back on the 49ers roster, Gore, DeShaun Foster and Thomas Clayton scored at least one touchdown during the goal line section of practice.
(Stats are entirely unofficial)
Shaun Hill rested his arm for the second straight day, giving O'Sullivan another opportunity to work with the first team.
Hill said he would be ready to go for Friday's practice and that his throwing arm did not hurt, but was just tired.
"You get tired this part of the year," Hill said. "I guess it was noticeable."
O'Sullivan did a nice job during the 11-on-11. He completed 8-of-10 passes. One of his incompletions was on a throw-away pass to avoid a sack.
Alex Smith completed 4-of-6 during the same period.
After practice, coach Nolan said the quarterback position was a battle between three guys.
O'Sullivan intends to keep the same mindset no matter what Nolan's eventual decision will be.
"The competition doesn't change how I approach any situation. This year or any other year," he said. "It's about me getting better. The only thing I can worry about is how I play."
The Daily Drill  (contributed by Scott Kegley)
It was all about the trenches on Thursday, at least as far as the offensive and defensive lines were concerned. Defensive line coach Jim Tomsula unveiled a new set of drills this training camp during the individual portion of practice.
The defensive coaching staff had just installed the goal line package, so it was time to take things from the film room to the field.
"We're just working on our leverage points," said Tomsula. "It's man against man, so we just want to get the proper leverage and not let our man get underneath us."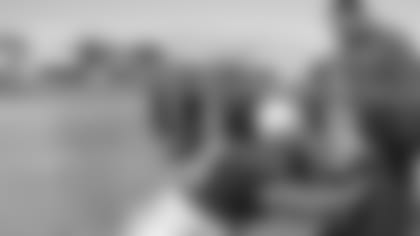 Tomsula started things off by getting the interior linemen down in a four-point stance, putting all their weight on their hands and staying low while driving forward with their shoulders.
"The drill work helps you to stay down in your stance," said defensive end Atiyyah Ellison. "I didn't know he didn't even want me to take my hands off the ground. That was a coaching point that will help me the next time we do goal line drills."
After the individual session, the entire team focused on the goal line during the second half of the team run period.
"It's something we look forward to," said guard Tony Wragge. "When we get down to the 3-yard line, we want to be scoring every time. You get riled up and it's fun because you know there's going to be hard contact."
As the centerpiece of the goal line defense, nose tackle Aubrayo Franklin was eager to make a few goal line stands.
"We never get to practice with the line like we did today," said nose tackle Aubrayo Franklin. "You really never get to simulate the goal line like that."
Perhaps no one was more excited for that contact than tackle Joe Staley, who was allowed to participate in all team drills for the first time this training camp.
"It was a good introduction for me to get some goal line work after a week of not practicing," said Staley. "You really get to get those pads cracking and start hitting again."
Seen or Overheard  (contributed by Scott Kegley)
The NFL Super Ad truck pulled right up next to the 49ers practice fields to film commercials for the 2008 season. Like last year, players were asked to share stories pertaining to their careers in the NFL.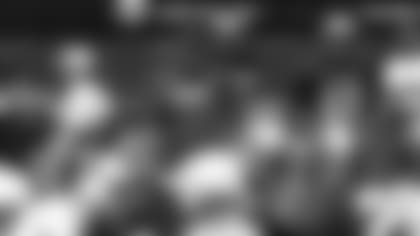 "I really don't want to give it away," said tight end Delanie Walker. "I want the fans to see it and vote for me on the internet so I can be in the Super Bowl commercial."
Walker and several of his teammates were escorted into the trailer which had only one chair, a football, several cameras and bright lights.
"It was a little intimidating, but I had a lot of fun," said guard Tony Wragge. "There's a big bright light in your face and it's just you and the camera."
Wragge, who shared his story of how he came to the NFL from Home Depot, made his pitch to fans.
"I think my story's pretty unique," said Wragge. "Unfortunately I was out of football for a while so I hope the fans vote for me. I would appreciate the votes very much."
Rookie Kentwan Balmer missed his second day of practice due to an ankle sprain.
S Lewis Baker (thigh), G Jeb Terry (foot), WR Ashley Lelie (calf), and S Mark Roman (hamstring) also missed practice because of their injuries.
Tackle Damane Duckett (knee) returned to practice, but only participated in individual drills.
RB Michael Robinson remains out after having his knee scoped, while G David Baas is still on PUP.