*In this edition of the NFC West Report, 49ers.com recaps Week 10's action within the division.
Decision:38-8 win over the Indianapolis Colts.
Offense:Pair signal-caller Kellen Clemens with great defensive and special teams efforts and this is what happens; Clemens only attempted 16 passes, but he accumulated 138 of his 247 passing yards on two touchdown tosses.
Defense: Rams defenders created five turnovers, including four interceptions and a fumble returned for a touchdown, against Colts quarterbacks Andrew Luck and Matt Hasselbeck.
Stock up:Rookie wide receiver Tavon Austin, whose rookie campaign had been quiet before Sunday, returned a punt 98 yards for a touchdown and caught touchdown passes of 81 yards and 57 yards.
Stat:This was the team's first win since starting quarterback Sam Bradford went down with injury on Oct. 20, snapping a three-game skid.
Quote:"He has the chance to change games, and we're going to continue working to get him the football," Rams coach Jeff Fisher told StLouisRams.com. "There's respect for him. After the return for a touchdown, the pooch punts took over, but when he gets his hands on it, you see what he can do."
Ahead: St. Louis is idle in Week 11.
Fisher announces the #Rams will practice on Wednesday and Thursday, before taking the next four days off. — St. Louis Rams (@STLouisRams) November 11, 2013
Decision:27-24 win over the Houston Texans.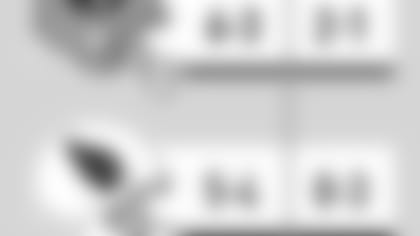 Offense: The Cardinals overcame three turnovers, including another Carson Palmer interception and two fumbles by tandem running backs Andre Ellington and Rashard Mendenhall.
Defense: The unit scored the game's first points on the first play from scrimmage: Veteran linebacker John Abraham forced Case Keenum's fumble, and fellow 'backer Matt Shaughnessy picked it up and ran six yards into the end zone.
Stat:The first of two Palmer touchdown tosses, a 12-yard screen pass to tight end Rob Housler, was the 200th of Palmer's career.
Quote:"We played against the number one (ranked) defense (in the NFL) today," Palmer told AZCardinals.com, "and I would take our defense over their defense."
Ahead: Arizona visits the 1-8 Jacksonville Jaguars in Week 11.
Decision:33-10 victory over the Atlanta Falcons.
Offense: Running back Marshawn Lynch gained 145 yards on 24 carries. Enough said.
Defense:Defensive end Michael Bennett increased his team-leading sack total to 6.5.
Stock up:With speedy wideout Percy Harvin still not back from injury, Golden Tate - a nifty pass-catcher in his own right - now has 228 receiving yards and three touchdowns over his past three outings.
Stat: The Seahawks already have a franchise-high-tying five road wins with two away games left on their schedule, including a Dec. 8 visit to San Francisco.
Quote:"It was really the game we've been looking for," Seattle's coach Pete Carroll told Seahawks.com. "About a month ago I was waiting to see this happen. Some really good things happened this week with the team behind closed doors. The guys answered the call really well. I thought we played a complete football game, and played terrifically defensively throughout."
Ahead: Seattle hosts the 2-7 Minnesota Vikings in Week 11.
Seahawks activate WR Percy Harvin from physically unable to perform list and release DT Michael Brooks. — Seattle Seahawks (@Seahawks) November 11, 2013