*In our first of the weekly series NFC West Report, 49ers.com recaps Sunday's action within the division. *
Decision:27-24 win over the Arizona Cardinals.
Offense:Greg Zeurlein kicked a 48-yard, game-winning field goal with 40 seconds remaining.
Defense: Defensive end Robert Quinn, a 2011 first-round draft pick, forced two fumbles and recorded three sacks, including two during a five-play span that ended a first-quarter Cardinals drive.
Standout: Quarterback Sam Bradford, who went un-sacked and mostly un-rushed in the pocket, was 27-of-38 passing for 299 yards and two touchdowns.
Stock Up:Tight end Jared Cook caught seven passes for 141 yards, including a 13-yard touchdown and a 25-yard haul-in that set up Zeurlein's field goal.
Stat: The Rams have now beaten the Cardinals in three consecutive meetings dating back to last season. This latest win was coach Jeff Fisher's 150th all-time.
Quote:"We have a long, long way to go," Fisher said in the locker room postgame. "There's a lot of areas we have to address but most of those were self-inflicted wounds."
Ahead: St. Louis visits the Atlanta Falcons, the 2012 NFC runner-up.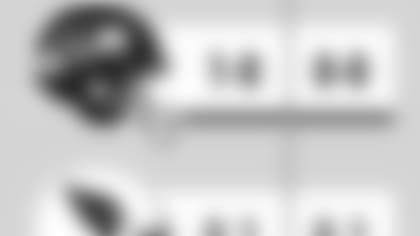 Decision:27-24 loss to the Rams.
Offense:Making his organizational debut, quarterback Carson Palmer completed 26 of 40 passes for 327 yards and two touchdowns, but he couldn't find top target Larry Fitzgerald in the fourth quarter.
Defense: Defensive tackle Dan Williams caught a tipped interception during his team's 14-point third quarter.
Standout: Fitzgerald made eight catches for 80 yards, including two touchdowns, but went silent in the final quarter.
Stock Down:Starting left tackle Levi Brown, who yielded three sacks to Quinn and was called for a holding penalty on a would-be fourth.
Stat: The Cardinals' 390 yards of offense would have represented a single-game high last season.
Quote:"They have a great pass rush," coach Bruce Arians told Kent Somers of The Arizona Republic, "and, no, I'm not concerned about the offensive line. We have 15 more games. They're our guys and we're going to live with them. I'm not concerned with them, no."
Ahead: Arizona welcomes the Detroit Lions.
Decision:12-7 win over the Carolina Panthers.
Offense: Quarterback Russell Wilson's 43-yard touchdown pass to Jermaine Kearse with just over 10 minutes remaining.
Defense:Eight players later, free safety free safety Earl Thomas forcing Panthers running back DeAngelo Williams at Seattle's 8-yard line.
Standout: Wilson was 25-of-33 passing for 320 yards and the score, completing at least two passes to eight different receivers.
Stock Up:Cornerback Walter Thurmond filled in admirably for injured starter Brandon Browner.
Stat: The Seahawks have won eight of their last nine regular season games.
Quote: "We needed as a team to see some adversity," cornerback Richard Sherman told Eric D. Williams of The News Tribune. "I talked about it last night in the meeting; we were going to see some adversity. "Last year, we didn't really see too much adversity until the playoffs. … I think us getting this kind of game early is going to help propel us throughout the season."
Ahead: Seattle hosts San Francisco on Sunday at CenturyLink Field.