In this edition of the NFC West Report, 49ers.com recaps Week 4's action within the division.*
 *
Decision:35-11 loss to the 49ers.
Offense:Kicker Greg Zeurlein scored the game's first three points with a 40-yard field goal, but the Rams didn't score again until the fourth quarter.
Defense: Outside linebacker Alec Ogletree recorded seven tackles and forced a fumble.
Stat:Running backs Daryl Richardson and Benny Cunningham were held to 22 yards rushing on 16 carries.
Quote:"Obviously, as a football team, we have a lot to work on," coach Jeff Fisher **told Rams.com**. "We're going to have to take advantage of some opportunities here this weekend and early next week and try to get some of these issues fixed, namely running the football."
Ahead: St. Louis hosts the Jacksonville Jaguards on Sunday. Arizona Cardinals
Decision:13-10 win over the Tampa Bay Buccaneers.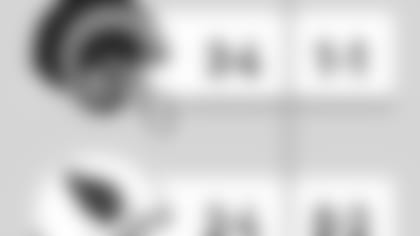 Offense:The Cardinals scored 10 points -- quarterback Carson Palmer and wideout Larry Fitzgerald connected on a touchdown and Jay Feely making a 27-yard field goal -- in the final three-plus minutes.
Defense: Cornerback Patrick Peterson picked off new Bucs starter Mike Glennon twice; the latter interception came with less than a minute remaining and sealed the victory.
Stock Up:Rookie linebacker Dontay Moch recorded his first NFL sack.
Stat:The Cardinals had just 87 yards of offense at halftime; Palmer threw for 86 yards in the fourth quarter.
Quote:"I'm really surprised they threw toward him with the rookie quarterback," coach Bruce Arians **told AZCardinals.com** regarding Peterson. "For a great athlete, he studies the game extremely hard. He probably could call the plays they were going to run at that point. I would argue he is the best in the league. It's not even close in my opinion."
Ahead: Arizona hosts the Carolina Panthers on Sunday.
Decision:23-20 win over the Houston Texans.
Offense: Kicker Steven Hauschka nailed a 45-yard field goal in overtime to complete the Seahawks comeback from 17 points down at halftime.
Defense:Cornerback Richard Sherman's interception and touchdown return led to the 20-20 tie in regulation.
Stock Up:Hauschka made all three of his attempts on Sunday and is a perfect 8-for-8 this season.
Stat: Seattle is off to its first 4-0 start in franchise history.
Quote: "We knew it was coming," Sherman told Seahawks.com regarding the Matt Schaub-thrown pass. "Kam (Chancellor) brings the pressure. I disguise. Earl (Thomas) disguises. And then you come make the play. Not everybody can make that play, because it's a risk. It's a high-risk, high-reward kind of play where you've got to jump it. You might get beat, but if you make the play you get a pick-six and change the game for your team."
Ahead: Seattle visits the Indianapolis Colts.