*In our third edition of the weekly NFC West Report, 49ers.com recaps Sunday's action within the division.
 *
Decision:31-7 loss to the Dallas Cowboys.
Offense:Quarterback Sam Bradford and the Rams unit didn't make a first down until the second quarter and had 18 total yards at halftime.
Defense: No St. Louis defender could wrap up Dallas running back DeMarco Murray, who rushed 26 times for 175 yards, or 6.7 yards per carry.
Stock Down:The Rams special teams unit committed two penalties on one play, canceling out rookie returner Tavon Austin's 84-yard touchdown return.
Stat: For the first time in five games dating back to last season, Bradford was sacked -- and he was sacked six times.
Ahead: St. Louis hosts the 49ers on Thursday night.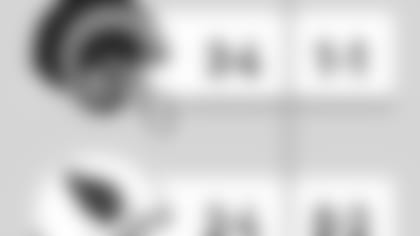 Decision:31-7 loss to the New Orleans Saints.
Offense:Quarterback Carson Palmer led the Cardinals on an 11-play, 80-yard touchdown drive to open the game, but the offense was held scoreless thereafter.
Defense: No Arizona defensive back could keep a hold on Saints tight end Jimmy Graham, who beat both cornerback Patrick Peterson and rookie safety Tyrann Mathieu for touchdowns.
Standout: Defensive end Darnell Dockett recorded a career high-tying three sacks of Saints quarterback Drew Brees.
Stock Up:Despite giving up the Graham score, Mathieu continues to impress -- he made nine tackles and hauled in his first NFL pick.
Stat:Quarterback Carson Palmer was sacked four times, hit in the pocket nine times and threw two interceptions.
Quote:"We are better than that," Dockett told Cardinals.com. "The Saints are a good team, but they're not that good."
Ahead: Arizona visits the Tampa Bay Buccaneers on Sunday.
Decision:45-17 win over the Jacksonville Jaguars.
Offense: Doug Baldwin, one of three different wide receivers with five catches, caught a 35-yard pass with one hand.
Defense:Lineman Clinton McDonald and Michael Bennett combined for three sacks.
Standout: Wilson tossed a career high-tying four touchdown passes and was given a curtain call late in the third quarter.
Stock Up:Veteran backup quarterback Tavaris Jackson showed Seattle has a strong No. 2, compiling 129 passing yards and a touchdown in limited action.
Stat: Seattle has started its schedule 3-0 for the first time since 2006.
Quote: "An exciting day for the NFC West," coach Pete Carroll told Seahawks.com. "Big day for us; the other teams struggled and all that. Glad we could take advantage of the opportunity to get this win."
Ahead: Continuing its run through the AFC South, Seattle visit the Houston Texas on Sunday.