*In our second edition of the weekly NFC West Report, 49ers.com recaps Sunday's action within the division. *
Decision:31-24 loss to the Atlanta Falcons.
Offense:Quarterback Sam Bradford's 47-yard pass-and-catch to wideout Chris Givens.
Defense: The Rams fell behind 21-0, with two of the first three Falcons touchdowns coming with the defense on the field.
Standout: Bradford was 32-of-55 for 352 yards and three touchdowns along with an interception.
Stock Up:First-round pick Tavon Austin made his first NFL start, hauling in a pair of touchdowns.
Stat: Bradford hasn't been sacked in four straight games, the longest stretch a Rams signal-caller has gone untouched since 1973.
Quote:"It tells us that we're resilient and everybody in here claws back," defensive end Chris Long told ESPN.com's Nick Wagoner. "A lot of years past, nobody would have said it but I think guys would have folded up the tent. Not in this locker room. We'll be in a lot of games if we play with that same determination and heart. But we have got to execute and stay away from the mistakes on the field."
Ahead: St. Louis visits the Dallas Cowboys next Sunday.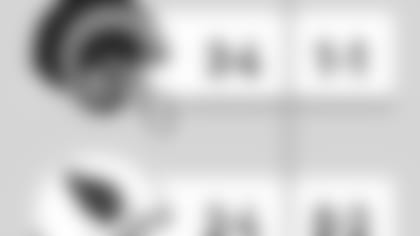 Decision:25-21 win over the Detroit Lions.
Offense:Wide receiver Andre Roberts drew a 32-yard pass interference penalty that gave the Cardinals the ball on the one-yard line, setting up their game-winning score.
Defense: Rookie safety Tyrann Mathieu stopped Lions wideout Nate Burleson a yard short of a fourth-down conversion on Detroit's final comeback attempt.
Standout: Ex-Steelers running back Rashard Mendenhall showed he still has legs with 66 yards on 15 carries and the game-winning touchdown.
Stock Down:Cornerback Patrick Peterson struggled against Lions wideout Calvin Johnson, yielding both of Johnson's touchdown catches.
Stat:The Cardinals offense was 1-for-11 on converting third downs.
Quote:"I knew they were going to try to target me, with me being a rookie," Mathieu toldKent Somers of azcentral.com. "They had been running the same routes all day, so they were going to come with the quick slant."
Ahead: Arizona visits the New Orleans Saints next Sunday.
Decision:29-3 win over the 49ers.
Offense: Running back Marshawn Lynch charged into the end zone from 14 yards out, stretching the Seahawks early lead to 12-0.
Defense:Linebacker Malcolm Smith forced 49ers fullback Bruce Miller to hold him inside the end zone, forcing a tone-setting safety. Kam Chancellor, Walter Thurmond and Earl Thomas each recorded interceptions.
Standout: Lynch didn't rush for 100-plus yards for a fourth straight game against San Francisco -- he ran for 98 on 28 carries -- but he did score three touchdowns, one receiving.
Stock Up:Making his organizational debut, defensive end Cliff Avril emerged from the injury report to force a Colin Kaepernick fumble.
Stat: The Seahawks have won nine of their last 10 regular season games.
Quote: "I say this every time about Marshawn, he's the type of guy who makes you want to play harder." All-Pro center Max Unger told Clare Farnsworth of Seahawks.com. "You see how hard he runs, it makes you want to run that much harder and block that much better. He's a machine and we're trying our best to keep guys off of him."
Ahead: Seattle hosts the Jacksonville Jaguars next Sunday.