INDIANAPOLIS – Entertainer. Icon. Football player. Welcome to the world of Cam Newton, better known as, "The Cam Newton Show."
Newton's life, like every other draft prospect's, is under a microscope being played out for the world to see. Only his every move gets more attention. A lot more. Such is the case when you're the reigning Heisman Trophy winner.
Newton made more headlines this weekend. The Auburn quarterback's Saturday visit to the podium at Lucas Oil Stadium stood out as one of the all-time most memorable combine moments. (And that's a year removed from the spectacle that was Tim Tebow's press conference).
After telling Sports Illustrated's Peter King he hoped to be an entertainer and an icon, Newton owned up to the comments, but reiterated that it wasn't a selfish statement.
"First and foremost I understand that my obligation is to be the best possible football player that I can be," Newton said, reading a statement from a small piece of paper. "The recent comments were made during the announcement of my new endorsement partnership. I was making the point that I want to be the best possible ambassador for them just as like I want to be best possible ambassador for whatever team I am lucky enough to play for."
Newton's credentials on the field are undeniable. He won the Heisman, Maxwell Award, AP Player of the Year Award, Walter Camp Player of the Year Award, Davey O'Brien Award and SEC Offensive Player of the Year honors. He threw for 2,854 yards, rushed for 1,473 yards and was responsible for 51 touchdowns (30 passing, 20 rushing and one receiving).
His broad jump on Sunday was measured at 10'6''and his 40-yard dash came in unofficially at 4.58. Not bad at all when you're 6-foot-5, 248 pounds.
But teams want to know more about Newton off the field. They know he can compete on it. According to a tweet from ESPN insider Adam Schefter, the 49ers were one of the teams that have already met with Newton at the combine.
His rise to stardom has been well documented and discussed. From being Tebow's backup at Florida to transferring to Blinn College where he won a junior college national championship to his BCS National Championship win at Auburn last year, Newton's name is clearly the most prominent of all draft prospects.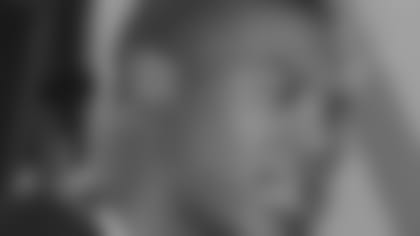 But new to the story is how he presented himself at the combine.
Reporters wanted to know about the comments he made to King, the hardships he went through at Florida and the NCAA saga involving his father Cecil. In some instances, he declined to get into specifics, but was sincere overall.
"I'm blessed to be in this whole situation and I couldn't be in a better place right now than I am right now," Newton said.
While the combine might be a unique experience for small school prospects who occasionally make local headlines, the past year for Newton has had very few dull moments.
"This whole path to where I am right now has been something of a whirlwind to say the least, but at the same time this is what I signed up for," he said. "To know that I'm sitting in front of you guys, talking to you guys, and to know 365 days ago right now I was attending class at Auburn. Even the Auburn fans didn't even know what they were getting at this time last year. It's a wonder what God can do in a person's life … this fast."
Newton's life has been all about competing. That's why the junior signal caller is doing every drill at the combine.
"My biggest thing at this combine is to compete, to go against the best collegiate athletes in America," Newton said. "I'm walking down the hall and I see Mr. (Blaine) Gabbert. And I'm walking down the hall and I see Mr. A.J. Green, Julio Jones, all those guys and I'm just scratching my head. I see Da'Quan Bowers. Those guys are some excellent athletes."
Like many of the players he named, Newton is sure of his abilities and wants the world to see it.
But does his confidence get mistakes for cockiness?
"I'm not sure," he said. "I'm a confident person. It was instilled in me at a young age to believe in myself first and foremost. If I don't believe in myself who do I expect to believe in myself?"
Newton's teammates certainly followed his lead.
Fellow Auburn Tiger and top defensive line prospect Nick Fairley said Newton's issues didn't affect his team negatively. While the NCAA reviewed allegations of Newton receiving improper benefits, the quarterback made sure to rally his teammates.
"When the situation came out, Cam came into the locker room the next day and he was like, 'I got this situation going on and you guys are like my brothers. We have to put it on the back burner and try to win the National Championship,'" Fairley said. "And that's what we did."
Newton's name and back burner won't be mentioned in the same sentence very often.
From now until late April, he'll continue to dominate the headlines.
That's just how things go on "The Cam Newton Show."