Good things tend to happen when Troy Smith throws 50/50 balls in the direction of tight end Delanie Walker.
It might seem like his receiver is covered, but not to Smith, not when he's throwing away from the defender and to a place where only his target can make the play.
Smith's aggressiveness paid off two weeks ago in London when his fourth-quarter heave to Walker sparked a 49ers come-from-behind victory. Similar results ensued again, this time at Candlestick Park. The 49ers signal caller showed extreme trust in his playmakers, throwing several key passes to covered targets.
The reliance paid off in the biggest nail-biting moment of Sunday's divisional matchup against a St. Louis squad looking for its first road win of the year. Facing a third-and-two at the Rams 45-yard line, Smith stood firm in the pocket and despite being in the grasp of a Rams defender, he kept on his feet long enough to throw downfield to Walker.
Rams safety Oshiomogho Atogwe didn't see the throw and collided instantly with the tight end, resulting in a pass interference penalty and a first down. Although the 49ers didn't convert a third-down all day (0-for-11), the penalty moved the chains and inevitably set up Joe Nedney's 20th game-winning field goal from 29 yards out in overtime.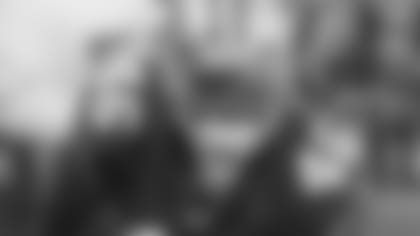 "Troy and I are on the same page," Walker said with a grin after the 49ers 23-20 win. "I saw him set his feet and I knew he was going to throw it. I tried to cut back to the ball and he threw it in a good spot. That's just making plays. That's like being in your backyard as kids and trying to win a game."
In their backyard of Candlestick, the 49ers (3-6) battled St. Louis to a back-and-forth 20-20 tie through 60 minutes of play. Rookie quarterback Sam Bradford fit the bill as the No. 1 overall pick, leading the Rams on an 11-play, 70-yard drive to tie the game up at the end of regulation.
But in what was billed as the battle of Heisman Trophy-winning quarterbacks, Smith outperformed the rookie. He completed 17-of-28 passes for 356 yards with a quarterback rating of 116.7 and one touchdown, a crucial 16-yard strike to wide receiver Michael Crabtree that gave the 49ers a lead late in the fourth quarter. Bradford completed 30-of-42 passes for 251 yards and one touchdown pass, but was sacked for an eight-yard loss on third down of the Rams only possession of overtime.
After his second straight win as the starting quarterback, Smith sounded content with the win, but said there's room for his game to grow.
"There were definitely some throws I'd like to have back. Once I go back and watch the film, I'm sure there will be some things that I did that needs to be settled out, throws and decisions I wish I could have back."
Smith knows his weapons are capable of big games like the one witnessed on Sunday.
Walker caught four passes for 80 yards. Fellow tight end Vernon Davis added four catches for 79 yards. Crabtree caught four passes for 61 yards and a touchdown. Frank Gore rushed 22 times for 87 yards and scored on a 1-yard run in the first quarter.
The playmakers on the 49ers defense also came to life. Perennial Pro Bowl linebacker Joe Staley totaled 11 tackles with 1.0 sack and a forced fumble. Defensive tackle Justin Smith and linebacker Parys Haralson added sacks too.
Willis said he always brings his best when facing Rams running back Steven Jackson, and did so again by making the physical runner work for every inch of his 81 yards on 20 carries.
"I still say he's one of the best backs I've faced. I've said that ever since I was a rookie and I'll still say it now. He's a great running back and you always have to know where he's at."
Jackson put the Rams up 17-10 with a 13-yard touchdown run in the third quarter, but they could not add to their lead while the 49ers offense struggled to move the ball.
For all the successes the 49ers had offensively (five passing plays that went for more than 30 yards), the unit struggled on third-downs and had three touchdowns taken off the scoreboard because of penalties. Despite the lack of success on the crucial down, the offense converted a fourth-and-18 on the Crabtree scoring drive.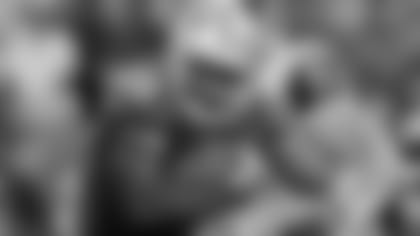 Gore picked up 23 yards on the do-or-die play, and on the very next down Smith completed the 16-yard touchdown to Crabtree.
Improvisational skills were also shown by Gore on the play. It was beneficial as both running back and quarterback made adjustments on the fly to pick up the necessary yardage.
"It's just playing football – that's what the game is about," Gore said afterward explaining how he adjusted his route mid-play to run up the sideline. "When a play breaks down, you make plays – that's all you have to do."
Easier said than done, but the 49ers made several big plays on Sunday and now find themselves in the hunt for the division title. The team knows the first eight games of the season won't be the deciding factor in how the season is remembered. There are still seven games out there for the taking.
Gore said the team is experiencing "March Madness," a keep-winning mentality that's commonly associated with college basketball's postseason tournament.
"Things are starting to turn," Gore said at the podium with Crabtree at his side. "We have to go out there and look at it like its March Madness. Just take one game and win, and keep moving.
"The 49ers can be dangerous, real dangerous."
The 49ers like their chances in the next seven weeks, the same way Smith does when he sees No. 46 out in a pattern.
The following injuries were announced by the 49ers Public Relations department: Cornerback Will James (concussion), kicker Joe Nedney (right knee strain), guard Adam Snyder (right shoulder sprain) and tackle Joe Staley (fractured left fibula).