As Levi's® Stadium prepares to host the 2019 College Football Playoff National Championship Game, it's a perfect opportunity to recognize some of the notable San Francisco 49ers alumni who won a title during their college careers.
Be sure to head HERE to secure your tickets for the big game on Jan. 7, 2019.
With that, we continue the series with former 49ers running back Spencer Tillman, who spent three seasons in San Francisco (1989-91). Tillman was a captain on the 49ers championship team in 1989 that won Super Bowl XXIV.
The running back also put together a decorated four-year run in college with the Oklahoma Sooners (1983-86). Tillman posted 1,047 rushing yards and 10 total touchdowns as a freshman in 1983. He then helped the Sooners reach three consecutive Orange Bowls from 1984-86. Oklahoma's 11-1 record in 1985 culminated with a 25-10 win against Penn State in the Orange Bowl to secure consensus national champion honors.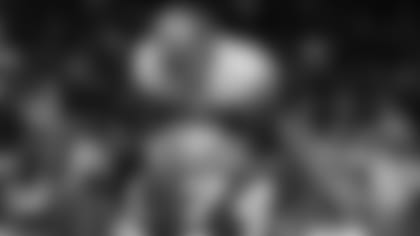 Below is a Q&A with Tillman regarding his experience at Oklahoma and what it means to be a national champion.
What do you remember most about that season?
"The biggest thing that sticks out is Jamelle Holieway having to replace Troy Aikman. People forget that Aikman was at Oklahoma. He broke his tibia against Miami. That was Week 2 or something. Then came in this freshman named Jamelle Holieway. It was the first time that a true freshman had led his team to a national championship. It was a very memorable year. I was a team captain, and I just remember all of the different people who played a role in that success."
What sticks out to you about the Orange Bowl win against Penn State?
"I remember the key plays. Keith Jackson, our tight end who rarely caught passes, caught a huge touchdown pass in the second quarter. Holieway couldn't even see over Penn State's defensive line, but he threw it up there for Jackson to go run underneath. Lydell Carr ran for a touchdown in the second half to seal the win for us. Those are the plays that I remember. It was a total team effort."
How does winning a national championship compare to your other football accomplishments?
"College was a profound time for me. It was a time when I came in and became the first freshman in OU history to ever rush for 1,000 yards. That was saying a lot given the likes of who'd come before me. Then I had an injury the following year. The whole cyclical thing – being at the pinnacle, coming down and then getting back to the top by winning a national championship – that was an elevator ride. It was up and down. It was the most profound and emblematic experience of what life is like. For me, the college experience was everything. The ebb and flow of life is what I experienced at Oklahoma. In that four-year window, I had the highest of the highs and the lowest of the lows. That became my template and metaphor for how to manage and deal with life."
Where do you keep the ring?
"I still have it. I broke it out recently and wore it during Oklahoma's College Football Playoff game against Georgia. I just wanted to have it on. It was the first time I wore it in 15 years. I keep it in a safe next to my Super Bowl ring."