There are two football jerseys retired at Franklin High School in Franklin, Pa., and one of them happens to belong to 49ers rookie tight end Nate Byham.
The other was once worn by former NFL quarterback and head coach Ted Marchibroda.
And while Marchibroda's playing career eventually spawned into coaching and broadcasting opportunities, the 49ers sixth-round pick would like to enjoy similar accomplishments by carving out his own niche in the league as one of the best blocking tight ends in the game.
Fortunately for Byham, a lot of things have fallen in place that can make his dream a reality.
First, he's entering the league as one of the best in-line blocking prospects. The 49ers recognized that fact and snatched the former University of Pittsburgh All-Big East selection with the 182nd overall pick in the sixth round of the 2010 NFL Draft.
Second, he's playing for Pete Hoener, one of the most underrated tight end coaches in the game today.
Third, he's playing with a talented position group led by Vernon Davis, a Pro Bowl starter last year for the NFC.
And last, but certainly not least, Byham is counseled daily by his grandfather Ron, who regularly checks in with his grandson on everything from car maintenance to practice recaps.
"To me, he was like my father," Byham said. "He's always been my father figure and pretty much my parent. He's done a great job of raising me."
The rookie enjoys a unique relationship with his grandfather, who helped the 6-foot-4, 268-pound tight end become one of the most sought after high school prospects in the state of Pennsylvania.
With plenty of options on where to spend the next four years of his life, Byham elected to stay close to home and play his college ball at the University of Pittsburgh so Ron could attend nearly all of his games.
"I couldn't live without him in high school and I wanted to make sure he could come to everything," Byham explained. "It was kind of a gift back to him."
But before Byham ever helped the Panthers go from a five-win team to a 10-win team, he had to give up his passion for other sports. Byham loved to play everything as a kid. You name the sport; chances are he competed in it.
Basketball had most of Byham's attention early on. He was part of Franklin's state AAA championship team in 2006 and assumed he would be pulling down rebounds on the post for a Division-I school rather than staving off 250-plus pound pass rushers.
But in the end, it was his football jersey, No. 20, which wound up being honored. The ceremony meant a lot to Byham.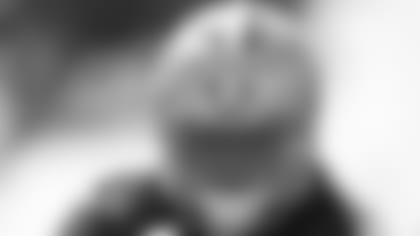 "It was definitely a special moment for me. And it was a cool experience to know I had such an impact at my high school. It's nice knowing I've left a legacy behind me."
Byham wasn't done leaving a lasting impression on those around him.
While at Pitt, Byham quickly became an important cog for the Panthers offense. Byham never redshirted though, he contributed initially as a reserve tight end and finished his freshman season with two catches for 34 yards and a touchdown. As Byham's role continued to evolve, so did his skill set at the tight end position.
Byham would go on to start 35 of the Panthers next 37 games, primarily serving as a run blocker who dominated opposing defensive ends. He became a team captain as a senior and was named to the All-Big East Team after catching 10 passes for 108 yards that year.
But it wasn't as if Byham lacked the soft hands necessary to juxtapose the powerful blocking talents he possessed. He caught 20 passes for 260 yards as a junior, before sharing snap with another talented tight end, Dorin Dickerson, who was drafted a round after Byham in this year's draft by the Houston Texans.
Competing with a speedy tight end like Dickerson every day at practice only improved Byham's route running and pass catching abilities. And besides, the two had grown close even before they donned the gold Pitt helmets, so the competitions never were fueled with bad blood.
"We've been good friends since the 11th grade. We knew we were coming to Pitt together and talked about our decision together," Byham recalled. "We've always been good buddies. We knew our differences and what we could and couldn't do. We just really matched each other really well and teamed up to do a good job."
The tight end duo peaked in 2009, helping the Panthers achieve their best record under head coach Dave Wannstedt (10-3) and their first bowl victory under his leadership (19-17 victory over North Carolina at the Meineke Car Care Bowl).
Although it was tough for Byham to leave friends and family behind after being selected to a West Coast team, the rookie tight end was eager to join a former college teammate in 49ers inside linebacker Scott McKillop.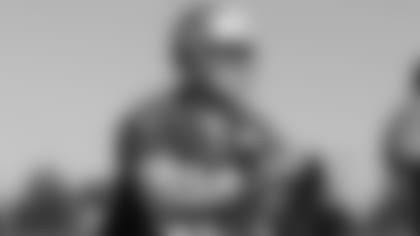 Having a familiar face on his new team put Byham at ease.
But at the same time, knowing the battles that took place on the Pitt practice fields, Byham realized that their competitions would be elevated on the next level.
"Scott and I have always been buddies and we always competed against each other in practice. I was going against him in power runs and he would go against me in coverage," Byham said. "Sometimes he would make a nice pass breakup and sometimes I would make a nice catch over him. Whatever the case was, we always had a good competitive relationship."
So far this offseason, Byham has shown tremendous hands for a player known for blocking. He's caught everything in sight while rotating in with the likes of Davis, Delanie Walker, Joe Jon Finley and Tony Curtis. According to Byham, each has offered insight on the position and hasn't shied away from sharing tips with a hungry rookie.
"They give me a lot of support. Vernon helps me with my hand placement and my footwork on blocking," Byham explained. "Delanie has been great with me too; he's been a support system for me. Really, it's nice because I have veteran guys who are great players, but they're still willing to help me out and I'm just a rook – the new guy."
Byham has more than just veterans to lean on for support. Tight ends coach Pete Hoener has had much to do with Davis and Walker's considerable improvements in the last four years. And while Hoener's teaching approach borders on the side of tough love, Byham is appreciative of every word uttered in his direction.
"Coach has his own coaching style. I understand that it's tough love and not him being hard on me for no reason. I understand that he's trying to make me better and he sees something in me and wants to bring it out to make me a better player.
"I understand that it's for the best of me and for the best of the team. I just have to keep grinding and working hard because he knows what he's talking about."
With Hoener's voice firmly planted in the back of his mind, Byham has been relentless in his offseason workouts, training with former Pitt Panthers like McKillop and cornerback Shawntae Spencer at their alma mater.
"Ever since the Fourth of July I've been working out early in the morning, working out with guys like Scott and Shawntae. We're all out here grinding for the upcoming season."
Until Byham returns to the Bay Area at the end of the month to report for training camp, he'll enjoy the calm before the storm. More specifically, he'll spend time with Ron and enjoy the company of his friends before getting back to the physical grind of professional football.
But that shouldn't be too difficult for Byham, considering his passion for physical football.
And who knows, maybe when it's all said and done Byham sees his name and number memorialized once more.