The last time the 49ers hosted the Arizona Cardinals on Monday Night Football, Alex Smith led a game-winning touchdown drive that gave the 49ers a 20-17 victory to start the 2007 season.
Smith will look for another positive result, when his 49ers host the Cardinals this Monday in a nationally televised game. It will be Smith's first game against the division rivals, as he missed most of '07 and all of '08 with shoulder injuries. Smith also missed out on facing Arizona to start this season because he was the 49ers No. 2 signal called behind Shaun Hill.
Under Hill, the 49ers went into the desert in this year's season opener and defeated the defending NFC champs 20-16. But a lot has changed since then. The Cardinals (8-4) have improved their all-around game and have built a three-game lead in the NFC West over the 49ers and Seattle Seahawks, who are tied at 5-7. The 49ers on the other hand, have not maintained the way they started their season, losing seven of their last 11 games.
With Smith in the lineup, the 49ers would like to recapture some of that magic from their last meeting with the Cardinals under the lights of Candlestick Park. But Arizona will not let that happen so easily.
Through twelve games the Cardinals have their best 12-game record since 1976. The success can be attributed to Arizona's offense which ranks 10th in the NFL, averaging 360.9 yards per game. The strength of Arizona's offensive attack is in the passing game which ranks 5th overall, while the run game ranks 26th.
The explosive offense is at its best inside the opponent's 20-yard line. Arizona has scored touchdowns in 28 of their 42 red zone possessions, good for a 66.7 touchdown rate, tops in the NFL. The efficient Cardinals offense will have a tough go around against the 49ers, who enter the game as the league's third best red zone defense. The unit has allowed 15 touchdowns and 14 field goals in 38 red zone trips.
But no matter where they are on the field, the 49ers will have to put pressure on the NFC's reigning Player of the Week, Cardinals quarterback Kurt Warner.
Warner completed 22-of-32 passes for 285 yards, three touchdowns and no interceptions in a 30-17 win against the Minnesota Vikings, two weeks after he suffered a concussion against St. Louis. Warner suffered a hip pointer at the end of the Vikings game but figures to be full-go for Monday night. So far this season, Warner has completed 67.6 percent of his passes (273-of-404) for 3,003 yards with 23 touchdowns and 11 interceptions.
There's no doubt, the 49ers would like a repeat performance of their Week 1 work against Warner. In Arizona, Warner was held to an average day (for him), completing 26-of-44 attempts, for 288 yards, with one touchdown and two costly interceptions.
Along with Warner, the Cardinals offense features two dominant receivers in Larry Fitzgerald and Anquan Boldin. Both are again playing at their expected levels of play. Fitzgerald leads the NFC with 83 catches and is second in the NFL behind Wes Welker's 95 grabs. Fitzgerald also ranks second in receiving yards (969) and is tied for the most touchdown catches (10) with 49ers tight end Vernon Davis. Not to be fotgotten, Boldin is right behind Fitzgerald with 63 catches for 763 yards and four touchdowns.
But in the first meeting against the 49ers, both receivers did not have dominant performances.
Fitzgerald caught a 5-yard touchdown and finished the game with six catches for 71 yards, his third-lowest single-game total this season. Boldin came into the game nursing a sore hamstring and finished the game with only two catches for 19 yards.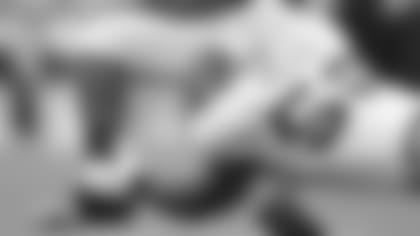 Tim Hightower was Warner's biggest target that day. The running back caught 12 passes for 121 yards. On the ground however, Hightower only managed 15 yards on eight carries. His partner in the backfield, rookie running back Beanie Wells, finished with 29 yards on seven carries.
But the two-headed running attack has fared well in recent weeks. Hightower has totaled 535 yards on 119 carries with six touchdowns while Wells has picked up 517 yards on 121 carries with four touchdowns for the season. The only downside to the duo is their habit of fumbling. They've lost four of seven fumbles. Hightower has lost three of four, while Wells has lost one of three.
Hightower is the bigger threat due to his impact in the passing game. He's third on the team with 51 catches for 374 yards. Slot receiver Steve Breaston also remains a threat in the passing game and has caught 44 passes for 569 yards with three touchdowns.
As the Cardinals offense continues to strengthen its reputation, so does the other side of the ball. Warner, Fitzgerald and Boldin are household names around most homes of NFL fans. And now members of Arizona's defense are becoming popular names too.
Dockett, Dansby, Wilson and Rolle. Well, maybe not as popular as the offensive guys, but their reputations continue to grow this season after last season's postseason spotlight was applied on them. The unit is solid against the run, ranking 12th in the NFL, but has struggled against the pass ranking as the league's 30th pass defense.
Dockett, Arizona's disruptive defensive end leads the team with 7.0 sacks which is tied for 13th most in the NFL. He leads all Cardinals defensive linemen with 43 tackles, with nine tackles-for-loss. Dockett makes a lot of plays in the backfield thanks to his "get up the field at all costs" mentality.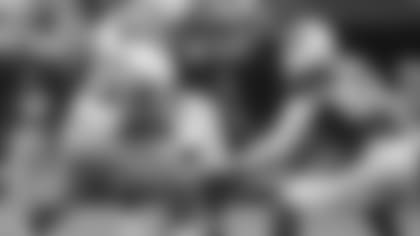 Dansby leads the team in tackles with 90 stops and has an interception and a sack as well. He's their version of Joe Staley.
Wilson is third on the team with 57 tackles and is second with three interceptions. Known as one of the league's hardest-hitters, Wilson will be largely responsible for shadowing Vernon Davis. Dansby too will have to be attentive of the 49ers tight end.
Rolle is second on the team with 62 tackles and leads the Cardinals with four interceptions. He's also been used on offense in Arizona's version of the "Wildcat" offense. Rolle has yet to attempt a pass, but has one carry for a 9-yard gain.
Beyond those names, the Cardinals have a stingy rush defense that only allows 104.8 yards per game. Arizona's other linebackers, Clark Haggans and Gerald Hayes both have 51 tackles and converted defensive end Chike Okeafor has 30 stops of his own.
The defensive line has solid pass rushers in defensive ends Calais Campbell and Bertrand Berry. Both have 5.0 sacks, tied for second behind Dockett's team-lead.
At the cornerback position, second-year player Dominique Rodgers-Cromartie has three interceptions on one end, while veteran cornerback Bryant McFadden has yet to intercept a pass this season. The unit does give up 257.8 yards per game, but that could be attributed to playing with a lead in most of their games.
In the first meeting, Arizona dominated the run game, holding the 49ers to just 21 yards on 25 attempts. But with the 49ers featuring more of an aerial attack in recent weeks, the Cardinals pass defense should be tested this week. Against Arizona, Hill completed 18-of-31 passes for 209 yards and a 3-yard touchdown pass.
If Arizona wants to clinch their second consecutive division crown with a win this Monday, they'll need a similar performance against a new 49ers quarterback and a new-look offensive attack.