Throughout the season, 49ers.com will feature members of our 10-Year Club. Check out our latest one on former 49ers receiver Mike Wilson, who played for the team from 1981-1990.  
While winning four Super Bowl titles during the 1980's, the San Francisco 49ers were comprised of many selfless players who focused more on team goals rather than individual accomplishments. Former wide receiver Mike Wilson was one of those players who absolutely bought into the team concept.
"We managed to have a united team who knew when to check the ego's at the door and just did whatever it took to win," said Wilson, who was in town recently for the 49ers Alumni Weekend. "We had a good formula. The chemistry was there and we had good success in the 80's and nobody can really ever take that away from us now."
Wilson likely would have been a starter on most rosters, but for the 49ers, he was the third receiver behind first Dwight Clark and Freddie Solomon and then Jerry Rice and John Taylor. He could have opted to go elsewhere during his decade long NFL career, but Wilson preferred to stick with the 49ers, and do whatever it took to help his team win.
"My role in being the third receiver was not having an attitude. I felt like with a lot of teams I could have started and put up great stats, but the ability to come here and be a team-player and win all those Championships was really worth all the accolades and catches I could have had somewhere else," he said.
Wilson ended up playing ten seasons exactly for the 49ers, moving him up on a wall at team headquarters that is dedicated to 45 total players who are part of the 49ers 10-Year Club.
"To play ten years with the 49ers was really an honor," Wilson said of being a member of the 49ers 10-Year Club. "Back in those days, guys in the NFL played a certain amount of years and knew that going in. But looking at it now, playing ten years with one team was truly special."
It was an unexpected path for a player who originally anticipated a lengthy career with the 49ers archrival, the Dallas Cowboys. Following his selection by the Cowboys in 1981 in the ninth round, the big target out of Washington State thought he would be catching passes from Cowboys quarterback Danny White. Instead, Dallas released Wilson during the preseason.
The 49ers gave Wilson a tryout, signing him three days later and suddenly he was playing among Clark and Solomon and catching passes from Hall of Fame quarterback Joe Montana.
Despite joining a team loaded with talent, it didn't take Wilson long to make an impact of his own. Although he made his mark on special teams initially, Wilson made plays when it mattered most.
In the fourth quarter of Super Bowl XVI, Wilson made an important 22-yard reception during a key drive against the Cincinnati Bengals. The catch helped Wilson pick up the first of his four Super Bowl rings with the 49ers.
It was just the beginning of Wilson's impact on the 49ers winning ways during his decade-long career.
In the 1983 NFC Championship game, Wilson had one of his best performances after he was called upon by Hall of Fame coach Bill Walsh to replace the injured Clark. Wilson said the game against the Redskins was one that stood out to him, because of his role in almost helping the 49ers reach the Super Bowl for the second time in three years.
"I think what established myself in the league and allowed me to play for the amount of years I did, was that NFC Championship game," Wilson recalled of his eight-catch 57 yard performance in the 24-21loss to the Redskins.
Despite the setback, Wilson and the 49ers reached the Super Bowl again the following season and were victorious over the Miami Dolphins in Super Bowl XIX.
It was also in that '84 season that Walsh devised creative ways to involve Wilson more in his West Coast offense. Wilson presented a different skill-set for Walsh to tap into than the other wide receivers on the roster.
"You have to understand the system back then with Coach Walsh," Wilson said. "I was a big guy, so I lined up sometimes at tight end, lined up wide, or lined up in the backfield. I was a hybrid for Walsh back then. Now, you see receivers who are 6-4, 230-pounds and in my day I was 6-4, 228-pounds, playing wide receiver. He utilized me and moved me around a lot in that system."
Wilson appreciated being able to showcase his talents based on Walsh deploying him all over the field, and came to cherish his relationship with his head coach.
So much so that ever since Walsh's passing in July of 2007, Wilson has worn his Super Bowl XXIII ring. Although he has four Super Bowl rings to choose from, Wilson holds no bones about why he proudly wears the ring from the final Championship win under Walsh's watch.
"It represents the guy who brought me into the league and that was Bill Walsh. Now I wear this in honor of him," Wilson said. "It's the ring I like the most."
Wilson and Walsh's relationship didn't stop with their time shared in the 49ers organization.
A few years following the end of his career in 1990, Wilson received a phone from his former coach, who offered a new career path.
"When Coach Walsh went back to coach at Stanford, he called me and said, 'Mike, I think you'd make a great coach. I want you to give it a try, if you don't like it you can go, but try it,'" Wilson recalled.
Not only did Wilson try it and like it, but he was able to see his former coach from a different perspective.
"It was a great honor for me to work with Bill," Wilson said. "You got to see him from the coach's eyes and not from the player's eyes. And then you'd understand what he wanted and how he saw the game. It really allowed me to have a successful coaching career."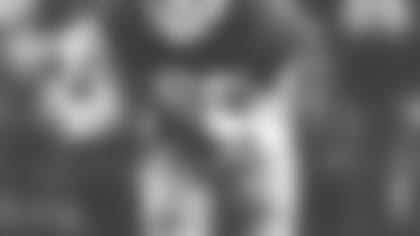 Following his stint as the wide receivers coach with the Cardinals from 1992-94, Wilson went on to coach the Oakland Raiders between 1995-96, at USC from 1997-00 and most recently for the Arizona Cardinals from 2004-06.
During his time with the Cardinals, Wilson was able mentor a talented receiving corps, which included current 49ers wideout Bryant Johnson, who played for Arizona from 2003-07.
"He was a great coach," Johnson said of Wilson. "He was a guy who played the game, so we could easily relate to the things he was saying. He stressed to us about getting our assignments down, whether it be in the running game or in the passing game."
But what Johnson and the other players enjoyed the most was Wilson's stories from his career with the 49ers.
"He told us a lot of stories," Johnson said. "I don't remember them all, but he's a guy with a lot of jewelry as far as Super Bowl rings."
From Wilson's perspective, the chance of helping Pro Bowl players like Anquan Boldin and Larry Fitzgerald, is something he'd like to continue. Despite being relieved of his duties following the 2006 season, Wilson still sees himself on an NFL sideline.
"It's a matter of jumping back in and seeing what happens. There are no guarantees, but I'd like to get back into the NFL in some capacity, whether it be as a coach or in the front office," he said.
While he's been out of the game, Wilson said he enjoys spending time with his daughters, who were in their last year of high school in 2007.
"I had a year off to watch them go through their senior year of high school and make that transition out of the house," he said.
And now that he's seen both his girls go off to attend Yale and DePaul respectively, Wilson can continue his pursuit of finding a position within an NFL franchise.
In the meantime, Wilson still has a home with the 49ers, as one of the distinguished members of the 49ers 10-Year Club.