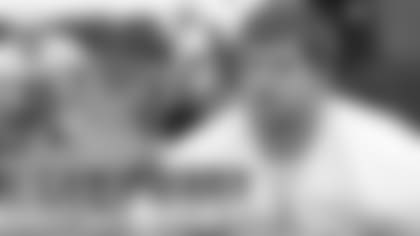 Rookie linebacker Scott McKillop, the 49ers fifth-round draft pick, checks in with his latest diary entry.**
I think that a bunch of people on our second team defense stood out and made some plays against the Raiders last night.  Carlos Thomas had a nice pick and our D-line played really well. Without Kentwan Balmer tipping the ball at the line, I would not have had my own interception as well. He deflected it and I happened to be in the right place at the right time. 
It was one of those interceptions where you see it coming and the ball looks real big to you.  You?re like, ?Oh my God, don?t drop it!? I think I could have looked a little more athletic when I was running with the ball, but I?ll settle for the interception. 
I?m looking forward to relaxing at the hotel today and getting in touch with my fianc?e.  I might even go to the movies with a couple of the rookies.  Kyle Howard was talking about it. So we might do that just to get off our feet for awhile.
You have to cherish the free time that we get. It's been a long, physical, hard training camp but I think it will help us out in the long run.
We just got back from Napa Valley practicing with the Raiders and I think the team faired pretty well. I also think we came together as a team. We had a couple of people step up and make some big plays and we ended up with a lot of interceptions.  One of the things that the coaches stress how effectively we can be at stopping teams in the red zone.  I think that most of the interceptions happened in the red zone.  That?s pretty important for our defense to step up and make some plays like that. 
It was good to see a different environment and practice in a different place.  I had a chance to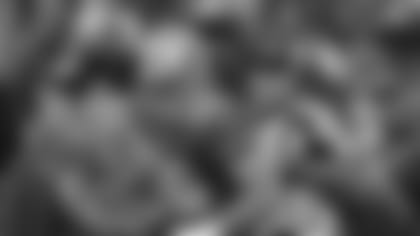 see some people who I have not seen in a while.  Darrell Strong is a person who I played with at Pitt.  He?s a tight end for them right now so I got a chance to see him.  Also, Bruce Gradkowski, one of the quarterbacks, his cousin played at Pitt, so I had an opportunity to meet him too. 
It was an opportunity to compete against other people, not against your teammates and your family, so that was also good too. 
At the hotel some of the veterans were prank calling the rookies and it was pretty funny. We actually did some of that stuff back at Pitt.  We would call our freshmen and tell them we were a reporter from so-and-so, and that it was okay to talk to us and we?d ask them stupid questions.  They?d be real polite saying, ?Yes sir? and ?No sir.?
Baas and Staley tried to prank my roommate, Bear Pascoe.  I knew initially when I picked up the phone I could tell it was them.  I really couldn?t tell it was Baas? voice, but Staley has a pretty distinctive voice.  I knew right away it was him.  I didn?t tell Bear, but when Baas called he was like, ?Hello, is Mr. Pascoe there??  I was like, ?What, who is this??  I think that he could play it off a little bit better.  He still had Bear for a little bit though. 
As we get closer to the start of the season that also means Pitt football will be kicking off shorty. I?ve been keeping a close eye on a couple of their players since I played with most of them.  Adam Gunn was one of my best friends growing up, and I want to see how well he?s bouncing back from his neck injury.
I?m still in contact with our equipment staff there.  The head equipment manager goes by the name of Ox. He and I have grown pretty close as well as his assistant Dan.  I have to give a shout out in there for those two guys, because they took such good care of me.  I?ve had the chance to talk to them a little bit and see how the team?s doing.  And I?ve been texting back and forth with my linebacker coach, Coach Tumpkin.  They definitely got a bunch of good recruits.  I think last year we kind of turned around the team.  With the senior leadership that?s in place and the underclass that they have, I?m pretty excited for the way that the Pitt program is going.
I?m going to enjoy my day off and then it?s time to watch film and prepare for Dallas, I?ll have more updates for everyone then.