Rookie linebacker Scott McKillop, the 49ers fifth-round draft pick, checks in with his latest diary entry. McKillop discusses his first-career touchdown, his relationship with LB Jeff Ulbrich, and his current living situation with his fiancée.
It's been awhile since I've updated my diary, which is a good and bad thing. But really to me it means there's a lot for me to talk about in this entry.
A few weeks back against the Rams, I recovered a muffed punt in the end zone for my first NFL touchdown and I was lucky to be at the right place at the right time. Delanie Walker had the first crack to recover the fumble, but somehow I ended up with it. The team gave me the ball and right now it's being painted with my name, the date and score of the game on it so I can always remember it. That play will be something I'll always remember when I'm done playing football and that ball will be a reminder of it.
It felt good to score, especially since I had an interception return for a touchdown called back in the preseason. Really, the best part of the touchdown was my almost high-five celebration with Jeff Ulbrich.
It wasn't a spontaneous thing, we definitely planned it out. We didn't have an exact plan, but one day at practice we talked about doing it if one of us made a big play. We thought it would be kind of cool to do it in the game.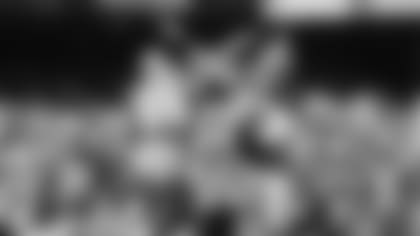 If people don't remember, the almost high-five comes from the movie Dumb and Dumber. I was a big fan of that movie and so Jeff and I had fun with it on the field.
Jokes aside, it was tough finding out that Jeff was put on IR this past week. I don't want to sound like it's the end of his career, but all of us in the locker room wish him a safe and speedy recovery.
Jeff really took me under his wing since I joined the 49ers. He is really like a brother to me. He helped me transition from college to the NFL. Sometimes there are things coaches can tell you, but sometimes a player can coach you up a little bit differently and put things in a way that you understand. He's helped me out with everything, especially on special teams.
When we were out there on punt team or kickoff team, it was kind of like he was Batman and I was Robin.
I know the fans are going to miss him and I'm going to miss him too. We became buddies right when I got to the team and I think that's because we have a lot of similarities. When I first met Jeff, I had nothing but respect for him as a player and a person. He opened me up to the team and through him I got to get closer with the veterans on the team.
Now that he'll be around the facility helping us out, I'm going to rely on him 100 percent to be an extra set of eyes for me. Having him around still is a great asset for the team, defensively, on special teams and he really just adds to the team's morale.
As for my life off the field, it's been a crazy transition moving to the West Coast. It's something that a lot of people tend to forget about. I basically moved cross-country and I don't really have anything or know anyone out here. My fiancée Allison and I moved out here without knowing anybody, but we've been trying to get used to the area as quickly as possible while meeting people too. It's a difficult thing, but we're coming along. What helps is that this is such a beautiful area out here so I guess it's better than being home in Pittsburgh enjoying 30 degree weather.
Now that we've been out here in the Bay Area for a few months, we have our place set up with some nice furniture and things. But I had to make sure that we had a nice-sized TV. I went with a 55-inch TV, they didn't have a 56-inch TV (my jersey number), which was too bad… I got a PlayStation 3 and all the bare essentials you need to entertain yourself.
We don't have too many luxury items just yet. With the wedding coming up, we're figuring out where to register so we can get all the good stuff. There's no sense to get everything we need now, when there's 10 toasters, 15 blenders and a couple of microwaves headed our way.
One thing we enjoy doing at home is cooking. She's a great cook and I try to help out when I can. Last week we cooked a bunch of stuff. One night we made portabella mushrooms stuffed with sausage, then another night I made tacos and we also grilled some stuff too later in the week. She'll make a bunch of different stuff for me, so I'm really fortunate for that when I come home from a long day of practice. But I don't just sit on the couch while she's in the kitchen, I make sure to help out all the time and some nights I do all the work.
It's great to have her out here with me because I'm so far away from my friends and family. Over the bye week, I went back home and got to spend time with family. And I actually got a lot of responses from them about why I haven't updated my rookie diary in awhile, so I have to apologize for that.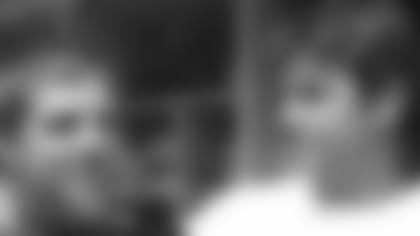 I guess I've been busy with being named special teams MVP, twice by 49ers.com… Here's a shot of me and quarterback Shaun Hill from our last MVP video. I've enjoyed being in some of the videos on the website, but I'm always looking forward to updating this rookie diary for everyone.
I also have a treat in store for you guys.
I'll be taking a video camera on the road with us to give everyone an inside look of what a rookie goes through. I wanted to make a video diary earlier in the season, but I forgot the web site staff's personal camera in my locker. Another week, I got really tired the day before the game and took a nap for most of the day, so there wasn't much to shoot that day.
Really, it's quite stressful getting everything in order to go on a road trip for an NFL game. I have to get food for the veterans, I have to… well, actually I don't want to say too much.
I don't want to spoil to video! But all I have to say is – it will be a good one.