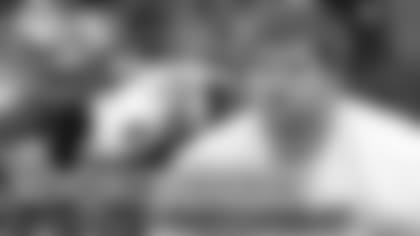 Scott McKillop wraps up his rookie diary duties on 49ers.com with a few off the field updates and NFL Scouting Combine reflections.**
According to some of the veterans on the team, I'm still a rookie until three or four games into next season. I don't really know why that is, but that's just what they told me. I guess they still have a little time to boss me around.
I've had time in the offseason to reflect on my rookie year and I think it went pretty well. It was a healthy year. I got a chance to play a lot on special teams and I think I did pretty well with that. I also got in on defense a little bit a couple of times when Takeo Spikes got banged up a little bit.
As a team we had a good year, but obviously we didn't finish where we wanted to be. But the important thing for me and my teammates is that we continue to work on the things we did well this past year and improve on the things we didn't do well. One of the things Coach Singletary stresses is fundamentals and I think that's important in our development. He's really big on them. I think sometimes a lot of players lose track of their fundamentals and become lackadaisical. He stresses to every player the importance of fundamentals and that's big. If you have a good core of fundamentals, you can take your game to the next level.
After the season ended, I've been hanging out with my family, spending a lot of time with my mom and dad. And I've been trying to see all my friends who I didn't get to spend time with during the season. My friends and I have a trip planned for this upcoming weekend too. But really I've just been working out at Pitt with my old college team. I've been working out with those guys and giving them any pointers that I can.
Last year at this time I can relate to some of the things my former teammates are going through. I know what it's like to be an incoming rookie – it feels like the weight of the world is on your shoulders.
At this time of the year, everything you do is under a microscope. You're trying to excel in everything you can. And once you get to the Scouting Combine, you're under a huge, huge microscope and everyone is looking at you. They're constantly analyzing you, telling you what you're good at and what you're not good at. You're hearing all this information while you're getting to meet the coaches for all the different teams. You're kind of walking on egg shells from about the time you get to the Scouting Combine until after your pro day.
I was there for four days last year and those four days where probably the most intense days for me physically and emotionally. They were some of the most draining days a football player will go through. After you're done with it, you need a couple of days to relax because you're just drained.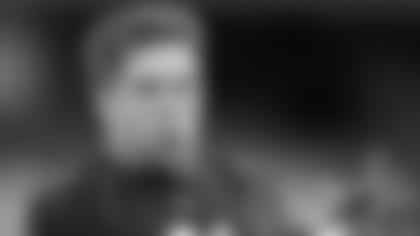 Just to put it into perspective, on the day your position group is out doing events on the field, you're out there from nine in the morning to about 3:30 in the afternoon. It's pretty stressful. You're trying to show everyone what you can do and you're giving 150 percent effort. You're out there competing and the same time, it's very stressful. But when it's all said and done and you performed like you hoped to, it makes it all worth it.
Another good thing about being done with the Combine is that I get to enjoy my birthday much more this year. It's on March 4, and I'll be celebrating by taking a golf vacation in California.
Right now, there's three feet of snow surrounding me in Pittsburgh and I cannot tell you how excited I am to come back to the beautiful weather in California. But really I can't wait to get back to work with my teammates and really just get back into the flow of football. It's going to be fun when we're back running and lifting with the strength coaches and then getting back in the film room together. That's the camaraderie you miss when you're gone in the offseason.
I'm well aware that the weather in the Bay Area is probably the best in the country. If it weren't for my family back in Pittsburgh, I would've stayed in California all offseason. I think it has snowed 14 of the past 15 days out here!
I've been able to catch some of the Winter Olympics, which I enjoy. I'm a big fan of "The Flying Tomato." You might know him as American snowboard Shaun White. I liked to watch when he competes. But really, I'm just a big fan of any sport on TV and the Olympics prove that. I'll watch anything. Right now there are not a lot of sports going on, so it's either Olympics or nothing. But I'll say I'm a big snowboarding fan and a big fan of Shaun White.
If you're looking for something else to do, maybe to get away from all of the Olympic coverage, I'd check out the movie Dear John. It was done by the same director who did The Notebook. I guess that's my sensitive side coming out, but I'll recommend it to everyone. It was a pretty good movie.
Since this is my last "rookie" diary, I just wanted to say thanks to everyone who took time to read my updates. Hopefully next year's rookie has big shoes to fill. I filled the shoes of Kentwan Balmer, who filled the shoes of Joe Staley. Whoever does it next will have to raise the bar that we've already set.
Thanks again for reading my rookie diary, see you guys at training camp in a couple of months.