Many fans have expressed some dismay that first and second round picks Kentwan Balmer and Chilo Rachal aren't seeing more playing time right now, but from General Manager Scot McCloughan's perspective, it's a sign that this team is starting to have the kind of depth and talent he would like to see on his roster.
"If every year we are planning on our young guys coming in and starting, then we haven't either drafted well in the years prior to, or in free agency we haven't brought the right guys in because it means we are starting over with young guys again," said McCloughan. "That's something we don't want. We want consistency. We want some of the same guys back each year who are our starters. We want the young guys to find a role in their first season and get on the football field and play because that's the best way they are going to learn. They'll learn from their mistakes and learn from the competition level how to get better, but we aren't banking on our rookies coming in every year and starting."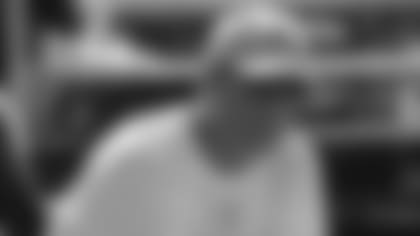 And while Vernon Davis, Manny Lawson, Joe Staley and Joe Staley started in their first year, they were also higher draft picks on a team that didn't have a deep talent pool. So while he does expect Balmer and Rachal to get some playing time this season, it doesn't need to come immediately or in a starting role.
"I think it's really good that they aren't forced to play," explained McCloughan. "With Joe Staley and Willis last year, they weren't forced to play. They came in here and won the jobs right away. With Vernon, Patrick, being drafted that high – you expect more things out of them and there's a reason they are drafted that high. With Balmer coming in, he's got three guys in front of him who we like and who have shown they can plan and have helped us in our defensive line play. We rotate so much. He's going to be active. He's going to be playing each week. With Chilo, we have some depth inside, guys who we did draft too with Adam Snyder and David Baas, and then bringing Tony Wragge in. The thing I like is they have to earn the spot; they aren't given the spot."
McCloughan also discussed the quarterback situation during a Wednesday afternoon session with reporters, admitting that he was surprised that J.T. O'Sullivan won the starting role over Alex Smith.
"I don't think you would have thought our starting quarterback this season would end up being a guy who was on the street," said McCloughan, who also was quick to add that he "wasn't one bit disappointed."
"That's not a knock on our guys that were here, it goes to show, we brought a quarterback in that fits the system that we're looking to run and he showed during preseason that he was getting better with the system and it was working for him."
Asked if it was a fair competition at quarterback, he said, "I would say it was fair because they all got snaps on the field, especially with JT and Alex. People want to say that JT had the upper hand because he knew the system, that's fine, but nothing in football or the NFL is going to be fair. We've got to go with what we think is going to give us the best chance to win on Sunday."
From a pure talent standpoint, McCloughan indicated that he had planned on Smith being the starter, but when all was said and done, that didn't really matter.
"You've got to go out there with the guy who understands the system and knows how to work the system best," he said. "You can't approach it as what looks best on paper. It has to be who deserves it and who gets it on the football field."
The 49ers have invested a considerable amount of money in Smith, but McCloughan said the investment didn't play into the decision at this time.
"It's not a money thing," said McCloughan. "We have to put the best 11 out there. Fans deserve to see what gives us the best chance to win and the players deserve to be put in a situation where they have the best chance to win. The money doesn't come down to it. If it's a mistake, it's a mistake and that's going to happen. You can't be stubborn about it."
Money will matter though at the end of the 2008 season.
Asked if Smith would be brought back if he isn't the starter next year, McCloughan replied, "You can't, you can't , that's something at any position, the amount of money we'd have to invest in him, he'd have to be proven that he's the guy, and when we get into the off-season, that he's our guy for next year."
McCloughan doesn't lack any confidence in his former first-round pick, and hopes that Smith's success does still come at the 49ers.
"I know the one thing about him with his age and what he's been through, and the different offenses he's been around and been taught, I think is all going to help him in the future. I still think he's going to be a good quarterback in the NFL and I hope it's here," said McCloughan. "In the NFL you never know, especially with that position. You guys have seen many times, the quarterbacks end up in different places all of a sudden flourish. I think with the way he's wired and what he's been through, the kind of person he is and is work ethic and all that, he's going to be a good football player in this league. It would surprise me if he was not."
In the meantime, O'Sullivan is the guy who will get the chance to make the new Mike Martz offense go.
"You want to see it clicking, getting more momentum going each week," said McCloughan of his expectations for the offense. " I still feel there will be some good days and bad days early because of the new system, and the complexity of the new system, and because of some new players. You just want to see it going in the right direction – a competitive team at home and on the road."
McCloughan believes the team is talented enough to win games, but that the 49ers need to learn how to win late in games. His goals are not specific in terms of a set number of wins or  losses, and he said that head coach Mike Nolan is not anymore in jeopardy than himself.
"I think we are all under fire from the standpoint that we need to win," said McCloughan. "That's what you get measured by in the NFL and we haven't won as many games as we have liked so far. Not making excuses. We feel this team is talented enough to win. We just have to go out and do it. I won't pinpoint one guy who is under more pressure than the other guy. I think it's important that we all work together."
Other Nuggets from McCloughan
On what went wrong with WR Ashley Lelie... "I wished I could pinpoint one or two things, I guess you could go back and say if the durability would have been better maybe he would have more time with the quarterbacks. When we signed him, we signed him as a vertical threat. A guy who had production per catch down the field, and in last year's offense, we could not do that, we could not get the ball down the field. We really didn't have an identity. Going into this year, I think we would have felt a lot better if he had stayed healthy, we'd know for sure what he had or did not have. It got to the point at the 53-man cut, do you keep a player we think fits the offensive system and we may have a role for him? Or do you keep a guy that has proven he has value on special teams, and is still a young guy, who can help us win games from that standpoint. We went with a guy that has proved on the field day in and day out that he can stay healthy and help us."
On what he thinks is the right amount of plays for Frank Gore..."If we're running the ball and it's 50/50 almost percentage wise running and throwing it, it means we're getting ahead in games early and the season is going the way we want it to go. I think everybody who understands football, understands if our offense is going to be successful, Frank Gore is going to be a part of it. And that's either running the ball or catching the ball out of the backfield."
On if he's concerned that Mike Martz will get away from using Frank... "I don't think so, because he's a valuable weapon and everybody that's involved understands that he needs to touch it. And the best chance of touching it is handing it to him but we're also going to throw it to him."