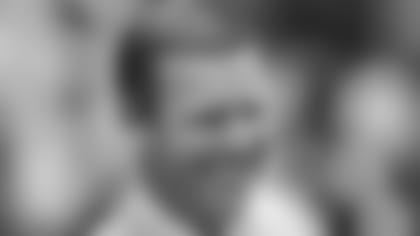 49ers General Manager Scot McCloughan discusses the importance of the NFL Scouting Combine in this Q&A.**
Q: What is the main thing that you, as a staff, are able to get out of an event like the Combine?A: The biggest thing we get out of the Combine is the medical evaluation. The kids come through and get a full physical from their head to their toes. Anything in their past that we may not know about is discovered. All of our doctors and trainers are here. That's the most important thing about the Combine in my opinion. The second most important thing is the interview process. Our entire staff gets to sit down with these guys face-to-face and interview them. We get to see how they carry themselves, how articulate they are and see how they converse. Do they look you in the eye? Those are some of the things you get out of that process. The third thing is the field testing. You see how athletic they are and how they move around, but they're wearing t-shirts and shorts instead of football pads and a helmet. The medical and interview process are both very important at the Combine.
Q: In the past, you've always warned against putting too much stock in the Combine and said that how they play football is the most important thing. Why is that?
A: You don't want to put too much stock in them, but the workouts are part of the puzzle when it's all said and done. A guy who tests well shows that he's athletic, but the most important thing is what you see on tape. You don't want to lose sight of his athleticism. In the drills, you are able to see how they move around, how fast they run, how they run, how they catch the football and all that stuff plays into it. You can't forget about the tape which is the most important thing in evaluating a football player.
Q: Not to get into specific names, but what do you hope to gain from some of the interviews?A: I just want to get know the guys better. I have a pretty good feeling about them from my area scouts and the background they've gathered about them. This is really the first time I've spoken to them face-to-face. It just adds to the portfolio we have on each guy. We're done meeting with guys and talking to them, but this is a good way to start things off. We get to sit down, put a face to a name and see what they're made of.
Q: How do you divide up responsibilities at the Combine amongst your staff?
A: Everything is scheduled and they do a really good job with that. They lay out when the interviews take place and when the workouts take place so there's enough time to get everybody involved. They are really long days. We start at 7:00am and we don't end until 11:30pm. That whole time, we're going hard. It's all scheduled and they give you a format to follow. The event is run very well.
Q: You've been to numerous Combines throughout your career. What are some of the more impressive performances you've seen?
A: Every year, especially the last couple of years, it's amazing how fast these guys are getting at all positions. The speed in the 40-yard dash is incredible nowadays. When you ran a 4.4, it used to mean that you were a very unique breed of football player. Now you'll have 20 or 30 guys who run 4.4 or faster – that's amazing. A lot of that has to do with technique because a lot of these guys are going to speed coaches when their season ends to learn how to run correctly and learn proper starting technique. They're all getting better at the drills because they're practicing them and finding tricks to do better in the shuttles and they're testing better as a whole.
Q: Which position groups do you expect to perform particularly well this year?A: I would expect the tight ends and the running backs to look good.
Q: Are there certain positions that translate better than others in terms of the Combine?
A: No. All the drills are set up for each position so each group does a unique set of tests. Besides the vertical jump, the broad jump, the 40-yard dash and the shuttles, the position skill work is set for their position.