If there was a villain around the 49ers Santa Clara headquarters this week, he was Clay Matthews.
Matthews was patrolling his own practice fields in Green Bay, of course, but his words were heard loud and clear out West. The Packers stout outside linebacker told reporters from both parts of the country that he wanted to hit quarterback Colin Kaepernick during the teams' regular season opener on Sunday, and he did just that.
The 49ers hit him back – and, it turned out, were the beneficiary of a blown call involving Matthews – in their 34-28 victory.
On a 3rd-and-6 play during the fourth drive of the game, Kaepernick rushed to the left sideline and appeared to already be stepping on white grass when Matthews made a full-length dive, taking his target to the ground with both arms.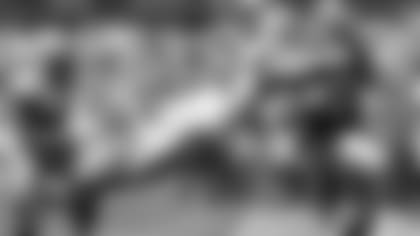 That's when a brief fracas broke out. A two-yard gain turned into throngs of players hand-fighting and bickering near the orange seats at Candlestick Park.
Matthews, who recorded eight tackles and a sack overall, found himself face-to-face with 49ers left tackle Joe Staley, the man he was matched up with frequently.
"His comments that he made (earlier in the week), that registered in my mind when I saw that hit, so I wanted to go over there and tell him that that wasn't going to happen today," Staley said. "I just grabbed him. We exchanged some words. It was heated, that entire exchange, so I think they felt obligated (to jump in).
"It was just one of those things. Luckily, 'Kap' bailed us out (with) the touchdown."
Matthews (personal foul) and Staley (unsportsmanlike conduct) were each whistled, but their penalties canceled each other out, and the down was replayed. At least, that was the explanation at the time. The officiating mistake gave the 49ers a second opportunity to convert third down.
"The down should have counted," referee Bill Leavy said after the game. "The penalties were both dead-ball (fouls), and they should have offset at the spot where the runner went out of bounds. And it would have been fourth down."
On the very next play –  the incorrect second third-down play – Kaepernick appeared calm out of the shotgun and found Boldin for a 10-yard touchdown, securing San Francisco's very temporary 14-7 lead. Had it been fourth down from the Packers 10-yard line, the 49ers very likely would have attempted a field goal.
"That's part of the game," Packers coach Mike McCarthy said of his team's bad break. "The ball doesn't always bounce your way."
Despite Leavy's mix-up, Matthews was disappointed in his decision-making on the play in question. He did hit Kaepernick, just not in the manner he had hoped to.
"First off, it wasn't a very smart play," Matthews said. "I had already committed to hitting the quarterback. I guess I should have figured he was going to step out of bounds, but it was nothing personal. I went up to him later and was joking around with him. Not a very smart play."
Kaepernick, for his part, was completely unbothered by the physical Packers defense. He finished 27-of-39 passing for 412 yards and three touchdowns.
"I'm not worried about what people are saying," the quarterback said, referencing Matthews' mid-week comments. "If intimidation is your game plan, I hope you have a better one."
49ERS.COM SUGGESTS:________