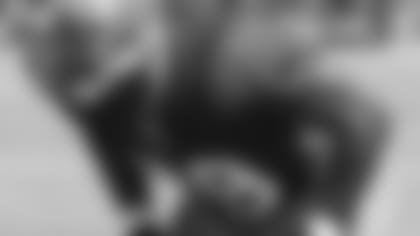 In this latest installment of Manny's Law, the 49ers linebacker talks about inflicting the infamous bag over drill on some young, unsuspecting kids, his poor golf game and his vacation plans, which don't seem to really exist. Check it out...**
So, going back to the end of OTAs which was supposed to be on that Friday but Coach Nolan gave us the option of going straight through and finishing on Thursday which we pretty much unanimously voted for.
Our last day of practice went well. Everyone seemed to have their assignments down by that point and everyone was very fired up, even more jawing than normal, so much so that I think we wore ourselves out by the end of practice. Guys took showers and the locker room emptied out about as quick as I've ever seen it.
I was fortunately able to find a flight out for Thursday back to North Carolina to spend some time with my family and friends.
While I was there, I also took part in this camp for my best friend's uncle. I decided to prepare these kids for what the football life could be like, so I put them through one of the drills I went through and continue to go through. I looked at it like I was doing their parents a favor since I was going to use up all of their energy thus leaving them with nothing left to aggravate mom and dad when they get home. I put them through bag overs, the drill that I remember on the first day of my rookie year with Coach Singletary that wore me out. I had to see if it was just me, or if it affected all ages. The age groups 5-6, 7-9, and 10-13 all had to go through my drill and studies have now shown that it is not necessarily how young you are, the drill just tires you out regardless. I think I gave them a taste of life in the NFL, while also helping their parents out because I promise they all went home and only had energy for watching television, no running around. So, I did a good thing.
And that was the football camp, which went really well.
I left North Carolina and went to Youngstown, Ohio. Dr. York invited me and some other guys out for the De Bartolo golf tournament they have to raise money for high school students to go on to college. Myself, Adam Snyder, David Baas, Brandon Moore and Delanie Walker all went to golf, and I'm not too sure any of us know how to golf very well. One time David and I were on two separate holes but his ball came over to my hole so I told him not to even worry about it because I was pretty sure when I teed off that my ball was going to travel towards his hole and we could just switch. It happened as I expected and I played his ball and he played mine.
I think they need to come up with another term rather than fore. That doesn't seem to really get people to move. I teed off and sure enough I knew where my ball was going to go and I tried to warn them. Everyone was looking up, I said move, get out of the way, duck, run, protect yourself and that FINALLY got people to move. It happened to be David's group so when he heard FORE, he didn't hesitate like the rest of his group. I swore I saw him under the golf cart. As for the others, I can almost bet one of them got hit, so I apologize for that.
I blame my dismal golf game on the fact that I was golfing with clubs that were clearly made for Smurfs, you know the little blue people. These clubs were just not designed for a person of my unique golfing talents (and really my height).
So after the golf outing, I returned back home to Santa Clara. Technically, this is our time off and we're told to leave the facility but I'm here. Please don't let that get out too much because I don't want everyone thinking I'm pathetic and I don't have friends. I really do. I just have a sick thing about working out. I enjoy it. It's a great stress reliever and it passes time, and gets me ready for my afternoon nap.
Thanks to all the folks on the message boards who started a Happy Birthday Manny thread for me this week. That's awfully nice and now that I'm 23, maybe I'm no longer the youngest guy on the team? I hope not. I did absolutely nothing on my birthday which was great. Okay, I did see a movie but that was it. I refrained from buying myself a birthday cake since I really had celebrated while in North Carolina.
My real vacation, I don't know when it's going to be but I really am going to do absolutely nothing really soon. I mean true vacation, I got this! I'm going somewhere. I want to go on a cruise, maybe not this year, but next year I'm going to fight real hard to try and trick myself to go on a cruise so I can play shuffle board. I don't know that I will like being on a cruise, but I like the idea of playing shuffle board.
If you'd like to read a more thorough breakdown of my trip to North Carolina, check out my blog on 49ersfaithful.net