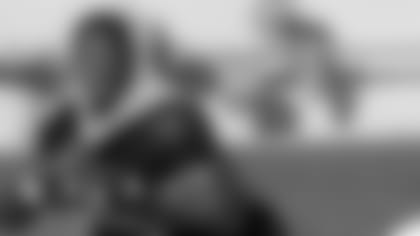 Manny Lawson continues with his popular column, "Manny's Law," in this latest off-season update. Manny recaps his trip to Tahoe, an unfortunate ending to his latest bowling excursion and the latest from the off-season conditioning program.**  
I had a blast in Tahoe at our Celebrity Winter and Wine Fest for the 49ers Foundation. I met several unique individuals during the weekend which had many fun events that I enjoyed.
I participated with Celebrity Judges Brandon Moore and Mrs. Nolan to evaluate the Snowman Contest. The winner of the contest had a very original idea as far as how to build their snowman. They went with an inverted snowman, a snowman built into the snow. That was a group decision, but my personal favorite was the snowman going to Hawaii with the dollar bill puppy. I think whoever made that snowman was trying to bribe me because their snowman had on a lei and was going to Hawaii where it's warm, which we all know is a prerequisite for me.
Mind you, it was pretty warm in Tahoe too. I'm thinking the average temperature was mid 60s, low 70s which is nice, something I can cope with.
The celebrity ski race… now that is something that I would not participate in myself being that I'm a firm believer that trees move on snow. Also it wouldn't have been fair if I joined because whichever side I would have been on would have been given a very huge advantage since my skiing and snow boarding tactics are flawless. So, I stayed down at the bottom by the finish line and interviewed skiers. My favorite little dude was Kyle Smaine. Whenever you see him on TV, he's going to do my personal and patented trick which I lent him which involves jumping off a ramp, flipping yourself upside down, spinning in a circular motion where your skis now look like helicopter wings, arms are flailed out and the head is tilted back with the moving going into a corkscrew double back flip. Oh, did I mention that Kyle is 15 and has been skiing since he was two? I think when I was two, I just learned how to walk, maybe.
I also met Jeff Hamilton who apparently is the first man to have gone 150 miles an hour on snow with skis. Now me personally, I'm thinking very dangerous, and, in talking to him, he reassured me that it is being that he's also the first man to crash going 150 miles an hour on snow with skis. I've never gone a 150MPH via any vehicle (other than an airplane) let alone Pat and Charlie, which is left foot, right foot.
The winner of the overall event was Jonna Mendes and her team. I think she came down at 17.1 even maybe. Anyway, she came down real fast. I was more so worried for my safety than hers when she started getting close to the finish line and wasn't slowing down fast enough for me. I took an extra ten steps back to give her some extra room.
I participated in the silent auction where I got to be spectator of the Play Station 3 war which consisted of my teammate Brandon Moore and a small little kid probably at the age of 13. They were bidding back and forth and it was a gruesome battle. They both sized each other up and their right hand man. I was in Brandon's corner and he'd send me on missions to check the latest bid. Anyhow, Brandon lost, and then he lost again later when a different little kid outbid him on another item in the live auction.
During the live auction, I also encouraged everyone to donate money for a good cause on the auction items. I was their guilty conscience in terms of getting them to spend big, but a good conscience in terms of helping to raise money for kids. It was a lot of fun, but I started worrying about my career at about the time Coach Nolan's daughter bid almost 50K on an Escalade. That was a little disturbing because I like playing for the 49ers. Thankfully, she was outbid, first by Greg Manusky, my defensive coordinator, and then by someone else.
Shout out to them for securing my job!
Speaking of Coach Manusky, the man can pop lock which is a very popular dance move. The man has rhythm. That's what he did when I first met him, and that's my first impression of him. We've worked with him some out on the field this week where we're learning to perfect our outside linebackers' techniques. He just actually came in during this column and told me that we're playing basketball tomorrow because he says pass rush is just like dribbling the basketball and getting around someone. I'm excited. I've never had a coach who says 'go play basketball,' let alone, 'we're playing basketball.' I can't wait to see who can and can not dribble a basketball. I'm prophesizing that Parys Haralson will be, if caught on camera the winner in America's Funniest Home videos. You're still my boy P, in case you read this.
I did go bowling last week with Marcus Hudson and Roderick Green and I bowled a game that I thought would have been more than 200, but it wasn't. I think it was 184. It was very, very disappointing! And, I still don't have my bowl or my shoes and the saga continues.
Now for some more football talk, last Friday we got to play Ultimate Football which was basically football on the run. I played twice, once with my 8AM group and again with the 10AM group and lost both times. Basically we all had to play offense and defense. I hadn't played offense since high school when I played quarterback, running back, receiver, and tight end. Let's just say that not all defensive specialists have problems with catching the ball. Some of them may be entitled to adjusting their job description to linebacker/Mr. Hands, like myself or my teammate Jeff Ulbrich who also caught several touchdown passes, or Ice (Isaac Sopoaga) who not only caught a pass, but threw a TD pass, and ran for a sweet TD. That dude has wheels, like a big old bulldozer Lamborghini. It was fun. I can't wait until the next Friday that we play again!