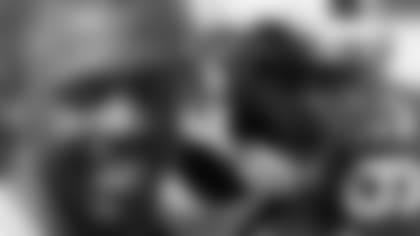 Linebacker Manny Lawson couldn't wait for his year on injured reserve to be over, and he's already working hard this off-season to make sure he's ready to go this spring and summer. He talks about that in his complete blog over on 49ersfaithful.net, but all readers can first check out his recollections of the Senior Bowl below. **
So, this time two years ago I was at Senior Bowl.
I had never been to Alabama before, so it was fun. It was good to be among the best and to prove yourself and show that you could play at that level. I was out there with a chip on my shoulder because I was tagged as too small to play one position, but not enough experience to play another. So, I think that is why me and some of the other guys got into it because I was out there talking a lot of trash and just jaw jacking. I didn't pull a Parys Haralson and fight (PTown,I love you), but I guess I pulled my Phillip Rivers. Phil, I love you too, but you do talk a lot of trash. That's just what competitors do.
I was not surprised at all that Rivers took on the fans in Indy. He just did what everyone else was thinking. He was getting heckled and so he heckled back. I used to have a great time at NC State talking smack with Phillip every day in practice. In fact, last year when we played the Chargers, the ref got on us because Phil was in his huddle calling me out and I was doing the same thing. I guess the official thought we were serious, but we were just having fun like we used to do in college. We really used to get into it during the two minute drill especially. I liked nothing better than trying to pick him off!
But, back to Senior Bowl. My best memory was when Marcus Hudson came. He was an add on and so he arrived I think the second day we started. He ended up getting hurt, but it was great to have a teammate of mine from NC State there and we had a lot of fun. My second best memory was being out there with Darrell Hackney and intercepting one of his passes at practice. He was our quarterback for the South and is now a third-string quarterback for the Broncos, but we are represented by the same agency and we trained together out in Arizona for the draft. We became good friends so I enjoyed stealing one of his passes during our Senior Bowl practices.
That's one of the great things about the draft process. You tend to form a lot of relationships and friendships. I got a chance to meet and actually even tackle Michael Robinson in the game and then we both ended up here on the same team, along with Hudson and Parys. I still try to keep in touch or at least follow several guys I got to know down there. I keep track of Mark Anderson (Chicago) and Kamerion Wimbley (Cleveland), who were both from my squad, and then DE Kawika Mitchell (Giants) who played for the North.
Our coaches are back working the Senior Bowl again which means Joe Staley and myself and the rest of our linebacking crew have a lot of sympathy for the linebackers on the South squad this year. The bag over drills from Coach Singletary, my heart goes out to ya'll. There is no getting through it, it's just do it, and hope that Coach Singletary has mercy in that you are giving it your all. If you end up here in San Francisco, it's only going to get worse.
I worked with the defensive line during Senior Bowl so I didn't get my first taste of the bag over until my first mini camp and it still gives me nightmares. Although I didn't work directly with him during my time down there, Sing definitely made an impression. He just came across as very deep, and I remember thinking Coach Nolan was a man who knew what he wanted to get across and cared very much about leading us that week.
I also remember getting limited snaps in the game which sucked but it was still a good experience. I went against D'Brickashaw Ferguson, who ended up at the Jets and man, that guys arms are so long! I swear he put a hand on my helmet and I was just swinging my arms trying to touch him. But really, it was just a lot of fun and a chance to go against the best in that year's class.
I'm sure the guys this year will make the most of their experiences down there, and I wish them all the best of luck.
You can post a comment or get Manny's complete blog by visiting our social networking site by clicking here!