Rookie linebacker Manny Lawson gets a jump on Thanksgiving in this latest Manny Law's column. Find out his profound feelings about this upcoming holiday in this exclusive 49ers.com feature.
This is Ninthsgiving because my mind is already focused on Thanksgiving, and please do not rain on my parade by telling me it's still too far away to talk about. It's my favorite month and my favorite holiday ever created in life. How often do you just get to eat all you can eat? I count down to Thanksgiving like most people count down Christmas or their birthday. Thanksgiving is like Christmas to me, instead of opening gifts, I open up the lids and get surprised every time. I can open the same lid, and still get excited.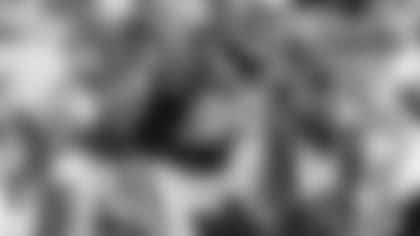 It has to be the right Thanksgiving though, lots of people, family and friends around, three or four tables because you have so many people and still not enough room so people have to stand and eat. And at those Thanksgivings, you know there's a lot of food.
Thanksgiving wouldn't be Thanksgiving without the kids table.
The kids table is secluded away from the grownups table. I find myself making a couple of visits to the kids table, trying to sit in those chairs until this one time the chair got stuck on me. I stopped visiting after that, but I enjoy the little table with small cups, small portion of foods, round portion of tables. It's kind of like a little girl's tea party. It's all peaceful and joyful, unless you have bad kids in your family. I have a few, the ones who like to get food everywhere. They eat with their fingers and they want to come touch you and I'm like, "what are you doing with chicken and grease all over your fingers. Go back to your table."
I'm also known as the, back cleanup guy when it comes to getting food because I tend to not get just one plate, but two. The first can't hold everything that is served so I know if I go first, people will be upset about the big spoon of food missing. So, I go last. I just take as much as I want. I have to have my own section because I need my space when I eat. I have to have my drink and since its Thanksgiving, people usually do wine. I don't go there. I do sparking white grape juice. I know I've said it before, but by far the best drink ever. If my sister knows I'm upset with her and she gives me sparking white grape juice, all is forgiven, all has been amended. Anyhow, I have my two plates of food and I go from plate to plate, no special order. I don't finish off one thing and go to the next. Instead, I think about what I want to taste now, a little bit of the cornbread, yams, turkey, now back to this over here. That's the way I do it.
I don't know if there is anything I don't like to eat. I guess I don't like liver but I've never been to a turkey day where that gets served and I don't want to go to one either. I don't do chitlins because I know what they are and I've seen how they are cleaned and yuck, not my style.
In my family, all we do is go eat, tell stories, and if my sister and me sit close together, we steal each other's food. We have a little fork fight sometimes. I'm very fast with my fork. I see another fork enter my territory, they get a fork in their hand. I've built that technique over the years and it's perfection.
Speaking of my sister, she had her birthday. My gift to her is to pamper her both there and here whenever she comes back for a visit. I'm going to take her shopping and while she is there at school in North Carolina (Wake Forest) I'm going to get her over to a spa so she can get a massage and all that face stuff with cucumbers on the eyes, the mud, the avocado on the face. That's going to be my gift to her. She doesn't know everything I've got planned for her, but she will when she reads this column. And so, look WOMAN!!! What's mine is mine and what's yours is mine and that's how it's going to be. That's just something I like to say to her.
I don't want to think about who is cooking for me this year. I will have to realize my dream Thanksgiving may not come this year because everything I like to eat, I don't know how to make it and being that we have practice that week, I won't have time to do the labor. Somebody start inviting me over, PLEASE!
Sweet potato pie. That's by far the best part in the world of my favorite meal. My family knows when it comes to pie making, I'm going to eat a whole pie there and I'm taking about two with me to go. Sweet potato pie, I can just see it now. Pecan pie, that's another good one. I like to take some of those home too. That's my sister's favorite pie though, and she'll swipe that one if I don't watch out.
On a serious note now, I can sort of feel what Parys Haralson is going through right now with going on injured reserve. He's been getting more time on the field and he's been a big contribution and as competitive as he is, he's actually taken this well or at least shows on the outside like he's doing okay, although we know how tough this is on him. We know he's angry because he goes so hard in everything he does and has such a strong passion for the game and to have his season come to an end because of the torn pec muscle, we know it's killing him inside. He stays positive and he's already talking about beating the return timeframe they've given him. I know he really wants to play and he's dedicated to his treatment.
I don't necessarily know the whole story behind what happened in Miami, but I can only imagine what his family is going through. It's never good to have anyone pass away, but so young, that's rough. I look at my teammates as older brothers since I'm one of the youngest on the team so that's like losing a family member. I'm sure it's really hard for the whole Miami team. He was a great player from what I've been told, very skillful and just a good person overall and there's nothing good about losing someone like that.
To wrap this thing up since I'm going on page three, it was a great win over the Vikings. We all pulled together and really just pulled that one out. As always, from a win though, you have to look past that you won and look at the things that didn't go right and things you need to correct. It's easy to overlook those things when you have a win, but we're not doing that around here. We're looking at our mistakes and getting ready for Detroit, where again, it's cold. So I'll break out the long johns, hand warmers, feet warmers, ear muffs. If my ears get cold, it's a wrap. I lose focus. And I need my focus for Sunday!