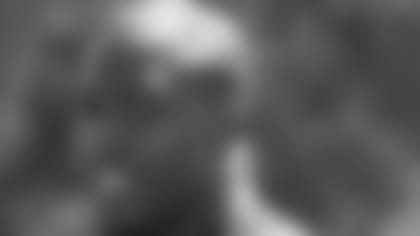 Linebacker Manny Lawson checks in after his first day of the 2007 Mini Camp and catches our fans up with how practice went, the draft, and  his most amazing accomplishment. Check it out...**
For those of you on 49ersfaithful.net, you already got to hear about my phenomenal bowling outing, but yes America, I put an end to my everlasting struggle by bowling a 206.
It was during the first game of a celebrity charitable bowling event run by Torry and Terrence Holt back in Raleigh, North Carolina about two weeks ago. I was just bowling, mingling with my group, having fun and it just seemed like nothing could go wrong. Everything I threw was either a strike or nine pins and then I picked up the other one on my spare.
I looked up in the tenth frame and I had four strikes before then and so I go up, and I was actually not panicked. I was telling everyone around me that I was practicing for the PBA (Pro Bowling Association).
I stepped up and rolled the ball down and the first one was a strike. Then I stepped up again and got another one which gave me six strikes in a row. Then I rolled the last ball down there between my legs and I got six pins and lo and behold 206 came up. I honestly wasn't paying attention and when I saw 200, the first person I called was my bowling partner and first member of the 200 club to let him know I made it. That would be Marcus Hudson, for those of you not keeping up with this column for the last year. Then I text messaged Vickiel Vaughn to let him know that I had beat him to the punch because he's another member of the original 200 club, and then I let Ms. Mauck know since she's been the one to track my pain over the last year on 49ers.com with this thing.
I just stood there basically in awe that I had really broken the 200 mark.
You know that I already got my shoes and my bowling ball. Bowling has almost gone international now. We've got several guys from the team who get together now, Jonas Jennings, Ron Fields, Donald Strickland, Hannibal Navies, Taylor Jacobs, Brandon Moore, Keith Lewis, Nate Clements, BJ Tucker. It's gotten extremely serious now. We don't even have to be in the same lane and we're all looking at each other. Keith has been holding it down. I'm still trying to become one with my two new bowling balls. They aren't acting right, so I have to figure out all of that.
Switching topics, which I'm great at doing, there were so many people at the Draft Day Party we had last weekend. I signed autographs, answered a few questions up on stage, and that was about it. On the way over there, Fred Formosa, our security guy, said there were 5,000 people over there. Usually he's so serious, but I thought he was joking, but there really were people everywhere. I'm glad that room was big enough because that's a lot of people. They were very rowdy, very excited about Joe Staley. I actually came back here and spoke to Willis on the phone. He and I are going to race one day, sooner or later. It's going to be on the street in socks or bare feet and it's going to have to be at night when you can see your shadow, because when you see your shadow you feel like you are running really fast. The barefoot thing is because when your bare feet, your toes can just sink into that pavement and go super fast.
Basically this came about because I was told he ran a really fast time at the Combine and that now the 49ers have two of the fastest LBs in the league and so the question came up as to who the fastest is? So since we were on the phone, I told him we should settle it and race. He agreed. We probably won't actually ever race, but it sounds good.
I'm very excited to have him, all the guys really. They come here with a really good head on their shoulders, ready to work and asking me questions as if I've been here for years, when really I'm still learning. I feel like they want to get on this team and make a statement for the 49ers and that's exciting.
So it's mini camp, and I kind of feel bad because I'm not technically a rookie anymore, yet I'm STILL one of the youngest guys on the team. My parents really should have had me a couple of years earlier, so my future self esteem wouldn't be so in question because how do you tell someone who is older than you what to do. I guess it's not so much about having me earlier as much as they really should have shipped me off to school a few years later. But one thing about this team is that we all respect each other no matter how old we are!
Nobody got picked on today during our linebacker drill, like I did a year ago. A year ago this time, I was probably still laying down in the locker room thinking to myself what am I doing? Is this really for me? Am I really laying here on the locker room floor dying or is this all I dream and I did not really get broke off in the linebacker drills today by Coach Singletary? I'm predicting that tomorrow with the two-a-days that Coach is really going to get after it. Needless to say, my bedtime tonight will be early.
Seeing everyone back with such a positive attitude is really fun and exciting. It's like we're all here thinking, "let's do this." We're fighting for something. It's like coach says, we're expecting to win and all have that mindset and we all want it.
For this to be our first mini camp, it seemed like guys really want to be better at their craft, everyone is asking a lot of questions and we are all working and trying to perfect all of our techniques. I'm just really excited.
And the food out there today was really good. I'm going to sleep so good. Candy yams, macaroni, cornbread, it was wonderful.