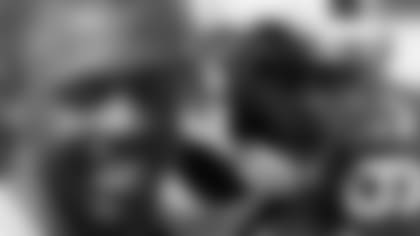 Linebacker Manny Lawson checks in below with a few thoughts on his trip to Hawaii with Joe Staley for the Pro Bowl and his rehab. For his complete blog, check out his profile on 49ersfaithful.net.**
So, it's been a while since I last checked in with you all, my profuse apologies.
I did do a video diary for the website of my trip and the travel to Hawaii for the Pro Bowl as an invited guest of Patrick Willis.
I have some really exclusive footage that not too many people could get, such as the plane ride. That was an experience. We rode in first class, and it was very nice to have knee and leg room. I didn't even know that on top of that extra space, the chairs can also really recline. They served juice and food, but I don't know about the food. I think I'd prefer to just bring my own Subway, Burger King, etc.
Since Hawaii, I've been here in Santa Clara having date nights left and right, which for me means going to the movies by myself. I've also spent quite a bit of time trying to find my bowling game. I haven't been bowling in so long, and it's hard, because I used to be so good. Somehow I lost my skills.
Rehab is going well. I'm here every day talking to the trainers about what can I do now, when can I move up, how about this, and how about that? They are looking out for my best interest and taking care of me so that when the season comes around, I will be ready. So far, so good.