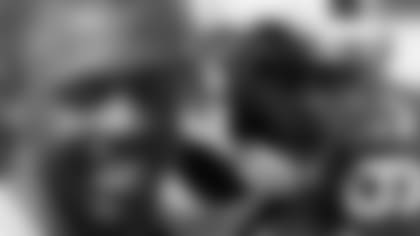 Linebacker Manny Lawson might be on injured reserve but he's still a daily presence at team headquarters in Santa Clara. Check out some of his recent blog below, and then visit 49ersfaithful.net for the rest with the option of posting comments!**
Let's start out by talking about Marcus Hudson. Marcus texted me after the game. He thought he tore his ACL so it was real disappointing to get that text. I fell asleep by the time everyone got back and so I didn't get to talk to him that night. I did see him first thing Monday morning and it wasn't swelling up and so we knew it wasn't an ACL. He was on his way at that point to get his MRI to find out exactly and so he got that and come to find out he had a PLC sprain. He doesn't need surgery and I think he should be back in a couple of games.
In the meantime, he's hobbling about and we'll help each other push through our time in the training room.
My neighbors probably wanted to call the police on me for breaking some noise ordinances on Sunday, and especially towards the end of that game. It probably sounded like I had won the lottery because when we won, I was jumping around from couch to bed, came real close to running outside to shout, but I stopped at the doorway. Instead I popped open a bottle of sparkling grape juice in celebration. I wanted to shake it up and spray it everywhere, but then I realized the stains probably wouldn't come out of the walls or the carpet, and most importantly sparkling grape juice should not be wasted.
I get to go to the game this week in Carolina which will be nice because I'll get to see family and get to be with my guys on the sidelines. I think initially it's going to be hard for me because I might resort back to hearing "base" and take off out there thinking it's my time. You might see my trotting ability live on TV!