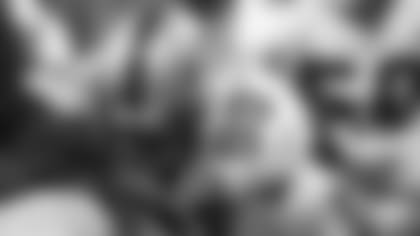 Starting rookie linebacker Manny Lawson checks in again to give an update on his great score for a delicious meal(s) on Thanksgiving, his first regular-season NFL career interception, and a few other odds and ends. Enjoy!**
Nothing really interesting at all has happened lately so I'm not sure really what to talk about this week. I guess we can start with what I'm calling this column, and I think I'll go with Elevucky. Eleven is my lucky number. That was the first number I ever wore playing any sport so I always try to get that number in every sport I play.
The first sport I played was basketball. I joined an 18 and under summer league. I was 13 and I wore 11. They needed players so they basically bumped me and my cousin up. Back then, I hadn't hit my growth spurt yet so I was just average in height, but I could jump high. I played the four position which was power forward. My cousin played the three position, which was small forward. We stayed in that league for years to come and were very experienced by the time we turned 17. Anyhow, that was the beginning of my lucky number 11.
I was actually recruited to play wide receiver/tight end at NC State which meant I would have been able to get my #11 but in spring ball I was told I was playing linebacker. I had never played that position before until then. I played that for two years and then they switched me to defensive end, and now I'm back to linebacker and no closer to getting a #11 jersey. I'm like the farthest away I can get in #99, but that's why I picked #99. Think of it this way, 9 1 is a perfect score of 10. And so if you add 1 to both nines, you've got two perfect scores and those ones still make up 11. That's also why me and Alex Smith are best friends. We even have pet names for each other. I call him Dimples and he calls me Skinny. We're going to have to work on his pet name for me because I am a fat kid at heart. I'm not liking being called Skinny.
Thanksgiving was good. I ended up spending the day with Marcus Hudson's family. His wife cooked up a delicious meal. I couldn't move because I ate so much, which was fine because I didn't plan on leaving until I had my second round and made my leftover to go plate for round three. You know that the food was good when right after you finish, you start to feel sleepy. I almost went to sleep on the floor because the food was so good and my belly was nice and round and protruding and it was uncomfortable resting in an upright position, so I had to lay flat.
And she made sweet potato pie.
While I'm on the food topic, today, when I finish this column, I'm going to Safeway to pick myself up a birthday cake because it's just so good to eat.
I got my first interception during the regular season last Sunday against the Rams. To me, it didn't seem like that hard of a catch. I just concentrated and caught the ball, but from what I hear, I guess the ball was thrown very high and the way I turned was very awkward. I didn't feel the elbow that I came down on, but I did feel the back. Initially I didn't feel anything however, because I was so excited and my adrenaline was pumping. I wasn't even thinking about the ouchies, but later on I started feeling the ouchies. Taking a deep breath kind of hurt, so I thought I should probably go talk to the trainers. But, the x-rays came up negative, my bone structure is very good, turns out I just had a bruise and so I was able to go back in the game. So for everyone who has been worried, including my sister because she called me and almost cussed me out because I told her it was a bruise but somewhere it said bi-lateral contusion, and she read that and she freaked out. I said, "what's that?" I didn't know I had that. She didn't appreciate me telling her it was a bruise and then reading a bunch of medical jargon making it sound worse. So the simple matter of fact is that I'm alright. I'm fine. I'm doing very well and ready to go for this New Orleans game.
I made an appearance on the Rookie Report today, and they made me wear the ECU jersey, which is East Carolina. Sadly to say, I made a bet with Damane Duckett and the bet was that whichever of our teams won, the other person would wear the apparel. All you need to know is that I don't look good in ECU purple and gold. I have been having to wear this bright purple and gold basketball suit, warm up suit type of thing AND Steve, our equipment manager, also put an ECU helmet in my locker. I have learned a lesson. Stick with your guns, and if you don't bet, don't start to bet because there's a reason why you don't bet in the first place. So on the Rookie Report, I'm sitting there not really trying to not hear what they are saying because they are getting the giggles about me in this jersey and I'm very un-amused by the entire experience. I think that'll be up on 49ers.com sometime tomorrow, so check it out.
Until next time-
Manny Lawson