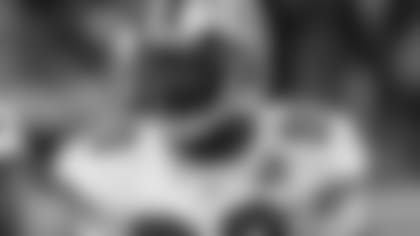 Rookie linebacker Manny Lawson is back with his tenth column of the season, Decanonymous. Enjoy his latest ramblings in this weekly 49ers.com special feature.**
Decanonymous is kind of like decade mixed with anonymous which this column is not anonymous since they put a big picture of me over to the right. But it sounds good, so I'm rolling with it.
Speaking of rolling, my bowling career is the topic for today. I'm already a pro. I've got the spin back going. I've got that down pat, just like the pros. I've just got to learn how to place it. Once I do that, it's all over with. It goes in the gutter sometimes right now. I can't just be forceful because it does takes finesse. I've got to put some touch on it and let the ball do what it does.
I've told Marcus Hudson and Vickiel Vaughn, my bowling partners, that once we break 200 we are going to get ourselves our own bowling balls. I haven't broken 200 yet, the highest I reached was 199. Marcus broke 200 twice, 204 and 206, and so he's the first to get a bowling ball and bowling shoes. I don't know what he's going to put on his ball, but we are all going to have our own little signatures on our balls.
I'm going to be the next one to get 200. But, it's not just about bowling. We go there and enjoy our time not thinking about football, listening to music, and finding ourselves dancing while we listen to music. Marcus, myself and Vickiel break it down. Thankfully they don't play country over there.
I think we are also going to start our own league once we get our own balls and shoes.
We are going about two days a week right now, Mondays and Tuesdays. As far as times go, it's really just whenever we are not doing anything and we decide to go.
We have made some friends. The people who work there know us personally and speak to us every time we come in. We signed some stuff for them. Marcus even had a little birthday over there because Wednesday was his birthday, and one of the workers told us if we came in there Tuesday they'd have cupcakes. So we did. The cupcakes were so good and I think that's why I didn't do so well bowling that day because I was more focused on the cupcakes.
I think I'm also going to get bowling attire, the little wrist thing, real high shorts, knee high bowling socks, the little hat. I guess maybe it's my own trend for bowling, kind of like my dancing that I do when I get a strike.
On to football… I think getting fumble recoveries is my forte. It just so happens that if the ball is down on the ground, I'm on it real fast. I'm there. It's like a sixth sense I've developed. I think the ball is just following me. I kept that one from Detroit, along with the other two I got.
I did absolutely nothing in Detroit during the trip. We got there Friday night, and I never left the hotel once. It was cold out and I had forgotten my emails. I stayed in my room, watched movies, took a nap.
Oh, and I received a prank call, this was the second time actually. It was Anthony Adams, aka Double A, both times. The first time we were in Kansas City and he pretended to be one of the people at the front desk. He was telling me that Coach Singletary wanted me to meet him out in the lobby for a shuffle drill. At first I actually believed him but once he went there to the drill, I knew it was him. This time in Detroit, it was a guy at the front desk and man, the names he comes up with sound so real, and he really changes his voice. He was asking what time I wanted my wake up call and at first I thought it was legit. Then he started talking about how my silver Navigator had arrived and I knew it was Anthony.
So, now I know it's always going to be him, but the stuff he comes up with now is just hilarious. So I'm waiting to see what his next thing will be. I'm going to have to ask him who else he does that too.
The Seahawks are a great team. They've been there, they've done that, and so they are trying to rekindle the flame somewhat and we've just got to be on our Ps and Qs, dot our I's and cross our Ts and pull this one out.
I think about Julian Peterson returning a lot actually because he was here before and I don't want that comparison of looking at his game compared to mine and people thinking why did we get rid of him and pick up Manny, so I've got to ball out. That's what I've got to do. It will be good to actually see him personally though, because everyone says we are a lot alike in our build and stuff like that, so it will be nice to meet him.
Outside of that, I just want to help my team get the win.