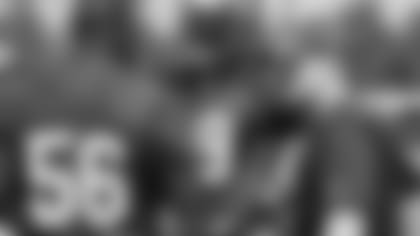 In his latest column, linebacker Manny Lawson sums up the last three weeks of OTAs, chats about his trip to the NFL Network, gives fans an inside look into the defensive meeting room and talks about his plans for the next few weeks. Check it out...**
Since OTAs are coming to an end, I'll try to wrap up the last few weeks for everyone.
By now, many of you may have checked out the segment a few of us did with the NFL Network for Father's Day. We actually flew down there during our first week of OTAs, myself, Nate Clements and Arnaz Battle that is. We went down to Los Angeles on a Wednesday, which was our day off, and it was my first time at the NFL Network's studio.
I was in awe walking in there and seeing all of the cameras, all the TVs, the NFL Network logo everywhere. It was crazy, and then I had to get makeup put on. I was confused. I did not want to put makeup on, but they told me I had to and so I did. The lady who did it though said I had really nice skin!
Anyhow, so we were sitting down on the set and I was in between Nate and Arnaz and Rich Eisen's chair was on the end so I'm thinking I've never been in this situation so I was trying to look at them to see how they were sitting and what they were doing. I mean, were they kind of lounging or sitting up straight, where were their arms, were we allowed to drink the water that was in front of us while we were on air, that type of stuff. Finally I asked Arnaz if he knew what to do either and he said no. We asked Nate, Big Time Nate, and he said no too. We're all just like don't know how far to sit back or could we lounge and be relaxed, where to put our feet, are we allowed to drink the water while we are in air. Then Rich finally came in with his suit and so we look underdressed, but that was okay. So, I just flat out asked him what we could do and if we should just copy them. Everyone had a good laugh over that and then it was all gravy.
We had a really good time on the show. I learned a lot about Arnaz and his son, Nate and his daughter. I guess she loves to cook. Maybe she could help me out with my homemade spaghetti sauce. Arnaz's son loves video games, which is right up my alley too. So, it was good to learn about those guys more.
We did it all on the first take, even though we were all really nervous. So, don't expect any bloopers to ever come out one day from that segment because there aren't any.
I can't see myself living in LA, or at least where the NFL Network section is because I saw no green grass anywhere and being from the country, from the south, I need some greenery. Green things shows there are organisms out there alive! I hear about LA a lot, and how everything happens in LA so maybe one day when I get enough guts to venture out, I may really go to LA and try to experience more.
Back to football and OTAs. Compared to last year's OTAs, I felt as though it was a lot more competitive. Guys have really been out there competing hard for jobs, offense has been battling defense and vice versa, and guys are really challenging each other for the ball. It's just been fun. There's a lot of bantering going on too which has made for a lot of laughs. The offense might say it's a completion, we'll say it was a sack before he ever even threw the ball. We just have fun and unless it's just that obvious, we're never going to see eye to eye out there on any play because both sides want to win.
The rookies coming in are doing pretty well. Joe Staley is learning his job responsibility and looks like he's becoming a little more comfortable back there in his position. Dashon Goldson at safety, I know he had a pick in one of our OTAs. I can hear him making checks, changing coverages back there and that's good to see him taking on that responsibility so quickly. The rookie tackle Joe Staley seems to be coming into his own too. He's coming along fast and really has stepped up with Kwame Harris being out.
We have had a lot of fun in our meeting rooms especially with Coach Manusky. He really preaches up a storm with the outside linebackers. If he sees something he doesn't like on film, he stops the film, smacks the table and then rewinds the film and smacks the table all over again. You can tell his frustration based on how many times he smacks the table and rewinds before going on. He also likes to stop when he sees what we call, The Sniper. The Sniper is really when someone loses their footing and trips and falls for no apparent reason. He likes to show that one in slow motion, over and over and over, frame by frame. If he sees something off in the corner that is funny, he'll stop and exploit those moments too. Say for instance, our defensive back coaches Vance Joseph and Johnnie Lynn. They stay way back behind the defense so they can keep an eye on the secondary and so often times on deep balls, we'll see them trying to run out of the way. Then if one of our guys gets a pick, we have actually caught them looking around for someone to block. It's like they are reliving their own glory days playing. So, needless to say, we really have had fun in the meeting room with Coach Manusky, yet still come away with a clear understanding of what our job responsibilities are out there.
I'd like to give a shout out to my dawg Marcus Hudson because he's had a very good few weeks of OTAs in my eyes. He's been very productive, almost had his fourth pick on Tuesday but it got away from him. We have to go back outside and play catch and get him back in form after that one.
I wish Vickiel Vaughn could practice with us, but I think there are some rules that won't let him practice quite yet since just getting back from Europe. Or maybe they are just resting him, I don't know. Anyhow, he is around and we've got our original bowling squad back together. Back in the day, Vickiel gave us a hard time, swearing he was the guru of bowling and that he could just beat us whenever he wanted. Many of times, it did happen that way but during his absence, we've really improved. If you recall, our original agreement was that we couldn't get our own bowling balls or shoes until we broke 200. Well, the three of us went the other night and I kind of felt bad because Marcus and I had our bowling bags with our balls and our shoes and then even our PBA towels and poor Vickiel didn't. Since he's my boy, I hope and pray that one day he is fortunate enough to see 200, but in the meantime and I speak for Marcus also, we don't want to h ear anything else about Vickiel being a bowling guru.
I'm going home to NC later today after our last OTA ends to spend time with my family. We've got about four weeks plus before training camp starts so I have a few things lined up. The uncle of one of my best friend is having a football camp so I'll help him with that. Brandon Williams is also having a football camp, and he says I have to go because my name is on his flyer so I'll be going to that in St. Louis. I'm also going to go to Arizona and train there for a couple of days. I think I really need to completely get a vacation in, no football, sometime in there so we'll see. I'll keep everyone posted on my 49ersfaithful.net blog.