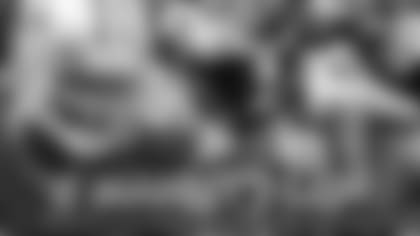 Manny Lawson continues his popular column, "Manny's Law," with his second entry of the 2009 offseason. Enjoy catching up with the 49ers outside linebacker as he talks about his thoughts on the 49ers role as underdogs, his relationship with teammate Parys Haralson and the 49ers new player's lounge.**
Man, I'm glad training camp is over with. That's first and foremost. I'm glad that's over with. Now we can really get into the gameplan. Now it starts to really count and we finally have our team here. I truly believe that this team is special. I'm looking forward to this game against Arizona.
I'm looking forward to a very tough and physical game. That's the way we practice all of training camp. Arizona has something to prove that them going to the Super Bowl wasn't a fluke. I think that every team they go up against they are going to try and make it a physical game. Right now, we're their first opponent and they're our first opponent. I'm really looking forward to the first game of the season by starting the season the way I want to.
For me, I love to be the underdog and then come out victorious. For us to be on their home field, they think they are going to win. I love that, I love being the underdog. I hope we go out there and are very productive in our game on all three sides of the ball: offense, defense, and special teams. Then we can come back home on a nice happy plane right and then I would enjoy a bag of Reese's pieces.
Sometimes it's not the whole team that can be an underdog though. You can be the underdog when you are matched up one-on-one with opponents. Sometimes it can even be in video games. Anytime I'm the underdog, I have a little chip on my shoulder. I'm always the underdog in everything I do. Even if it's a height contest, I will find a way to be the underdog.