In their last three matchups, which happened to be against AFC Eastern Division opponents, the 49ers defense allowed a combined 26 points.
To put that feat into perspective, the 49ers defensive unit allowed less than 26 points only three times in their previous 11 contests.
This Sunday, when the 49ers travel to face the St. Louis Rams, it will be a rematch against one of those teams the 49ers kept under wraps.
Back in mid-November, the 49ers dominated the Rams 35-16 at Candlestick Park, thanks to a 28-point second quarter outburst off three turnovers, which gave Mike Singletary his first career win as a head coach in the National Football League.
Since then, St. Louis has dropped their last four games, despite getting back one of their premier players in Pro Bowl running back Steven Jackson.
With Jackson back in the lineup, unlike the previous meeting, the 49ers defense knows that they will have a load on their hands with the physical back.
"I have a lot of respect for Steven Jackson," Pro Bowl linebacker Joe Staley said before Wednesday's practice." To me, he's a good running back, probably one of the best running backs that I've faced yet. So I know going into this game he's going to run the ball hard."
Willis believes Jackson relishes his opportunity to face the 49ers and takes his game to another level when the two division rivals square-off.
"When he plays against us, he likes to run even harder for some reason," Willis said. "We have a lot of respect for him and we respect his game, so obviously we're going to come out here today, start our work and have a great week of preparation."
But not only will the 49ers defense have to prepare for the hard-nose running style that he presents, they'll have to locate him out of the backfield as well. Jackson is third on the Rams with 34 receptions, and averages nine yards per catch.
"He's an explosive player, one of the guys we really have to account for coming out of the backfield on check down routes," outside linebacker Manny Lawson said. "We all know he's a really good runner, a strong runner and a hard runner at that. And then we have to make sure, whenever he gets the ball in his hands that we tackle him and make the play."
Jackson is even more of a threat now that two of his starting offensive linemen have returned to the lineup in left tackle Orlando Pace and right guard Richie Incognito, who were both injured in the first half of the previous matchup between these two division teams.
"Their offensive line plays hard," defensive end Ray McDonald said. "That's one thing you notice about them on film. When you look at them, you can't really tell what their record is because their offensive line does play hard and they do get after it. We know that is a group that is going to be ready to play come Sunday."
But besides helping out in the run game, the Rams offensive line's improved play has resulted in only two sacks in the last three weeks.
"Their offensive line is more disciplined in their assignments and they're able to shift more, move personnel around, trying to confuse the defenses," Lawson said. "They've come a long ways since the last time we played them. We're going to have to take care of their shifts and motions and get after their front-five."
The 49ers totaled three sacks on Bulger and picked him off two times in the first meeting between the two teams, but lately the Rams offense has bought more time for their quarterback.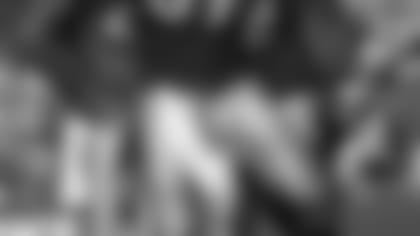 "I think he's been more efficient," linebacker Takeo Spikes said. "That comes from attention to detail as far as the guys running the right routes, catching the ball more than anything. I also think that comes from his offensive line giving him a little bit more time to make the completions. That's why he's having the success that he is compared to last time."
Now that he he's not having to avoid sacks as frequently as he was in the past, Bulger has re-established his on-field relationship with wide receiver Torry Holt and has continued finding ways to get the ball to rookie wideout Donnie Avery.
"Bulger is getting the ball out of his hands quicker and to his play-makers, guys like Holt and Avery," cornerback Tarell Brown said. "So we just have to get on top of those guys and try to get him to hold the ball as long as possible."
Against the Seattle Seahawks last Sunday, both Holt and Avery picked up over 60 yards in the air with Holt also being the recipient of a 31-yard touchdown pass from Bulger.
"Holt has been doing it for a long time," Brown said. "He's been consistent, he's a great receiver, and is a Pro Bowl guy. Avery is a very explosive receiver as well. For a young guy, he's going out there and playing well."
Turnovers were instrumental in the 49ers notching the previous W over this divisional opponent, and is something the 49ers would like to repeat this Sunday when they take the field in St. Louis.
"It's big, because even though their record hasn't indicated what type of team that they are right now, to me they are the most dangerous team, simply because they're a team that doesn't have anything to play for," Spikes said. "To let a team like that hang around, stay around the game, if you don't make the proper plays when needed, they will pull the game out in the end. It's a must that we get the turnovers and we do everything that's needed to be done."
Along with taking the ball away, the 49ers have to eliminate big plays and mental errors, which was their downfall against the Miami Dolphins last week.
"We have to be more detailed and come together," Brown said. "Our coaches come out with a great plan to allow us to come out and play hard and physical. For us, we've just got to be more detailed and be precise as far as feeling routes and understanding what they are trying to do to us in certain situations."
And that attention to detail should place the 49ers in favorable position to sweep the series.
"I know they say that the Rams record is two and whatever it is, but at the end of the day when you play on Sunday, you forget about the records, you forget about all that," Willis said. "All you think about is coming in that day ready to play because records don't really mean anything. It's any given Sunday to me. It'll be big for us to go into the game focused and doing all we can to put ourselves in the best situation to win."
Wide receiver Josh Morgan and safety Mark Roman were held out of practice on Thursday for precautionary reasons after colliding with one another in Wednesday's practice.
"I didn't really see the collision," said head coach Mike Singletary. "I just heard it, and it was a heck of a collision."
Singletary doesn't believe either player suffered a concussion as neither experienced any dizziness. He did however want to make sure they were observed over the last 24 hour period.
Tackle Adam Snyder and linebacker Ahmad Brooks missed their second day of work. Snyder was forced out of the game due to an ankle injury, while Brooks has a back injury.
Safety Michael Lewis (abdomen) and cornerback Walt Harris (veteran status) returned to work on Thursday after sitting out on Wednesday.
Running back Frank Gore did test his ankle some today with the athletic training staff, but Singletary said he probably won't have him practice on Friday.
"It's more about rehab right now than anything else," said Singletary, who expects it to be another game time decision as to whether or not Gore will go.