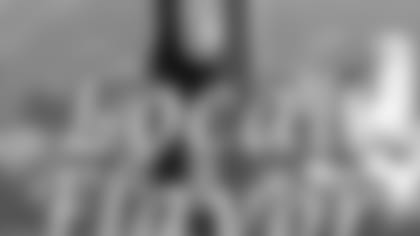 The 49ers will enjoy a shorter day on Thursday in order to celebrate the Thanksgiving Holiday. In this week's Local Flavor, the players discuss the upcoming Thanksgiving meal and even share some dishes!*
Center Eric Heitmann gives fans his rundown of the Thanksgiving holiday and even did his due diligence by bringing in a recipe from his wife.
The last few years we've made it a tradition with the offensive line where we have a potluck dinner. A lot of guys don't have family in this area, so we kind of all get together. Christmas is usually at my place and then we go to Kwame Harris's house for Thanksgiving.
We get done around 2 o'clock and the wives are usually at home cooking if I'm being honest. The guys who aren't married might go and pick up something like a bag of salad or drinks. Everyone has to bring something, that's the price of admission. I think last year Kwame did Cornish hens if I'm not mistaken, so we'll have to see what he comes up with this year.
As far as turkey, we bake it. I don't think offensive linemen, at least the 49er linemen, have mastered the frying of the turkey, although it sounds pretty delicious. I feel like putting it in the oven is a lot easier than dealing with getting the oil at the right temperature and all of that. I can't remember who brought the turkey last year but it might have been Adam Snyder. It was very good, whoever brought it. I do remember that much at least.
My wife cooks up a bunch of different dishes usually a corn casserole, a cheesy green bean dish, and she'll do sweet potatoes and it's a lot, huge portions for everyone. I usually try to help out by running out to the store. An absolute must is the honey baked ham from the Honey Baked Ham store. There's one in Campbell and also one in Palo Alto. It's amazing, unbelievable. It's already pre-cooked. You can warm it up in the microwave, but it's already cooked, it's already cut. It's got like a brown sugar crispy glaze on the top of it, so good!
Marie Calendars is a good spot if you need to pick up a pie, and don't know how to cook one from scratch. My favorite pie is pumpkin. I like whip cream, ice cream if that is available. Pecan pie is really good too. I probably will have a piece of both actually.
We watch football, hang out, play video games and make fun of each other, and eat a lot of food.
The whole holiday in general we've really got to be conscious of how much weight we are gaining. Johnny Parker is really on us pretty heavily during the holidays because there is just so much food around. The weather gets cold and so you kind of want to stay inside and eat and you are just not as active, and food is really good. You've got to be careful.
I haven't been home to Texas for a Thanksgiving for a really long time, which means I actually get to sit at the non-kids' table. At Easter, I was sitting at the kids' table, and I just want to know how old do you have to be to not sit at the kids' table? My brothers and me all still sit at the kids table while my parents and my aunts and uncles sit at the adult table. I really don't understand how old I have to be, but I don't even want to sit at the old table anymore. The kids table is where the cool people sit.
Happy Thanksgiving. Here's a recipe from my wife in case anyone is in need of a last minute dish! It obviously gets my recommendation.
Corny Casserole
3 eggs
½ c. butter, melted
½ t. salt
7 oz box corn muffin mix
8 oz sour cream
16 oz can creamed corn
16 oz can whole kernel corn, drained
Small can of Ortega green chiles
Beat eggs with butter. Add salt, corn muffin mix, and sour cream; beat well. Add corn. Bake in 8" x 8" pan at 350 degrees for 30 to 35 minutes. Serves 8.
Offensive line Thanksgiving host Kwame Harris, also a Local Flavor columnist, didn't give us an exact recipe, but here's what he's cooking up in answer to Heitmann's speculation.
I'm going to do some short ribs, pick them up at Whole Foods and make them myself. They are awesome! I put in ginger snaps in at the end. I braise them for about 4-5 hours with some beef stock, bottle of wine, scallions, onions, carrots, Worcester sauce. It's really just the quality of the meat you get and being patient, not over cooking them. I recommend them served up with polenta, but I think someone else is bringing stuffing so we'll just use that.
Offensive Coordinator Norv Turner loves to try his hand on the grill, but this Thanksgiving he's heading to his nephew's house, leaving the cooking to someone else while he works on his game plan for St. Louis.
I don't have any duties for Thanksgiving. My wife usually picks up our turkeys over at Diablo Foods in Lafayette. We get one big one to fry and one to bake. The fried is phenomenal, it's like a big French fry. I'm handing it over to my nephew, but basically you spice it up with a syringe and put Cajun spices in it and fry it up. We call the turkey in the oven Turkey Lurkey, the other one is just Fried Turkey.
My wife is famous for her custard apple pie but she makes butter nut squash with brown sugar glaze and that's a fantastic dish too, one of my favorites.
Basically Thanksgiving as a coach, we work, we practice, we get home and watch the end of the Dallas game, eat, everyone has to stand up and say what they are thankful for and then I fall asleep on the couch with a big, fat stomach.