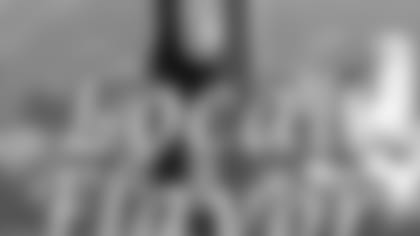 With Halloween fast approaching in this latest Local Flavor column, kicker Joe Nedney and linebacker Jeff Ulbrich share their tidbits on some Bay Area pumpkin patches.**
My wife and I actually just took the kids last week to our favorite pumpkin patch called Uesugi Farms. It's right in between San Martin and Morgan Hills on Monterrey Highway. It's got a train, a corn field maze. It's got a pyramid of pumpkins that I think is made up of over 4,000 pumpkins and just a bunch of little things. The kids had a ton of fun. It's free to go in and you just pay a couple of bucks to do the train ride. It goes thru the whole park and then they've got a hay ride that goes thru the corn fields as well.
They've got lots of snacks – the whole cider, caramel apple type of stuff for you to graze on while you are there too. It definitely gets you in the mood for the holiday.
We made sure to bring home some pumpkins. We usually carve at least one but this year we got these little inserts that look like Mr. Potato heads for pumpkins so that way the kids can actually do it. I'll still carve at least one, but I made the mistake of carving it too early the last couple of years and it just rots before Halloween, so I'm going to wait this time a little longer.
My wife buys all the candy which is a good thing because I'm not into sweets. Kids probably wouldn't like what I would buy to hand out. I do like to dress up to open the door. Last year I stole Derrick Smith's wife's outfit – it was a Yoda costume - so I was a big Yoda running the streets.
My daughter is going to be a girl pirate, my oldest son is going to be Batman and my youngest is going to be Robin.
We like to hit two pumpkin patches that are both located on Highway 1 about five miles south of Half Moon Bay. One is called Bob's Pumpkin Patch and the other is Arata. They've got hayrides and corn mazes. They've got so much acreage back there so they've got tons of pumpkins and so much stuff for the kids to do. It's an all-around great experience for the kids. They've got the snack shack and everything. I'm all about water or cold soda so I can tolerate the kids running around for the next hour, and a hot dog. That's my deal, but they've got the cider and caramel apples and cookies and junk food for the kids.
I'm there for my kids to have fun, and really my job is to carry around the wheelbarrow, fill it up with pumpkins and take it to the car. We do a plethora of pumpkins, all sizes and colors. That's the great thing about going up on the coast is that you can get green, orange, white pumpkins, different kinds of colored squashes and things like that to decorate your front porch. We came home with a good chunk of pumpkins, gords, corn stalks, and all of that fall stuff. Usually you can get out there with a good stock of decorations for about 50 bucks.
My daughter is going to be a Disney princess, Belle, Cinderella or Ariel. It all depends on what she's watched in the last couple of days. My son is going to be some kind of predatory animal. He's furry and I think he's got claws.
I dress up as the guy who opens the door and gives candy to the neighbors. That's my job, yeah, meaning no costume for me. However, they will get full-sized candy bars, and no, I'm not giving out my address because I don't want a line at my door!