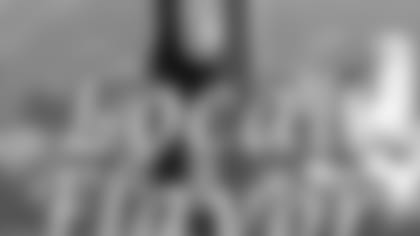 In this week's Local Flavor, a few of our players who went to school in Northern California reveal their favorite college memory.**
Guard Larry Allen, Sonoma State Sonoma State 37 – Portland State 27, 1992
My best memory was beating Portland State. It was a pretty good game. We definitely weren't supposed to win that game but we came through with the upset.
"In the Cossacks 1992 upset of #6-ranked Portland State, Larry Allen led running back Johnny Mack on a sweep around the left side. After knocking away one of the Vikings defensive lineman, Larry set his sights on a PSU cornerback who immediately wished he was anywhere else at the time. He got his wish soon enough as Larry literally launched him into the air sending him to spots unknown. The videotape of this play was shown repeatedly on ESPN as the 1994 NFL draft approached."  - Taken from the Sonoma State Website
Right Tackle Kwame Harris, Stanford Stanford 49 - Oregon 42, October of 2001It was the 2001 season when we beat Oregon my sophomore year. They were one of the top five in the country and hadn't lost a game at home in a very long while. We were a big underdog, yet we came out and beat them. Our run game was good that day which is always fun for the offensive line. But it was really our special teams that won the game for us. They played great! We were behind 14 points and they blocked a couple of punts in the final six minutes for the win, and I think we intercepted Joey Harrington for a score. Now that Keith Lewis and Adam Snyder are here on this team, it's even better because I get to talk some smack and rub that game in to both of them.
Center Eric Heitmann, Stanford Stanford 31 – Cal 13, November of 1999
My best Stanford memory was beating Cal my sophomore year. It was always a big game for us and was always a really intense rivalry.
Before any game you are definitely antsy but I don't know about nervous. We were pretty confident at that point of the season because we'd had a lot of things come together for us. We knew we could win and we should win. It was a matter of executing.
I was playing at right guard at that time. The best play was when we started out at our 2-yardline. Our fullback Casey Moore ran up the middle on a belly play just to get us from being backed up, and he broke it for a 98 yard touchdown run. Whenever you can go 98 yards in one play, you are pretty excited about that. We all ran down there and we were hyped up and I think a few of us lifted him up in the air.
It was made more special because it enabled us to clinch the Pac 10 Championship which put us in the Rose Bowl against Wisconsin. It was a home game and there are 90,000 people and it's always full against Cal. Everyone from Cal wanted to see them beat us and knock us out of the Rose Bowl so they were screaming at us the whole game. But we got the win. I can't remember the exact score, but I think we won by two touchdowns at least. We walked off the field and they were throwing roses and everything. It was pretty intense.
Kicker Joe Nedney, San Jose State San Jose State 26 – Wyoming 24, 1992
My most memorable moment at San Jose State was on October 3, 1992. We were playing Wyoming in Laramie, Wyoming and I hit a 60-yard field goal to beat them. They called all three time outs to ice me, but it didn't work!